| | | |
| --- | --- | --- |
| | Train Sim World: Rhein-Ruhr Osten: Wuppertal Hagen is out now on XBOX ONE | |
Train Sim World: Rhein-Ruhr Osten: Wuppertal Hagen is out now on XBOX ONE

Train Sim World 2020 welcomes its first split track with the Rhein-Ruhr Osten: Wuppertal - Hagen route add-on, including the S8 S-Bahn and the Main Line between the two stations.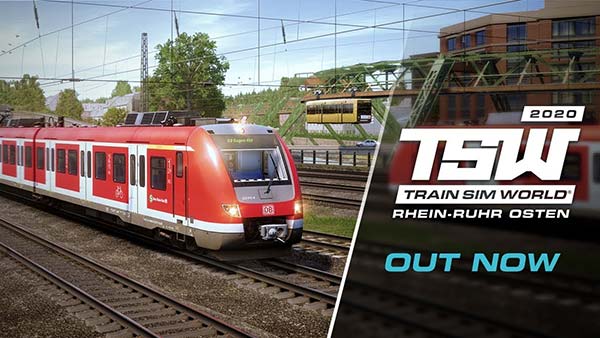 The hustle and bustle of urban sprawl passenger operations and intermix of freight are yours to experience in Train Sim World: Rhein-Ruhr Osten. Take in the scenic backdrop of the North Rhine-Westphalia as you carry out passenger and freight duties whilst negotiating the busy Rhein-Ruhr route. Manage your trains through the route as it forges along two separate paths and deliver your cargo on-time. Whether you're driving, riding along or watching the action, experience all the sights and sounds of German railways Take control of two very different German trains, the DB BR 422 EMU as they serve the many passenger stations, and the MRCE BR 185.5 on freight duty. Featuring an electric simulation underpinned with expert technical knowledge and real-world data, the performance and sounds make them feel just like the real thing.
The route diverges shortly after leaving Hagen, giving you the choice of carrying passengers along the bustling, riverside S8 S-Bahn for classic stopping-service operations or hauling freight along the urban Main Line. Home to automated services in addition to your train, the route merges again near Schwelm before continuing down to Wuppertal. As you journey along the Wupper river towards your destination, look north to watch the elevated Schwebebahn – a stunning suspended rail system that carries commuters over the water.
The beautiful scenery of the North Rhine-Westphalia region is matched only by the lovingly recreated traction running up and down the route. The DB BR 422 joins the Train Sim World roster as a brand new experience for all our players. The familiar BR 185.5 is now freshly decked out in a striking MRCE livery, proudly hauling newly licensed Sggmrss container wagons with authentic Hamburg Sud and Hapag-Lloyd branding. We've also included cross-compatibility with other German Train Sim World add-ons, so collectors will benefit from more scenarios and the ability to swap locomotives on certain services.
Powered by Unreal Engine 4 technology and Dovetail Games' proprietary SimuGraph vehicle dynamics engine, incorporating a simulation underpinned with expert technical knowledge and real-world data, the performance, sounds and feel has been accurately reproduced to make the trains feel just like the real thing.
Let's take a look at the official launch trailer and key features:
Key Features
31 km (19 mile) route of the Rhein-Ruhr route from Wuppertal to Hagen
Includes 11 km (7 mile) diverging S8 S-Bahn route between Schwelm and Wehringhausen
DB BR 422 EMU in DB Traffic Red Livery
DB BR 185.5 in MRCE Dispolok Black Livery
Sggmrss Bogie Container Wagon, Shimmns-TTU 722 and Zacns freight wagons
Highly detailed, feature-rich, driving cabs with accurate true-to-life performance and handling for both multiple unit and locomotive traction.
Authentic and detailed sound recordings, recorded from the real locomotives
Journey Mode features over 20 hours of activities for you to master
Five detailed and engaging scenarios for the route, involving emergency diversions and obstructions along the line!
100 Jobs for you to complete including replacing Route Maps, repairing Electrical
Cabinets, restocking First Aid Points and placing No Trespassing signs.
Accessible Training Modules to get you started quickly
Extensive 24-Hour Timetable Mode with over 160 timetabled services
Cross compatible with other German add-ons – the Main Spessart Bahn, Ruhr-Sieg Nord, DB BR 182 and DB BR 155 add-ons all allow you to play additional services or swap locomotives into included services..
Train Sim World: Rhein-Ruhr Osten is available right now on Xbox One, PlayStation 4, and PC via Steam.
Xbox Store:
here
File Size: 4.42 GB
Price: $29.99 USD
News Source:
https://www.xboxone-hq.com/news.html
"
| | | |
| --- | --- | --- |
| | Related Stories | |

| | | |
| --- | --- | --- |
| | Most Popular | |

| | | |
| --- | --- | --- |
| | Rate this Article | |
| | | |
| --- | --- | --- |
| | Associated Topics | |



| | | |
| --- | --- | --- |
| | Xbox Tutorials Database | |

| | | |
| --- | --- | --- |
| | Xbox Tutorials Database | |

| | | |
| --- | --- | --- |
| | Xbox Download Stats | |

| | | |
| --- | --- | --- |
| | Site Statistics | |

| | | |
| --- | --- | --- |
| | Site Statistics | |

HQ Online Statistics
Members: 3 | Guests: 199 | Xbox Live Tags: 4,385


Forums

Active Users: 71

Your Account

Active Users: 30

Downloads

Active Users: 30

News

Active Users: 18

Home

Active Users: 16

Xbox Homebrew

Active Users: 16

Xbox Tutorials

Active Users: 8

Xbox Games

Active Users: 4

Profile

Active Users: 3

VIP Signup

Active Users: 2

View More Detailed Statistics

| | | |
| --- | --- | --- |
| | Site Statistics | |

| | | |
| --- | --- | --- |
| | Popular Xbox Games | |
Phantasy Star Online
Page Views: 334059

Phantasy Star Online makes it's debut on the Microsoft Xbox! Enter the fantastic multiplayer RPG world that is PSO, and explore distant lands populated with real players like you. Chat, exchange items..

More Xbox Games

| | | |
| --- | --- | --- |
| | HQ Network Affiliates | |

| | | |
| --- | --- | --- |
| | Xbox-Hq.Com - Archived News | |

Wednesday, July 08
The Catch: Carp & Coarse Out Now on Xbox One,
published by: forahobby | Page Views: 13 | Comments: 0

Tuesday, July 07
BEN 10: Power Trip announced for XB1, PS4, SW
published by: forahobby | Page Views: 15 | Comments: 0

Monday, July 06
Wolfenstein: Alt History Collection Available
published by: forahobby | Page Views: 14 | Comments: 0

Friday, July 03
Party Crasher Simulator announced for XSX, PS
published by: forahobby | Page Views: 18 | Comments: 0

Thursday, July 02
WW1 FPS Tannenberg coming to XB1 and PS4 cons
published by: forahobby | Page Views: 26 | Comments: 0

Wednesday, July 01
Marvel's Avengers Confirmed for Xbox Series X
published by: forahobby | Page Views: 35 | Comments: 0
The Otterman Empire hits XBOX, PS4, SWITCH an
published by: forahobby | Page Views: 22 | Comments: 0
Sisters Royale: Five Sisters Under now digita
published by: forahobby | Page Views: 36 | Comments: 0
2020, the new era has begun for mobile games
published by: forahobby | Page Views: 58 | Comments: 0

Tuesday, June 30
Control's 'The Foundation' is available now o
published by: forahobby | Page Views: 22 | Comments: 0

Monday, June 29
New Xbox Games with Gold for July 2020 Reveal
published by: forahobby | Page Views: 48 | Comments: 0

Friday, June 26
New Games Coming to Xbox Game Pass for PC and
published by: forahobby | Page Views: 73 | Comments: 0
Assetto Corsa Competizione races onto Xbox On
published by: forahobby | Page Views: 46 | Comments: 0

Thursday, June 25
"Night Call" Out Now And Included With Xbox G
published by: forahobby | Page Views: 26 | Comments: 0

Wednesday, June 24
DiRT 5 digital pre-order's go live on Xbox On
published by: forahobby | Page Views: 37 | Comments: 0
West Of Dead: Out Now and included in Xbox Ga
published by: forahobby | Page Views: 48 | Comments: 0

Tuesday, June 23
Disintegration Launches On Xbox One, PS4 and
published by: forahobby | Page Views: 61 | Comments: 0
4 Games Bundle: Luc Bernard Collection Availa
published by: forahobby | Page Views: 68 | Comments: 0

Monday, June 22
STAR WARS: Squadrons Xbox One digital pre-ord
published by: forahobby | Page Views: 58 | Comments: 0

Friday, June 19
Windbound hits Xbox One, PS4, Switch and PC o
published by: forahobby | Page Views: 38 | Comments: 0
"Othercide" is now available for digital pre-
published by: forahobby | Page Views: 50 | Comments: 0

Thursday, June 18
Super Soccer Blast kicks off for Xbox One
published by: forahobby | Page Views: 55 | Comments: 0
"Tower Of Time" now available for digital pre
published by: forahobby | Page Views: 38 | Comments: 0

Wednesday, June 17
Hard West Ultimate Edition XBOX ONE Digital P
published by: forahobby | Page Views: 42 | Comments: 0
Glass Masquerade Double Pack: Available Now O
published by: forahobby | Page Views: 39 | Comments: 0

Tuesday, June 16
Radical Rabbit Stew out now for Xbox One, PS4
published by: forahobby | Page Views: 41 | Comments: 0
Pathfinder: Kingmaker XBOX ONE Digital Pre-or
published by: forahobby | Page Views: 33 | Comments: 0

Monday, June 15
Greymoor: The New ESO Chapter Out Now‎
published by: forahobby | Page Views: 81 | Comments: 0
Procedurally generated 2D platformer "Pity Pi
published by: forahobby | Page Views: 45 | Comments: 0

Friday, June 12
1971 Project Helios Hits XBOX One, PS4, Switc
published by: forahobby | Page Views: 38 | Comments: 0

Thursday, June 11
Charlotte Cracker Joins ONE PIECE: PIRATE WAR
published by: forahobby | Page Views: 55 | Comments: 0

Wednesday, June 10
'Beyond Blue' digital pre-order is available
published by: forahobby | Page Views: 41 | Comments: 0
WAKING Digital Pre-order And Pre-download Is
published by: forahobby | Page Views: 44 | Comments: 0

Tuesday, June 09
Remnant: From the Ashes 'Swamps of Corsus' Bu
published by: forahobby | Page Views: 60 | Comments: 0
Cuty Comedy VN "Strawberry Vinegar" Is Availa
published by: forahobby | Page Views: 44 | Comments: 0

Monday, June 08
Skelattack Is Available Now On Xbox One
published by: forahobby | Page Views: 53 | Comments: 0
'Elite Dangerous: Odyssey' expansion arrives
published by: forahobby | Page Views: 67 | Comments: 0
Best Horse Racing Games for Xbox
published by: forahobby | Page Views: 68 | Comments: 0
TRACKS 'Suburban Pack' DLC now out on Xbox On
published by: forahobby | Page Views: 59 | Comments: 0

Friday, June 05
New Super Lucky's Tale is coming to Xbox One
published by: forahobby | Page Views: 46 | Comments: 0


News Archive