The 4th annual Realms Deep (@realms_deep) event, hosted by publisher 3D Realms (@3DRealms), will take place on Saturday, September 30, 2023. The digital showcase will celebrate retro shooters with world premieres, trailers, interviews, and appearances from notable content creators, as well as updates on upcoming games from 3D Realms and other publishers and devs.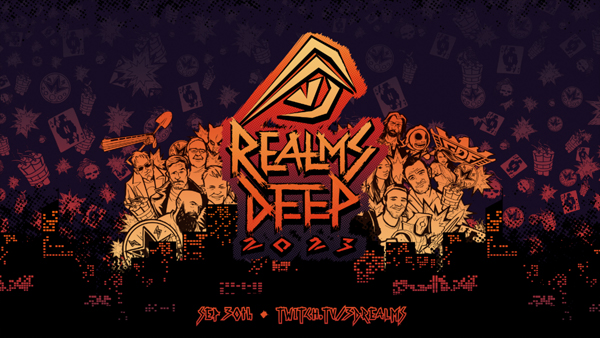 Realms Deep 2023 is a single-day broadcast highlighting exciting action-packed games—from hardcore shooters to RTS, horror games, and RPGs—featuring updates from 3D Realms' upcoming slate of projects, as well as news, premieres, interviews, and more from notable publishers and developers around the world. Interested partners who would like to submit their game(s) either for the Livestream and/or the Steam Event, can do so via the submission form.
3D Realms brings updates from numerous titles under their diverse portfolio, including:
Its highly anticipated classic RTS Tempest Rising, action-adventure FPS Phantom Fury, immersive sim Core Decay, sci-fi horror FPS RIPOUT, dark-fantasy FPS GRAVEN, dieselpunk action-rpg Combustion, Ion Fury's Aftershock expansion, and maybe even an exciting surprise or two. Other developers and partners at this year's Realms Deep include the return of New Blood Interactive, Running With Scissors, Slipgate Ironworks, HYPERSTRANGE, Dread XP, Hellforge Studios, Fulqrum, and Retrovibe, as well as THQ Nordic, Prismatika Games, and many more, making their debut into the show!
Realms Deep returns with insightful interviews, discussions, and appearances by content creators, developers, and industry personalities. The Steam Sale occurring in conjunction with the show will include recently revealed titles, demos, discounted games, and more.
Fans are invited to tune into the 3D Realms' Twitch and YouTube channels to watch the show airing at 8 PM CEST / 2 PM ET / 11 AM PT, with a theme inspired by late-night talk shows.
Discover more games industry news, release dates, screenshots, achievements, and upcoming games by following @XONEHQ on Twitter, YouTube, Instagram, Facebook, and Pinterest. You can also download the free XBOX app for Android!
Official Site:
here
News Source:
XBOXONE-HQ.COM
"