| | | |
| --- | --- | --- |
| | Button City Soccer Days kicks off in 2024 on consoles and PC | |
Button City Soccer Days kicks off in 2024 on consoles and PC

Button City Soccer Days (@ButtonCity), the cozy soccer action game infused with RPG and visual novel elements from developer Subliminal (@SubliminalGame), is heading to console and PC in 2024. Build your dream team, plan your day, bond with teammates, enjoy action-packed soccer, and win the tournament!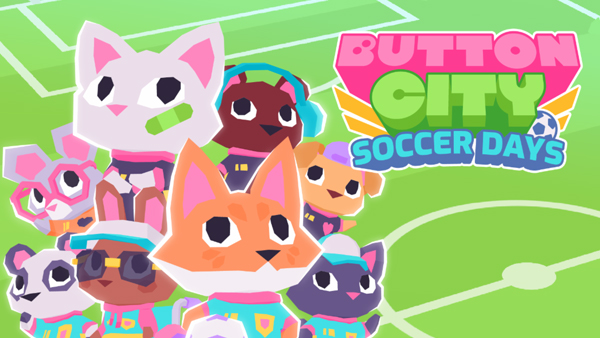 Soccer season quickly approaches, inspiring Fennel to gather his friends and build a cute, mighty team. Former rivals - the Fluff Squad and the Tuff Fluffs must band together to eliminate their competitors and win the championship. Corporate greedy fat cat Peppermint Pepperbottom returns once again to thwart Fennel and stop the gang's fun by recruiting pro players from around the world to participate in the tournament.
Overcome this stiff competition by creating a customizable team, managing the roster that features individual character stats, and planning out daily activities. Help the team sprint, tackle, pass, and strike their way to triumph in cozy yet competitive matches that feature injuries and inclement weather.
Navigate themes of sportsmanship, overcoming obstacles, and corruption in this complex, heartfelt narrative. Take in the vibrantly designed environments and cheeky dialogue in this adventure invoking feelings of excitement and suspense akin to the most thrilling sports dramas.
Button City Soccer Days will be available on Console and PC in early 2024. The game will be priced at $19.99.
Find more video game news, game trailers & videos, release dates, and updates by following @XONEHQ on Twitter, Reddit, YouTube, Instagram, Facebook, and Pinterest. You can also download the free Xbox app for Android or subscribe via email and RSS.
News Source:
XBOXONE-HQ.COM
"
| | | |
| --- | --- | --- |
| | Related Stories | |

| | | |
| --- | --- | --- |
| | Most Popular | |

| | | |
| --- | --- | --- |
| | Rate this Article | |
| | | |
| --- | --- | --- |
| | Associated Topics | |



| | | |
| --- | --- | --- |
| | Xbox Tutorials Database | |

| | | |
| --- | --- | --- |
| | Xbox Tutorials Database | |

| | | |
| --- | --- | --- |
| | Xbox Download Stats | |

| | | |
| --- | --- | --- |
| | Site Statistics | |

| | | |
| --- | --- | --- |
| | Site Statistics | |

HQ Online Statistics
Members: 0 | Guests: 981 | Xbox Live Tags: 4,376


Forums

Active Users: 631

Your Account

Active Users: 69

News

Active Users: 64

Home

Active Users: 43

Xbox Games

Active Users: 41

Downloads

Active Users: 32

Profile

Active Users: 27

Xbox Homebrew

Active Users: 24

Xbox Tutorials

Active Users: 15

Xbox Developers

Active Users: 7

View More Detailed Statistics

| | | |
| --- | --- | --- |
| | Site Statistics | |

| | | |
| --- | --- | --- |
| | Popular Xbox Games | |
Dance Dance Revolution ULTRAMIX 4
Page Views: 1,440

The hottest revolution and bestselling video game in the music game category delivers its best dance performance yet on the Xbox with Dance Dance Revolution ULTRAMIX4. Jam-packed with new features, mo..

More Xbox Games

| | | |
| --- | --- | --- |
| | HQ Network Affiliates | |

| | | |
| --- | --- | --- |
| | Xbox-Hq.Com - Archived News | |

Monday, November 27
How the Official Soundtrack of Luna Abyss Was
published by: BigJ | Page Views: 21 | Comments: 0

Friday, November 24
Quadroids is coming soon for Xbox, PlayStatio
published by: BigJ | Page Views: 30 | Comments: 0

Thursday, November 23
Join the Rugrats in a new game coming to cons
published by: BigJ | Page Views: 29 | Comments: 0

Tuesday, November 21
INDIE Live Expo Returns December 2-3
published by: BigJ | Page Views: 24 | Comments: 0
Eiyuden Chronicle: Hundred Heroes launches on
published by: BigJ | Page Views: 30 | Comments: 0
Ikonei Island: An Earthlock Adventure Signs T
published by: BigJ | Page Views: 31 | Comments: 0

Monday, November 20
UNDEFEATED: Genesis announced for consoles an
published by: BigJ | Page Views: 45 | Comments: 0

Friday, November 17
Killing Floor 3: Get A Behind-the-Scenes Look
published by: BigJ | Page Views: 54 | Comments: 0

Thursday, November 16
New XBHD Update Enhances Brightness Capabilit
published by: ozzy | Page Views: 56 | Comments: 0
FRONT MISSION 1st Remake Limited Edition arri
published by: BigJ | Page Views: 53 | Comments: 0
SOEDESCO Welcomes Kyodai as its Latest Develo
published by: BigJ | Page Views: 48 | Comments: 0

Wednesday, November 15
Tribe: Primitive Builder confirmed for Xbox S
published by: BigJ | Page Views: 50 | Comments: 0

Tuesday, November 14
Sociable Soccer 24 is heading to Xbox Series,
published by: BigJ | Page Views: 70 | Comments: 0

Monday, November 13
SelectaPlay Announces Dark Atlas: Infernum fo
published by: BigJ | Page Views: 97 | Comments: 0

Friday, November 10
Promenade hits Xbox, PlayStation, Switch and
published by: BigJ | Page Views: 93 | Comments: 0
"Spellcaster University" Is heading to Xbox,
published by: BigJ | Page Views: 49 | Comments: 0

Thursday, November 09
"Button City Soccer Days'" drops a new consol
published by: BigJ | Page Views: 65 | Comments: 0
SOEDESCO Welcomes Kyodai as its Latest Develo
published by: BigJ | Page Views: 48 | Comments: 0

Wednesday, November 08
Barbarian Saga: The Beastmaster is coming to
published by: BigJ | Page Views: 93 | Comments: 0

Tuesday, November 07
Discover the Real Places that Inspired Tamara
published by: BigJ | Page Views: 130 | Comments: 0

Monday, November 06
Free-to-Play Shooter 'Delta Force: Hawk Ops'
published by: BigJ | Page Views: 90 | Comments: 0
Story-Driven Shooter 'Memory Lost' lands on X
published by: BigJ | Page Views: 120 | Comments: 0

Friday, November 03
JSAUX's First Accessories for ROG Ally Out No
published by: BigJ | Page Views: 127 | Comments: 0
Still Wakes the Deep splashes onto Xbox Serie
published by: BigJ | Page Views: 139 | Comments: 0

Thursday, November 02
Morkull Ragast's Rage announced for Xbox Seri
published by: BigJ | Page Views: 134 | Comments: 0

Wednesday, November 01
Retro RPG Born of Bread releases in December
published by: BigJ | Page Views: 158 | Comments: 0
Football Manager 2024 kicks off on November 6
published by: BigJ | Page Views: 170 | Comments: 0

Tuesday, October 31
Learn How the Official Soundtrack for Luna Ab
published by: BigJ | Page Views: 164 | Comments: 0
INDIE Live Expo Is Back Dec. 2-3 with Winter
published by: BigJ | Page Views: 172 | Comments: 0

Monday, October 30
"Ebenezer and The Invisible World" launches o
published by: BigJ | Page Views: 197 | Comments: 0

Thursday, October 26
'Worldless' coming to Xbox One, Xbox Series,
published by: forahobby | Page Views: 203 | Comments: 0

Wednesday, October 25
Parcel Corps confirmed for Xbox Series X|S, P
published by: forahobby | Page Views: 156 | Comments: 0

Monday, October 23
Killing Floor 3 Coming to Xbox Series, PS5, a
published by: forahobby | Page Views: 186 | Comments: 0
Killer Klowns from Outer Space: The Game Anno
published by: forahobby | Page Views: 184 | Comments: 0
Monaco Esports Signs World's Top Fortnite Duo
published by: forahobby | Page Views: 286 | Comments: 0
Outstanding Features of Online Casinos in Aus
published by: BigJ | Page Views: 191 | Comments: 0
#Little Nightmares III Returns On All Platfor
published by: forahobby | Page Views: 228 | Comments: 0

Friday, October 20
Retro turn-based RPG Terra Memoria gets a new
published by: forahobby | Page Views: 180 | Comments: 0

Thursday, October 19
NARUTO X BORUTO Ultimate Ninja STORM CONNECTI
published by: forahobby | Page Views: 208 | Comments: 0
SteamWorld Build Is Heading To Xbox Game Pass
published by: forahobby | Page Views: 193 | Comments: 0


News Archive