| | | |
| --- | --- | --- |
| | Mineko's Night Market hits Xbox and PlayStation consoles on October 26 | |
Mineko's Night Market hits Xbox and PlayStation consoles on October 26

Publisher Humble Games (@PlayHumbleGames) and indie developer Meowza Games (@meowza) revealed that Mineko's Night Market (@MinekosMarket), a heartwarming game about friendship, crafting crafts, eating eats, and catting cats, will be releasing for Xbox One, Xbox Series X|S, PlayStation 4 and PlayStation 5 consoles on October 26th. Check out the new lore trailer!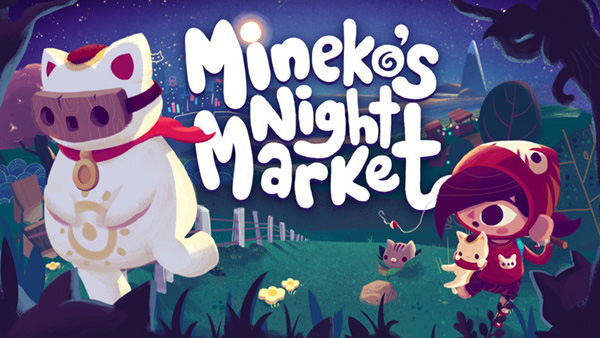 Mineko's Night Market is a game that celebrates Japanese culture while introducing a heartwarming story about friendship, tradition, and many, many cats. Play as Mineko, a curious girl who has just arrived at her new home on a struggling Japanese-inspired island at the base of Mount Fugu. The superstitious locals on the island worship the Sun Cat, Nikko.
What was always thought to be a long-told myth has the town puzzled, as sightings of Nikko have begun to surface among the residents of the island in recent days.
Discover the secrets of the town and manage your daily activities by completing various jobs, quests, and resource gathering in preparation for the weekly market. Unlock alternative modes of transportation (buses, bullet trains, and cat carts) to whisk you away to distant areas! Each location will offer special things to do and new townspeople to meet depending on the time of day and season.
Mineko's Night Market launches October 26 on Xbox One, Xbox Series X|S, PlayStation 4 and PlayStation 5.
Explore more video game news, game trailers & videos, release dates, and updates, by following @XONEHQ on Twitter, YouTube, Instagram, Facebook, and Pinterest. You can also download the free Xbox app for Android or subscribe via email and RSS.
News Source:
XBOXONE-HQ.COM
"
| | | |
| --- | --- | --- |
| | Related Stories | |

| | | |
| --- | --- | --- |
| | Most Popular | |

| | | |
| --- | --- | --- |
| | Rate this Article | |
| | | |
| --- | --- | --- |
| | Associated Topics | |
Associated Topics





| | | |
| --- | --- | --- |
| | Xbox Tutorials Database | |

| | | |
| --- | --- | --- |
| | Xbox Tutorials Database | |

| | | |
| --- | --- | --- |
| | Xbox Download Stats | |

| | | |
| --- | --- | --- |
| | Site Statistics | |

| | | |
| --- | --- | --- |
| | Site Statistics | |

HQ Online Statistics
Members: 4 | Guests: 9,203 | Xbox Live Tags: 4,376


Forums

Active Users: 8827

News

Active Users: 150

Your Account

Active Users: 55

Xbox Games

Active Users: 37

Xbox Tutorials

Active Users: 37

Xbox Homebrew

Active Users: 29

Home

Active Users: 24

Downloads

Active Users: 19

Profile

Active Users: 10

Statistics

Active Users: 3

View More Detailed Statistics

| | | |
| --- | --- | --- |
| | Site Statistics | |

| | | |
| --- | --- | --- |
| | Popular Xbox Games | |
NFL Head Coach
Page Views: 753

NFL Head Coach features then-Pittsburgh Steelers head coach Bill Cowher on the cover. The game is available for the Xbox, PlayStation 2, and PC...

More Xbox Games

| | | |
| --- | --- | --- |
| | HQ Network Affiliates | |

| | | |
| --- | --- | --- |
| | Xbox-Hq.Com - Archived News | |

Monday, September 25
Uncle Chop's Rocket Shop launches in 2024 on
published by: BigJ | Page Views: 15 | Comments: 0
Truck Driver: The American Dream hits Xbox Se
published by: BigJ | Page Views: 18 | Comments: 0

Wednesday, September 20
Car Detailing Simulator coming to Xbox and Pl
published by: BigJ | Page Views: 23 | Comments: 0

Tuesday, September 19
Clock Tower Port+ is coming to all platforms
published by: BigJ | Page Views: 19 | Comments: 0

Monday, September 18
Lichthund Joins Forces With Team17 Digital in
published by: BigJ | Page Views: 25 | Comments: 0

Friday, September 15
irem Collection Volume 2 arrives in 2024 on X
published by: BigJ | Page Views: 30 | Comments: 0

Thursday, September 14
Banishers: Ghosts of New Eden launches in Nov
published by: BigJ | Page Views: 27 | Comments: 0

Wednesday, September 13
Lil' Guardsman: Explore Whimsy and Factions i
published by: BigJ | Page Views: 27 | Comments: 0

Tuesday, September 12
Monolith: Requiem of the Ancients hits Xbox,
published by: BigJ | Page Views: 39 | Comments: 0
IO Interactive Opens a New Studio in Brighton
published by: BigJ | Page Views: 35 | Comments: 0

Monday, September 11
Retro Shooters Return: Realms Deep 2023 Kicks
published by: BigJ | Page Views: 41 | Comments: 0

Friday, September 08
Jurassic Park Classic Games Collection announ
published by: BigJ | Page Views: 46 | Comments: 0
Steam Deck Gets a New Look with JSAUX's Trans
published by: doa666 | Page Views: 40 | Comments: 0

Thursday, September 07
XBHD: HD Video Adapter for Original Xbox laun
published by: BigJ | Page Views: 75 | Comments: 0

Wednesday, September 06
Skull Island: Rise of Kong Announced for Xbox
published by: BigJ | Page Views: 55 | Comments: 0

Tuesday, September 05
SOEDESCO shares more details about Truck Driv
published by: BigJ | Page Views: 50 | Comments: 0
Former Executives Secure $5M to Evolve New St
published by: BigJ | Page Views: 58 | Comments: 0

Monday, September 04
Otherside Entertainment and Aonic Announce St
published by: BigJ | Page Views: 68 | Comments: 0

Thursday, August 31
Multiplayer Sandbox Adventure Tinkertown Out
published by: BigJ | Page Views: 60 | Comments: 0
Tintin Reporter - Cigars of the Pharaoh: Limi
published by: BigJ | Page Views: 66 | Comments: 0

Wednesday, August 30
Cricket 24 launches on XBOX, PlayStation and
published by: BigJ | Page Views: 80 | Comments: 0

Tuesday, August 29
Asterix & Obelix: Slap Them All! 2 releases o
published by: BigJ | Page Views: 58 | Comments: 0
10tons announces open-world RPG "Dysplaced" f
published by: BigJ | Page Views: 55 | Comments: 0

Monday, August 28
Backpacking Adventure RPG 'Albatroz' comes to
published by: BigJ | Page Views: 73 | Comments: 0

Friday, August 25
Disney Speedstorm Races Out of Early Access o
published by: BigJ | Page Views: 96 | Comments: 0
Four-player top-down racer 'Make Way' is comi
published by: BigJ | Page Views: 75 | Comments: 0

Thursday, August 24
TREPANG2: Join the bloodshed later this year
published by: BigJ | Page Views: 100 | Comments: 0
Heavy Duty Challenge arrives on September 14
published by: BigJ | Page Views: 74 | Comments: 0

Wednesday, August 23
'Tamarak Trail' coming to Xbox Series, PS5, S
published by: BigJ | Page Views: 96 | Comments: 0
Professional Fishing 2 confirmed for Xbox One
published by: BigJ | Page Views: 75 | Comments: 0

Tuesday, August 22
NASCAR Arcade Rush is coming to Xbox, PlaySta
published by: BigJ | Page Views: 68 | Comments: 0

Monday, August 21
Ebenezer and the Invisible World announced fo
published by: BigJ | Page Views: 87 | Comments: 0
Slime 3K: Rise Against Despot drops on Xbox,
published by: BigJ | Page Views: 104 | Comments: 0
Exploring the Fusion of Xbox Games, Sports, a
published by: BigJ | Page Views: 80 | Comments: 0
Dungeons of Hinterberg heading to Xbox and St
published by: BigJ | Page Views: 89 | Comments: 0

Friday, August 18
Selecta Play Announces Ninja Kidz Time Master
published by: BigJ | Page Views: 72 | Comments: 0

Thursday, August 17
Stray Souls Demo out now on PC; Coming to Xbo
published by: BigJ | Page Views: 75 | Comments: 0
The Precinct Gets a Publisher Deal with Kwale
published by: BigJ | Page Views: 105 | Comments: 0

Wednesday, August 16
Take a deeper dive into SteamWorld Build with
published by: BigJ | Page Views: 67 | Comments: 0
Tactical RPG Demonschool gets more details fr
published by: BigJ | Page Views: 83 | Comments: 0


News Archive