| | | |
| --- | --- | --- |
| | 3D survival horror SENSEs: Midnight coming to consoles next month | |
3D survival horror SENSEs: Midnight coming to consoles next month

3D survival horror SENSEs: Midnight, the first in an anthology of sequels to Sense - A Cyberpunk Ghost Story, is set arrive digitally on Xbox Series, Xbox One, PlayStation 5, PlayStation 4 and Nintendo Switch in June. SENSEs: Midnight physical from @eastasiasoft opens for preorder on PS5 and SWITCH!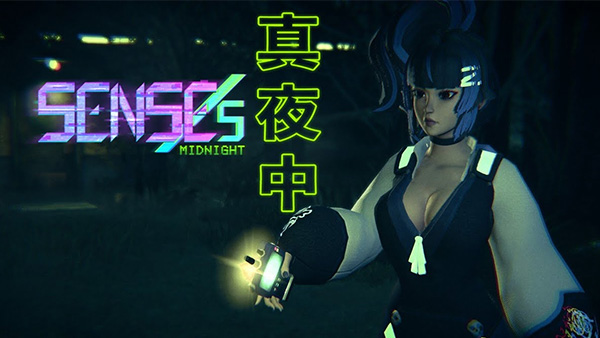 Inspired by genre classics, SENSEs: Midnight turns back the clock on survival horror with old-school tank controls and fixed camera angles while presenting its haunting narrative in immersive 3D style. Set in a dystopian cyberpunk vision of future Tokyo, SENSEs: Midnight casts the player as a university student with a passion for occult and paranormal phenomena. While in Japan visiting family, she looks into a local urban legend but quickly gets in over her head, awakening vengeful spirits who pursue her through a lonely night of terror in Ikebukuro Walking Park.
SENSEs: Midnight is originally developed by SUZAKU Games in partnership with Eastasiasoft, with art and character designs by series creator Benjamin Widdowson, and features a standalone narrative that may be enjoyed by newcomers as well as fans of the series' previous entry.
Pre-orders for Nintendo Switch and PS5 physical editions opened at 11:00pm Hong Kong time (11:00am ET / 8:00am PT / 4pm UK) on Thursday, April 13th with online retail partner Playasia. Only 2000 Limited Editions will be produced for Nintendo Switch and 1000 for PlayStation 5, priced at US$39.99 plus shipping to include the game, manual, soundtrack CD and numbered certificate in a collector's box. Standard copies will also be available as an open pre-order for Nintendo Switch at US$29.99.
Keep up with the latest video game release dates, news & rumors and indie updates by following @XONEHQ on Twitter, Instagram, and Pinterest, subscribe on YouTube, or install the free Xbox News app for Android.
Official Site:
here
News Source:
XBOXONE-HQ.COM
"
| | | |
| --- | --- | --- |
| | Related Stories | |

| | | |
| --- | --- | --- |
| | Most Popular | |

| | | |
| --- | --- | --- |
| | Rate this Article | |
| | | |
| --- | --- | --- |
| | Associated Topics | |



| | | |
| --- | --- | --- |
| | Xbox Tutorials Database | |

| | | |
| --- | --- | --- |
| | Xbox Tutorials Database | |

| | | |
| --- | --- | --- |
| | Xbox Download Stats | |

| | | |
| --- | --- | --- |
| | Site Statistics | |

| | | |
| --- | --- | --- |
| | Site Statistics | |

HQ Online Statistics
Members: 1 | Guests: 5,884 | Xbox Live Tags: 4,376


Home

Active Users: 4993

Forums

Active Users: 673

Your Account

Active Users: 83

News

Active Users: 44

Xbox Games

Active Users: 22

Downloads

Active Users: 18

Downloads VIP

Active Users: 9

Xbox Homebrew

Active Users: 9

VIP Signup

Active Users: 5

Profile

Active Users: 5

View More Detailed Statistics

| | | |
| --- | --- | --- |
| | Site Statistics | |

| | | |
| --- | --- | --- |
| | Popular Xbox Games | |
World Soccer Winning Eleven 9
Page Views: 390,046

What sets Winning Eleven 9 apart from the competition once a match gets under way can be difficult to put a finger on, but it's clear that Konami's development team has once again taken a near-perfect..

More Xbox Games

| | | |
| --- | --- | --- |
| | HQ Network Affiliates | |

| | | |
| --- | --- | --- |
| | Xbox-Hq.Com - Archived News | |

Wednesday, September 13
Lil' Guardsman: Explore Whimsy and Factions i
published by: BigJ | Page Views: 14 | Comments: 0

Tuesday, September 12
Monolith: Requiem of the Ancients hits Xbox,
published by: BigJ | Page Views: 23 | Comments: 0
IO Interactive Opens a New Studio in Brighton
published by: BigJ | Page Views: 25 | Comments: 0

Monday, September 11
Retro Shooters Return: Realms Deep 2023 Kicks
published by: BigJ | Page Views: 24 | Comments: 0

Friday, September 08
Jurassic Park Classic Games Collection announ
published by: BigJ | Page Views: 39 | Comments: 0
Steam Deck Gets a New Look with JSAUX's Trans
published by: doa666 | Page Views: 29 | Comments: 0

Thursday, September 07
XBHD: HD Video Adapter for Original Xbox laun
published by: BigJ | Page Views: 64 | Comments: 0

Wednesday, September 06
Skull Island: Rise of Kong Announced for Xbox
published by: BigJ | Page Views: 43 | Comments: 0

Tuesday, September 05
SOEDESCO shares more details about Truck Driv
published by: BigJ | Page Views: 40 | Comments: 0
Former Executives Secure $5M to Evolve New St
published by: BigJ | Page Views: 45 | Comments: 0

Monday, September 04
Otherside Entertainment and Aonic Announce St
published by: BigJ | Page Views: 50 | Comments: 0

Thursday, August 31
Multiplayer Sandbox Adventure Tinkertown Out
published by: BigJ | Page Views: 51 | Comments: 0
Tintin Reporter - Cigars of the Pharaoh: Limi
published by: BigJ | Page Views: 48 | Comments: 0

Wednesday, August 30
Cricket 24 launches on XBOX, PlayStation and
published by: BigJ | Page Views: 63 | Comments: 0

Tuesday, August 29
Asterix & Obelix: Slap Them All! 2 releases o
published by: BigJ | Page Views: 48 | Comments: 0
10tons announces open-world RPG "Dysplaced" f
published by: BigJ | Page Views: 45 | Comments: 0

Monday, August 28
Backpacking Adventure RPG 'Albatroz' comes to
published by: BigJ | Page Views: 58 | Comments: 0

Friday, August 25
Disney Speedstorm Races Out of Early Access o
published by: BigJ | Page Views: 64 | Comments: 0
Four-player top-down racer 'Make Way' is comi
published by: BigJ | Page Views: 55 | Comments: 0

Thursday, August 24
TREPANG2: Join the bloodshed later this year
published by: BigJ | Page Views: 75 | Comments: 0
Heavy Duty Challenge arrives on September 14
published by: BigJ | Page Views: 65 | Comments: 0

Wednesday, August 23
'Tamarak Trail' coming to Xbox Series, PS5, S
published by: BigJ | Page Views: 70 | Comments: 0
Professional Fishing 2 confirmed for Xbox One
published by: BigJ | Page Views: 61 | Comments: 0

Tuesday, August 22
NASCAR Arcade Rush is coming to Xbox, PlaySta
published by: BigJ | Page Views: 56 | Comments: 0

Monday, August 21
Ebenezer and the Invisible World announced fo
published by: BigJ | Page Views: 69 | Comments: 0
Slime 3K: Rise Against Despot drops on Xbox,
published by: BigJ | Page Views: 77 | Comments: 0
Exploring the Fusion of Xbox Games, Sports, a
published by: BigJ | Page Views: 63 | Comments: 0
Dungeons of Hinterberg heading to Xbox and St
published by: BigJ | Page Views: 65 | Comments: 0

Friday, August 18
Selecta Play Announces Ninja Kidz Time Master
published by: BigJ | Page Views: 56 | Comments: 0

Thursday, August 17
Stray Souls Demo out now on PC; Coming to Xbo
published by: BigJ | Page Views: 64 | Comments: 0
The Precinct Gets a Publisher Deal with Kwale
published by: BigJ | Page Views: 71 | Comments: 0

Wednesday, August 16
Take a deeper dive into SteamWorld Build with
published by: BigJ | Page Views: 55 | Comments: 0
Tactical RPG Demonschool gets more details fr
published by: BigJ | Page Views: 70 | Comments: 0

Tuesday, August 15
Blasphemous 2 releases on August 24 for Xbox,
published by: BigJ | Page Views: 79 | Comments: 0

Monday, August 14
Laika: Aged Through Blood coming to consoles
published by: BigJ | Page Views: 88 | Comments: 0

Friday, August 11
Sonic Superstars announced for Xbox Series, X
published by: BigJ | Page Views: 98 | Comments: 0
Button City Soccer Days kicks off in 2024 on
published by: BigJ | Page Views: 84 | Comments: 0

Thursday, August 10
SOEDESCO announes New Truck Driver game that
published by: BigJ | Page Views: 106 | Comments: 0
Twin-stick shooter REMEDIUM out now on consol
published by: BigJ | Page Views: 103 | Comments: 0
Headbangers Rhythm Royale confirmed for Xbox,
published by: BigJ | Page Views: 109 | Comments: 0


News Archive