| | | |
| --- | --- | --- |
| | Explore Tin Hearts with New 'Making Of' Documentary | |
Explore Tin Hearts with New 'Making Of' Documentary

Wired Productions (@WiredP) and Rogue Sun (@RogueSunGames) revealed 'The Heart of It' - a brand-new series starring the creative minds behind narrative puzzle adventure, Tin Hearts (@TinHeartsGame). As part of a weekly series, each episode will go behind the scenes of the magical, toy-filled world of the game and shed light on its emotional and thought-provoking story.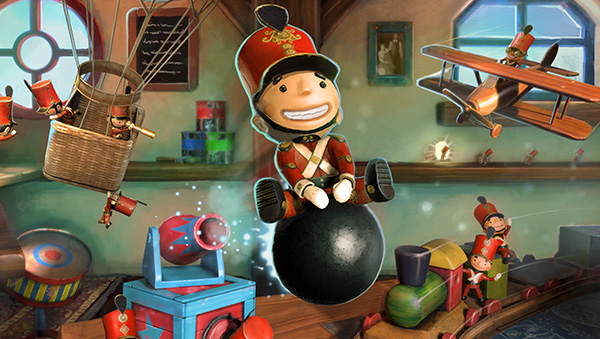 In addition to answering 'What Is Tin Hearts?', viewers are also taken through the games early stages which began as a VR project and has since expanded its setting, story and mechanics in part due to the mischievous Tin Soldier toys.
Winner of the 'Most Wanted Nintendo Switch Game' Accolade during Gamescom 2022,Tin Hearts is an immersive, narrative-based, puzzle adventure wrapped up in a powerful tale of love and compromise. March through over 40 levels of time-bending, soldier-routing riddles, forge new paths for your toys to follow, and solve increasingly elaborate puzzles to unravel the emotional, thought-provoking story of Albert J. Butterworth, a genius inventor of Victorian times.
Tin Hearts will be released on Xbox One, Xbox Series X|S, PlayStation 4 & 5, and PC (Steam, Epic Games Store, GOG, Utomik) on May 19th, 2023, with the release date for PCVR, Meta Quest 2 and PSVR2 slated for Summer 2023. The Nintendo Switch version release on April 20.
For everything Xbox, including the latest video game news & rumors, game trailers & videos, release dates, and DLC updates, follow @XONEHQ on Twitter, YouTube, Instagram, Facebook, and Pinterest. You can also download the free Xbox app for Android or subscribe via email and RSS.
News Source:
XBOXONE-HQ.COM
"
| | | |
| --- | --- | --- |
| | Related Stories | |

| | | |
| --- | --- | --- |
| | Most Popular | |

| | | |
| --- | --- | --- |
| | Rate this Article | |
| | | |
| --- | --- | --- |
| | Associated Topics | |
Associated Topics





| | | |
| --- | --- | --- |
| | Xbox Tutorials Database | |

| | | |
| --- | --- | --- |
| | Xbox Tutorials Database | |

| | | |
| --- | --- | --- |
| | Xbox Download Stats | |

| | | |
| --- | --- | --- |
| | Site Statistics | |

| | | |
| --- | --- | --- |
| | Site Statistics | |

HQ Online Statistics
Members: 1 | Guests: 5,895 | Xbox Live Tags: 4,376


Home

Active Users: 5014

Forums

Active Users: 659

Your Account

Active Users: 87

News

Active Users: 43

Xbox Games

Active Users: 21

Downloads

Active Users: 14

Xbox Homebrew

Active Users: 13

Downloads VIP

Active Users: 9

VIP Signup

Active Users: 6

Profile

Active Users: 5

View More Detailed Statistics

| | | |
| --- | --- | --- |
| | Site Statistics | |

| | | |
| --- | --- | --- |
| | Popular Xbox Games | |
King Arthur
Page Views: 295,072

Live the true story behind the epic legend of King Arthur and the Knights of the Round Table. Based on the upcoming King Arthur motion picture from producer Jerry Bruckheimer, directed by Antoine Fuqu..

More Xbox Games

| | | |
| --- | --- | --- |
| | HQ Network Affiliates | |

| | | |
| --- | --- | --- |
| | Xbox-Hq.Com - Archived News | |

Wednesday, September 13
Lil' Guardsman: Explore Whimsy and Factions i
published by: BigJ | Page Views: 14 | Comments: 0

Tuesday, September 12
Monolith: Requiem of the Ancients hits Xbox,
published by: BigJ | Page Views: 23 | Comments: 0
IO Interactive Opens a New Studio in Brighton
published by: BigJ | Page Views: 25 | Comments: 0

Monday, September 11
Retro Shooters Return: Realms Deep 2023 Kicks
published by: BigJ | Page Views: 24 | Comments: 0

Friday, September 08
Jurassic Park Classic Games Collection announ
published by: BigJ | Page Views: 39 | Comments: 0
Steam Deck Gets a New Look with JSAUX's Trans
published by: doa666 | Page Views: 29 | Comments: 0

Thursday, September 07
XBHD: HD Video Adapter for Original Xbox laun
published by: BigJ | Page Views: 64 | Comments: 0

Wednesday, September 06
Skull Island: Rise of Kong Announced for Xbox
published by: BigJ | Page Views: 43 | Comments: 0

Tuesday, September 05
SOEDESCO shares more details about Truck Driv
published by: BigJ | Page Views: 40 | Comments: 0
Former Executives Secure $5M to Evolve New St
published by: BigJ | Page Views: 45 | Comments: 0

Monday, September 04
Otherside Entertainment and Aonic Announce St
published by: BigJ | Page Views: 50 | Comments: 0

Thursday, August 31
Multiplayer Sandbox Adventure Tinkertown Out
published by: BigJ | Page Views: 51 | Comments: 0
Tintin Reporter - Cigars of the Pharaoh: Limi
published by: BigJ | Page Views: 48 | Comments: 0

Wednesday, August 30
Cricket 24 launches on XBOX, PlayStation and
published by: BigJ | Page Views: 63 | Comments: 0

Tuesday, August 29
Asterix & Obelix: Slap Them All! 2 releases o
published by: BigJ | Page Views: 48 | Comments: 0
10tons announces open-world RPG "Dysplaced" f
published by: BigJ | Page Views: 45 | Comments: 0

Monday, August 28
Backpacking Adventure RPG 'Albatroz' comes to
published by: BigJ | Page Views: 58 | Comments: 0

Friday, August 25
Disney Speedstorm Races Out of Early Access o
published by: BigJ | Page Views: 64 | Comments: 0
Four-player top-down racer 'Make Way' is comi
published by: BigJ | Page Views: 55 | Comments: 0

Thursday, August 24
TREPANG2: Join the bloodshed later this year
published by: BigJ | Page Views: 75 | Comments: 0
Heavy Duty Challenge arrives on September 14
published by: BigJ | Page Views: 65 | Comments: 0

Wednesday, August 23
'Tamarak Trail' coming to Xbox Series, PS5, S
published by: BigJ | Page Views: 70 | Comments: 0
Professional Fishing 2 confirmed for Xbox One
published by: BigJ | Page Views: 61 | Comments: 0

Tuesday, August 22
NASCAR Arcade Rush is coming to Xbox, PlaySta
published by: BigJ | Page Views: 56 | Comments: 0

Monday, August 21
Ebenezer and the Invisible World announced fo
published by: BigJ | Page Views: 69 | Comments: 0
Slime 3K: Rise Against Despot drops on Xbox,
published by: BigJ | Page Views: 77 | Comments: 0
Exploring the Fusion of Xbox Games, Sports, a
published by: BigJ | Page Views: 63 | Comments: 0
Dungeons of Hinterberg heading to Xbox and St
published by: BigJ | Page Views: 65 | Comments: 0

Friday, August 18
Selecta Play Announces Ninja Kidz Time Master
published by: BigJ | Page Views: 56 | Comments: 0

Thursday, August 17
Stray Souls Demo out now on PC; Coming to Xbo
published by: BigJ | Page Views: 64 | Comments: 0
The Precinct Gets a Publisher Deal with Kwale
published by: BigJ | Page Views: 71 | Comments: 0

Wednesday, August 16
Take a deeper dive into SteamWorld Build with
published by: BigJ | Page Views: 55 | Comments: 0
Tactical RPG Demonschool gets more details fr
published by: BigJ | Page Views: 70 | Comments: 0

Tuesday, August 15
Blasphemous 2 releases on August 24 for Xbox,
published by: BigJ | Page Views: 79 | Comments: 0

Monday, August 14
Laika: Aged Through Blood coming to consoles
published by: BigJ | Page Views: 88 | Comments: 0

Friday, August 11
Sonic Superstars announced for Xbox Series, X
published by: BigJ | Page Views: 98 | Comments: 0
Button City Soccer Days kicks off in 2024 on
published by: BigJ | Page Views: 84 | Comments: 0

Thursday, August 10
SOEDESCO announes New Truck Driver game that
published by: BigJ | Page Views: 106 | Comments: 0
Twin-stick shooter REMEDIUM out now on consol
published by: BigJ | Page Views: 103 | Comments: 0
Headbangers Rhythm Royale confirmed for Xbox,
published by: BigJ | Page Views: 109 | Comments: 0


News Archive