| | | |
| --- | --- | --- |
| | STEEL SEED confirmed for Xbox Series, PlayStation 5 & PC | |
STEEL SEED confirmed for Xbox Series, PlayStation 5 & PC

Italian developer Storm in a Teacup confirmed that its action adventure game STEEL SEED, the studio's next project following 2019's historic horror adventure, Close to the Sun, is heading to Xbox Series, PlayStation 5 & PC in 2024.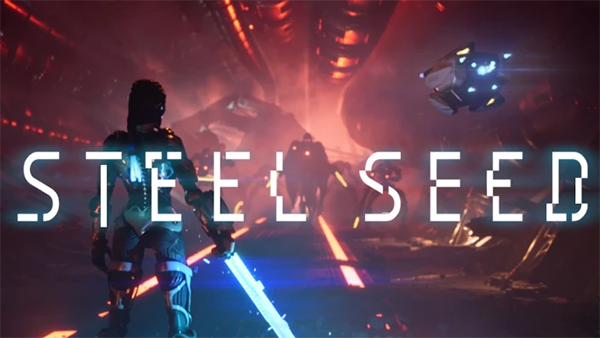 Thousands of years have passed since the human race took the planet to the brink of destruction, causing the AI machines to take all means necessary to save a number of them. Hiding deep below earth's surface, the last survivors are kept safe, but a new threat has presented itself. Is it human? Or Machine? And what does it mean for the remnants of the Human Race and their machine guardians?
Watch the official reveal trailer for STEEL SEED below.
Carlo Ivo Alimo Bianchi, Storm in a Teacup CEO & Creative Director said "STEEL SEED represents the most challenging project till now for Storm in a Teacup, featuring both a varied combat/stealth system and incredibly deep and emotional storytelling. STEEL SEED is an epic journey that will test your humanity."
STEEL SEED is coming to Xbox Series X/S, PlayStation 5 and PC in 2024.
For more video game news, release dates, previews, and industry info for Xbox One, Xbox Series X|S, Windows PC, Steam, GOG & Epic Store, follow @XONEHQ on Twitter, Instagram, and Pinterest, subscribe on YouTube, and install the free Xbox News app for Android.
News Source:
XBOXONE-HQ.COM
"
| | | |
| --- | --- | --- |
| | Related Stories | |

| | | |
| --- | --- | --- |
| | Most Popular | |

| | | |
| --- | --- | --- |
| | Rate this Article | |
| | | |
| --- | --- | --- |
| | Associated Topics | |



| | | |
| --- | --- | --- |
| | Xbox Tutorials Database | |

| | | |
| --- | --- | --- |
| | Xbox Tutorials Database | |

| | | |
| --- | --- | --- |
| | Xbox Download Stats | |

| | | |
| --- | --- | --- |
| | Site Statistics | |

| | | |
| --- | --- | --- |
| | Site Statistics | |

HQ Online Statistics
Members: 2 | Guests: 394 | Xbox Live Tags: 4,376


Home

Active Users: 112

Forums

Active Users: 77

News

Active Users: 45

Downloads

Active Users: 34

Your Account

Active Users: 29

Xbox Games

Active Users: 28

Xbox Homebrew

Active Users: 17

Profile

Active Users: 13

Xbox Tutorials

Active Users: 10

Xbox Developers

Active Users: 7

View More Detailed Statistics

| | | |
| --- | --- | --- |
| | Site Statistics | |

| | | |
| --- | --- | --- |
| | Popular Xbox Games | |
F1 2001
Page Views: 314,146

Battle for position at every sweeping bend, high-speed straight away, and hairpin turn within the world's most glamorous sporting arena. From Monaco to Monza, take on the most intelligent and daring r..

More Xbox Games

| | | |
| --- | --- | --- |
| | HQ Network Affiliates | |

| | | |
| --- | --- | --- |
| | Xbox-Hq.Com - Archived News | |

Friday, June 02
FLASHBACK 2 launches for Xbox One & Xbox Seri
published by: BigJ | Page Views: 20 | Comments: 0

Thursday, June 01
XSEED shares new narrated gameplay for Loop8:
published by: BigJ | Page Views: 35 | Comments: 0
KarmaZoo announced for Xbox One, Xbox Series,
published by: BigJ | Page Views: 35 | Comments: 0
Mineko's Night Market hits Xbox and PlayStati
published by: BigJ | Page Views: 32 | Comments: 0

Wednesday, May 31
Blasphemous 2 releases for Xbox Series, PS5,
published by: BigJ | Page Views: 34 | Comments: 0
Chants of Sennaar is coming to Xbox, PlayStat
published by: BigJ | Page Views: 43 | Comments: 0
PlateUp! Launches On Xbox, Xbox Game Pass, PS
published by: BigJ | Page Views: 40 | Comments: 0

Tuesday, May 30
Blooming Business Casino hits PC via Steam
published by: BigJ | Page Views: 66 | Comments: 0
Microids announces Dolphin Spirit - Ocean Mis
published by: BigJ | Page Views: 41 | Comments: 0

Monday, May 29
Agatha Christie - Hercule Poirot: The London
published by: BigJ | Page Views: 47 | Comments: 0
Noob: The Factionless hits Xbox, PlayStation,
published by: BigJ | Page Views: 64 | Comments: 0

Friday, May 26
Street Fighter 6 Showcase Steals the Show wit
published by: BigJ | Page Views: 54 | Comments: 0
Cross Tails announced for Xbox Series, PS5, X
published by: BigJ | Page Views: 64 | Comments: 0

Thursday, May 25
Drill Deal - Oil Tycoon releases on Xbox One
published by: BigJ | Page Views: 48 | Comments: 0

Wednesday, May 24
Farworld Pioneers releases May 30th on Xbox G
published by: BigJ | Page Views: 54 | Comments: 0

Tuesday, May 23
Immortals of Aveum heading to Xbox Series X|S
published by: BigJ | Page Views: 65 | Comments: 0

Monday, May 22
3D survival horror SENSEs: Midnight coming to
published by: BigJ | Page Views: 82 | Comments: 0
Discover Shadow Gambit: The Cursed Crew With
published by: BigJ | Page Views: 61 | Comments: 0

Friday, May 19
Team17's Killer Frequency hits consoles, PC a
published by: BigJ | Page Views: 75 | Comments: 0

Thursday, May 18
'Born of Bread' is heading to consoles and PC
published by: BigJ | Page Views: 61 | Comments: 0

Wednesday, May 17
Park Beyond take off on Xbox Series, PS5 and
published by: BigJ | Page Views: 75 | Comments: 0
First speakers for NG23: Nordic Game 23 (May
published by: BigJ | Page Views: 71 | Comments: 0

Tuesday, May 16
Curve Games partners with Orc Chop Games to p
published by: BigJ | Page Views: 76 | Comments: 0

Monday, May 15
Trine 5 confirmed for Xbox One, Xbox Series,
published by: BigJ | Page Views: 80 | Comments: 0
Explore Tin Hearts with New 'Making Of' Docum
published by: BigJ | Page Views: 86 | Comments: 0

Friday, May 12
Farworld Pioneers arrives May 30 on consoles,
published by: BigJ | Page Views: 105 | Comments: 0

Thursday, May 11
The Lord of the Rings: Gollum Releasing May 2
published by: BigJ | Page Views: 84 | Comments: 0

Wednesday, May 10
Wooden Alien confirms Space Prison for Xbox S
published by: BigJ | Page Views: 84 | Comments: 0

Tuesday, May 09
Crusader Kings III: Royal Court Expansion Rel
published by: BigJ | Page Views: 99 | Comments: 0

Monday, May 08
Top Hat announces 'Frogun Encore' for console
published by: forahobby | Page Views: 89 | Comments: 0
Join Italy's video game developers at First P
published by: forahobby | Page Views: 75 | Comments: 0

Friday, May 05
Dear Villagers unveils a fresh visual identit
published by: forahobby | Page Views: 118 | Comments: 0

Thursday, May 04
Short N Sweet Games Set to Deliver Quality In
published by: forahobby | Page Views: 76 | Comments: 0

Wednesday, May 03
'BAT BOY' releases May 25th on Xbox One, Xbo
published by: forahobby | Page Views: 68 | Comments: 0

Tuesday, May 02
Xbox Games with Gold for May 2023
published by: doa666 | Page Views: 75 | Comments: 0

Monday, May 01
Worldless coming to Xbox One, Xbox Series and
published by: forahobby | Page Views: 73 | Comments: 0
Coherence 1.0 will launch on June 1st with ma
published by: forahobby | Page Views: 82 | Comments: 0

Friday, April 28
Inescapable: No Rules, No Rescue hits Xbox, P
published by: forahobby | Page Views: 72 | Comments: 0

Thursday, April 27
Atlas Fallen launches May 16 on Xbox Series,
published by: forahobby | Page Views: 91 | Comments: 0
LEGO 2K Drive: A Racing Game for All Ages Com
published by: forahobby | Page Views: 86 | Comments: 0


News Archive