| | | |
| --- | --- | --- |
| | Nocturnal is heading to consoles and PC in 2023 | |
Nocturnal is heading to consoles and PC in 2023

Indie developer Sunnyside Games (@SunnysideGame) and publisher Dear Villagers (@DearVillagers) revealed that flame-wielding platformer Nocturnal is coming to consoles and PC later this year. Watch the official reveal trailer and learn more about the game on @XONEHQ.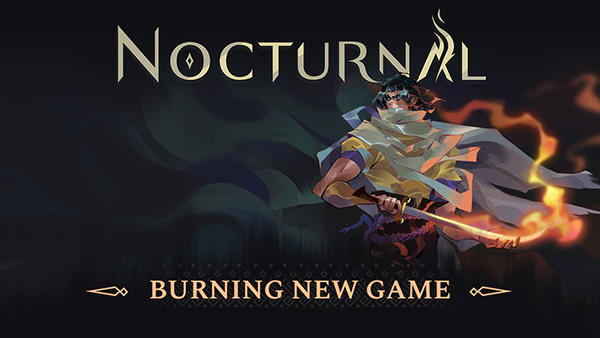 Nocturnal is an action exploration odyssey that will task players with repelling a nefarious mist as it enshrouds an ancient isle. Use your fire to uncover what secrets lay hidden beneath the fog!
After a difficult journey across a troubled sea, Ardeshir, a soldier of the Enduring Flame, returns to his home island of Nahran. Engulfed in a shadowy mist, Ardeshir must rely on fire to extinguish the sinister forces that have overtaken his native land. Flame has many uses here. It can ward off the Mist, ignite the scenery, turn on machinery, and be used to burn beings of dark magic impervious to conventional weaponry. But be forewarned: one cannot breathe in the Mist, so you'll have to use your wits as you intuit new ways to keep it at bay.
Nocturnal will release on consoles and PC in Spring 2023!
For more video game news, release dates, exclusive gameplay, and other information, follow @XONEHQ on Twitter, Instagram, and Pinterest, subscribe on YouTube, and install the free Xbox News app for Android.
News Source:
XBOXONE-HQ.COM
"
| | | |
| --- | --- | --- |
| | Related Stories | |

| | | |
| --- | --- | --- |
| | Most Popular | |

| | | |
| --- | --- | --- |
| | Rate this Article | |
| | | |
| --- | --- | --- |
| | Associated Topics | |
Associated Topics





| | | |
| --- | --- | --- |
| | Xbox Tutorials Database | |

| | | |
| --- | --- | --- |
| | Xbox Tutorials Database | |

| | | |
| --- | --- | --- |
| | Xbox Download Stats | |

| | | |
| --- | --- | --- |
| | Site Statistics | |

| | | |
| --- | --- | --- |
| | Site Statistics | |

HQ Online Statistics
Members: 2 | Guests: 384 | Xbox Live Tags: 4,376


Home

Active Users: 108

Forums

Active Users: 78

News

Active Users: 39

Downloads

Active Users: 33

Your Account

Active Users: 29

Xbox Games

Active Users: 20

Profile

Active Users: 18

Stories Archive

Active Users: 15

Xbox Homebrew

Active Users: 15

Xbox Tutorials

Active Users: 10

View More Detailed Statistics

| | | |
| --- | --- | --- |
| | Site Statistics | |

| | | |
| --- | --- | --- |
| | Popular Xbox Games | |
Sniper Elite
Page Views: 406,690

The game is set in Berlin 1945 during the final advance of the Soviet army and is based upon actual historic events. Sniper Elite sees the player take the role of an elite sniper recruited by the Amer..

More Xbox Games

| | | |
| --- | --- | --- |
| | HQ Network Affiliates | |

| | | |
| --- | --- | --- |
| | Xbox-Hq.Com - Archived News | |

Friday, June 02
FLASHBACK 2 launches for Xbox One & Xbox Seri
published by: BigJ | Page Views: 20 | Comments: 0

Thursday, June 01
XSEED shares new narrated gameplay for Loop8:
published by: BigJ | Page Views: 35 | Comments: 0
KarmaZoo announced for Xbox One, Xbox Series,
published by: BigJ | Page Views: 35 | Comments: 0
Mineko's Night Market hits Xbox and PlayStati
published by: BigJ | Page Views: 32 | Comments: 0

Wednesday, May 31
Blasphemous 2 releases for Xbox Series, PS5,
published by: BigJ | Page Views: 34 | Comments: 0
Chants of Sennaar is coming to Xbox, PlayStat
published by: BigJ | Page Views: 44 | Comments: 0
PlateUp! Launches On Xbox, Xbox Game Pass, PS
published by: BigJ | Page Views: 40 | Comments: 0

Tuesday, May 30
Blooming Business Casino hits PC via Steam
published by: BigJ | Page Views: 67 | Comments: 0
Microids announces Dolphin Spirit - Ocean Mis
published by: BigJ | Page Views: 41 | Comments: 0

Monday, May 29
Agatha Christie - Hercule Poirot: The London
published by: BigJ | Page Views: 47 | Comments: 0
Noob: The Factionless hits Xbox, PlayStation,
published by: BigJ | Page Views: 64 | Comments: 0

Friday, May 26
Street Fighter 6 Showcase Steals the Show wit
published by: BigJ | Page Views: 54 | Comments: 0
Cross Tails announced for Xbox Series, PS5, X
published by: BigJ | Page Views: 64 | Comments: 0

Thursday, May 25
Drill Deal - Oil Tycoon releases on Xbox One
published by: BigJ | Page Views: 48 | Comments: 0

Wednesday, May 24
Farworld Pioneers releases May 30th on Xbox G
published by: BigJ | Page Views: 54 | Comments: 0

Tuesday, May 23
Immortals of Aveum heading to Xbox Series X|S
published by: BigJ | Page Views: 65 | Comments: 0

Monday, May 22
3D survival horror SENSEs: Midnight coming to
published by: BigJ | Page Views: 82 | Comments: 0
Discover Shadow Gambit: The Cursed Crew With
published by: BigJ | Page Views: 61 | Comments: 0

Friday, May 19
Team17's Killer Frequency hits consoles, PC a
published by: BigJ | Page Views: 75 | Comments: 0

Thursday, May 18
'Born of Bread' is heading to consoles and PC
published by: BigJ | Page Views: 61 | Comments: 0

Wednesday, May 17
Park Beyond take off on Xbox Series, PS5 and
published by: BigJ | Page Views: 75 | Comments: 0
First speakers for NG23: Nordic Game 23 (May
published by: BigJ | Page Views: 71 | Comments: 0

Tuesday, May 16
Curve Games partners with Orc Chop Games to p
published by: BigJ | Page Views: 76 | Comments: 0

Monday, May 15
Trine 5 confirmed for Xbox One, Xbox Series,
published by: BigJ | Page Views: 80 | Comments: 0
Explore Tin Hearts with New 'Making Of' Docum
published by: BigJ | Page Views: 86 | Comments: 0

Friday, May 12
Farworld Pioneers arrives May 30 on consoles,
published by: BigJ | Page Views: 105 | Comments: 0

Thursday, May 11
The Lord of the Rings: Gollum Releasing May 2
published by: BigJ | Page Views: 84 | Comments: 0

Wednesday, May 10
Wooden Alien confirms Space Prison for Xbox S
published by: BigJ | Page Views: 84 | Comments: 0

Tuesday, May 09
Crusader Kings III: Royal Court Expansion Rel
published by: BigJ | Page Views: 99 | Comments: 0

Monday, May 08
Top Hat announces 'Frogun Encore' for console
published by: forahobby | Page Views: 89 | Comments: 0
Join Italy's video game developers at First P
published by: forahobby | Page Views: 75 | Comments: 0

Friday, May 05
Dear Villagers unveils a fresh visual identit
published by: forahobby | Page Views: 118 | Comments: 0

Thursday, May 04
Short N Sweet Games Set to Deliver Quality In
published by: forahobby | Page Views: 76 | Comments: 0

Wednesday, May 03
'BAT BOY' releases May 25th on Xbox One, Xbo
published by: forahobby | Page Views: 68 | Comments: 0

Tuesday, May 02
Xbox Games with Gold for May 2023
published by: doa666 | Page Views: 75 | Comments: 0

Monday, May 01
Worldless coming to Xbox One, Xbox Series and
published by: forahobby | Page Views: 74 | Comments: 0
Coherence 1.0 will launch on June 1st with ma
published by: forahobby | Page Views: 82 | Comments: 0

Friday, April 28
Inescapable: No Rules, No Rescue hits Xbox, P
published by: forahobby | Page Views: 72 | Comments: 0

Thursday, April 27
Atlas Fallen launches May 16 on Xbox Series,
published by: forahobby | Page Views: 91 | Comments: 0
LEGO 2K Drive: A Racing Game for All Ages Com
published by: forahobby | Page Views: 86 | Comments: 0


News Archive