| | | |
| --- | --- | --- |
| | Fernbus Simulator coming to Xbox Series X|S and PS5 next week! | |
Fernbus Simulator coming to Xbox Series X|S and PS5 next week!

Aerosoft GmbH (@AerosoftGmbH) confirmed that the console version of the popular intercity bus game Fernbus Simulator from TML Studio is coming to Xbox Series X|S and PlayStation 5 next week. All previous map DLCs of the PC version are already included! Thus you can drive across almost all of Europe with your bus right away.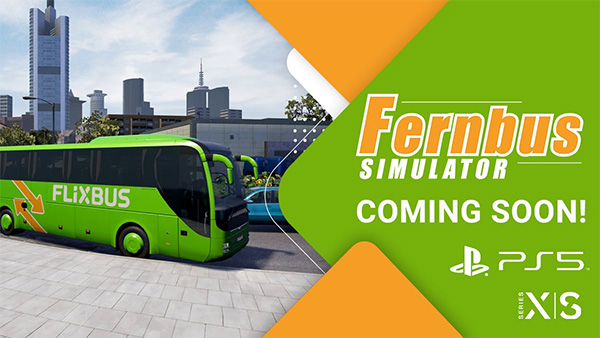 Experience the world of coaches on the highways and country roads of Europe in over 100 cities and on more than 50,000 km of recreated routes. Drive the MAN Lion's Coach coach, faithfully recreated in cooperation with FlixBus, safely and on time to Europe's bus stations - day and night and in every season. Face challenges like road works, traffic jams and accidents to stay on schedule, check in passengers and sell tickets. True-to-the-original cockpits including many functions, the detailed interior and exterior of the buses as well as the original passenger announcements allow for an immersive, realistic atmosphere. Are you ready for your adventure with FlixBus?
Fernbus Simulator will be available for Xbox Series and PS5 on Feb 28. Until then, browse through all of our coverage including the full list of achievements and screenshots.
For more video game news, release dates, previews and industry info for Xbox One, Xbox Series X|S, Windows PC, Steam, GOG & Epic Store, follow @XONEHQ on Twitter, Instagram, and Pinterest, subscribe on YouTube, and install the free Xbox News app for Android.
Xbox Store:
here
News Source:
XBOXONE-HQ.COM
"
| | | |
| --- | --- | --- |
| | Related Stories | |

| | | |
| --- | --- | --- |
| | Most Popular | |

| | | |
| --- | --- | --- |
| | Rate this Article | |
| | | |
| --- | --- | --- |
| | Associated Topics | |



| | | |
| --- | --- | --- |
| | Xbox Tutorials Database | |

| | | |
| --- | --- | --- |
| | Xbox Tutorials Database | |

| | | |
| --- | --- | --- |
| | Xbox Download Stats | |

| | | |
| --- | --- | --- |
| | Site Statistics | |

| | | |
| --- | --- | --- |
| | Site Statistics | |

HQ Online Statistics
Members: 2 | Guests: 387 | Xbox Live Tags: 4,376


Home

Active Users: 106

Forums

Active Users: 75

News

Active Users: 38

Downloads

Active Users: 35

Your Account

Active Users: 30

Xbox Games

Active Users: 23

Profile

Active Users: 19

Xbox Homebrew

Active Users: 15

Stories Archive

Active Users: 13

Xbox Tutorials

Active Users: 11

View More Detailed Statistics

| | | |
| --- | --- | --- |
| | Site Statistics | |

| | | |
| --- | --- | --- |
| | Popular Xbox Games | |
Xbox Live Arcade
Page Views: 303,178

Xbox Live Arcade starter disc, contains the software necessary to download pay-per-download arcade games from Xbox Live as well as a small sample compilation of playable games. Targeted as a standalon..

More Xbox Games

| | | |
| --- | --- | --- |
| | HQ Network Affiliates | |

| | | |
| --- | --- | --- |
| | Xbox-Hq.Com - Archived News | |

Friday, June 02
FLASHBACK 2 launches for Xbox One & Xbox Seri
published by: BigJ | Page Views: 20 | Comments: 0

Thursday, June 01
XSEED shares new narrated gameplay for Loop8:
published by: BigJ | Page Views: 35 | Comments: 0
KarmaZoo announced for Xbox One, Xbox Series,
published by: BigJ | Page Views: 35 | Comments: 0
Mineko's Night Market hits Xbox and PlayStati
published by: BigJ | Page Views: 32 | Comments: 0

Wednesday, May 31
Blasphemous 2 releases for Xbox Series, PS5,
published by: BigJ | Page Views: 34 | Comments: 0
Chants of Sennaar is coming to Xbox, PlayStat
published by: BigJ | Page Views: 44 | Comments: 0
PlateUp! Launches On Xbox, Xbox Game Pass, PS
published by: BigJ | Page Views: 40 | Comments: 0

Tuesday, May 30
Blooming Business Casino hits PC via Steam
published by: BigJ | Page Views: 67 | Comments: 0
Microids announces Dolphin Spirit - Ocean Mis
published by: BigJ | Page Views: 41 | Comments: 0

Monday, May 29
Agatha Christie - Hercule Poirot: The London
published by: BigJ | Page Views: 47 | Comments: 0
Noob: The Factionless hits Xbox, PlayStation,
published by: BigJ | Page Views: 64 | Comments: 0

Friday, May 26
Street Fighter 6 Showcase Steals the Show wit
published by: BigJ | Page Views: 54 | Comments: 0
Cross Tails announced for Xbox Series, PS5, X
published by: BigJ | Page Views: 64 | Comments: 0

Thursday, May 25
Drill Deal - Oil Tycoon releases on Xbox One
published by: BigJ | Page Views: 48 | Comments: 0

Wednesday, May 24
Farworld Pioneers releases May 30th on Xbox G
published by: BigJ | Page Views: 54 | Comments: 0

Tuesday, May 23
Immortals of Aveum heading to Xbox Series X|S
published by: BigJ | Page Views: 65 | Comments: 0

Monday, May 22
3D survival horror SENSEs: Midnight coming to
published by: BigJ | Page Views: 82 | Comments: 0
Discover Shadow Gambit: The Cursed Crew With
published by: BigJ | Page Views: 61 | Comments: 0

Friday, May 19
Team17's Killer Frequency hits consoles, PC a
published by: BigJ | Page Views: 75 | Comments: 0

Thursday, May 18
'Born of Bread' is heading to consoles and PC
published by: BigJ | Page Views: 61 | Comments: 0

Wednesday, May 17
Park Beyond take off on Xbox Series, PS5 and
published by: BigJ | Page Views: 75 | Comments: 0
First speakers for NG23: Nordic Game 23 (May
published by: BigJ | Page Views: 71 | Comments: 0

Tuesday, May 16
Curve Games partners with Orc Chop Games to p
published by: BigJ | Page Views: 76 | Comments: 0

Monday, May 15
Trine 5 confirmed for Xbox One, Xbox Series,
published by: BigJ | Page Views: 80 | Comments: 0
Explore Tin Hearts with New 'Making Of' Docum
published by: BigJ | Page Views: 86 | Comments: 0

Friday, May 12
Farworld Pioneers arrives May 30 on consoles,
published by: BigJ | Page Views: 105 | Comments: 0

Thursday, May 11
The Lord of the Rings: Gollum Releasing May 2
published by: BigJ | Page Views: 84 | Comments: 0

Wednesday, May 10
Wooden Alien confirms Space Prison for Xbox S
published by: BigJ | Page Views: 84 | Comments: 0

Tuesday, May 09
Crusader Kings III: Royal Court Expansion Rel
published by: BigJ | Page Views: 99 | Comments: 0

Monday, May 08
Top Hat announces 'Frogun Encore' for console
published by: forahobby | Page Views: 89 | Comments: 0
Join Italy's video game developers at First P
published by: forahobby | Page Views: 75 | Comments: 0

Friday, May 05
Dear Villagers unveils a fresh visual identit
published by: forahobby | Page Views: 118 | Comments: 0

Thursday, May 04
Short N Sweet Games Set to Deliver Quality In
published by: forahobby | Page Views: 76 | Comments: 0

Wednesday, May 03
'BAT BOY' releases May 25th on Xbox One, Xbo
published by: forahobby | Page Views: 68 | Comments: 0

Tuesday, May 02
Xbox Games with Gold for May 2023
published by: doa666 | Page Views: 75 | Comments: 0

Monday, May 01
Worldless coming to Xbox One, Xbox Series and
published by: forahobby | Page Views: 74 | Comments: 0
Coherence 1.0 will launch on June 1st with ma
published by: forahobby | Page Views: 82 | Comments: 0

Friday, April 28
Inescapable: No Rules, No Rescue hits Xbox, P
published by: forahobby | Page Views: 72 | Comments: 0

Thursday, April 27
Atlas Fallen launches May 16 on Xbox Series,
published by: forahobby | Page Views: 91 | Comments: 0
LEGO 2K Drive: A Racing Game for All Ages Com
published by: forahobby | Page Views: 86 | Comments: 0


News Archive