| | | |
| --- | --- | --- |
| | Anno 1800 Console Edition sails onto Xbox Series & PS5 in March | |
Anno 1800 Console Edition sails onto Xbox Series & PS5 in March

Ubisoft announced that its strategy game Anno 1800, the fastest selling game of the entire franchise, will be launching for Xbox Series X|S and PlayStation 5 consoles on March 16, 2023. Pre-orders are LIVE!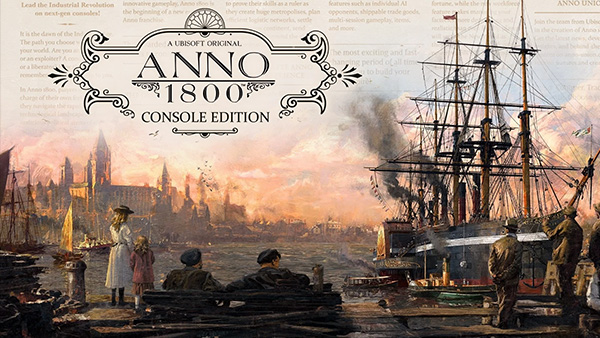 Anno 1800 is a strategy game, that gives player the opportunity to show off their leadership skills: build gigantic metropolises, set up efficient and profitable logistical networks, colonise an exotic new continent, charter expeditions to the four corners of the globe, and dominate their opponents diplomatically, commercially or militarily.
Developed by the very same studio behind the original PC version of the game, Ubisoft Mainz, the Anno 1800 Console Edition will offer players the full Anno experience with a completely redesigned User interface and controls, powered by the next generation of consoles.
Starting today, players can pre-order Anno 1800 Console Edition.
Two versions are available: Standard and Deluxe:
The Standard version includes the base game and the biggest game updates.
The Deluxe version contains the base game, the biggest game updates and three cosmetics packs: the Pedestrian Zone, the Amusements Pack and Vibrant Cities.
Early adopters pre-ordering or purchasing the game, will enjoy the imperial and the console founder packs, containing extra cosmetic bonuses, along with the digital artbook and soundtrack. In addition, all cosmetic packs will be available to purchase. The Early Adopter offer will end on 16th April.
For future Video game news & rumors and the best new and upcoming games, game trailers, previews, screenshots, release dates and an always updated Xbox One & Xbox Series X enhanced 4K games list, follow @XONEHQ on Twitter, YouTube, Facebook and Pinterest, and download the free XBOX app for Android.
Xbox Store:
here
News Source:
XBOXONE-HQ.COM
Official Site:
https://annogame.com/console
"
| | | |
| --- | --- | --- |
| | Related Stories | |

| | | |
| --- | --- | --- |
| | Most Popular | |

| | | |
| --- | --- | --- |
| | Rate this Article | |
| | | |
| --- | --- | --- |
| | Associated Topics | |



| | | |
| --- | --- | --- |
| | Xbox Tutorials Database | |

| | | |
| --- | --- | --- |
| | Xbox Tutorials Database | |

| | | |
| --- | --- | --- |
| | Xbox Download Stats | |

| | | |
| --- | --- | --- |
| | Site Statistics | |

| | | |
| --- | --- | --- |
| | Site Statistics | |

HQ Online Statistics
Members: 2 | Guests: 391 | Xbox Live Tags: 4,376


Home

Active Users: 109

Forums

Active Users: 75

News

Active Users: 37

Downloads

Active Users: 34

Xbox Games

Active Users: 33

Your Account

Active Users: 28

Profile

Active Users: 21

Xbox Homebrew

Active Users: 16

Xbox Tutorials

Active Users: 10

Xbox Cheats

Active Users: 5

View More Detailed Statistics

| | | |
| --- | --- | --- |
| | Site Statistics | |

| | | |
| --- | --- | --- |
| | Popular Xbox Games | |
Simpsons: Road Rage
Page Views: 292,384

The Simpsons Road Rage is an action racing title filled with the hilarious Simpsons storyline. Players will have the ability to race recklessly threw the streets of the very abnormal Springfield town...

More Xbox Games

| | | |
| --- | --- | --- |
| | HQ Network Affiliates | |

| | | |
| --- | --- | --- |
| | Xbox-Hq.Com - Archived News | |

Friday, June 02
FLASHBACK 2 launches for Xbox One & Xbox Seri
published by: BigJ | Page Views: 20 | Comments: 0

Thursday, June 01
XSEED shares new narrated gameplay for Loop8:
published by: BigJ | Page Views: 35 | Comments: 0
KarmaZoo announced for Xbox One, Xbox Series,
published by: BigJ | Page Views: 35 | Comments: 0
Mineko's Night Market hits Xbox and PlayStati
published by: BigJ | Page Views: 32 | Comments: 0

Wednesday, May 31
Blasphemous 2 releases for Xbox Series, PS5,
published by: BigJ | Page Views: 34 | Comments: 0
Chants of Sennaar is coming to Xbox, PlayStat
published by: BigJ | Page Views: 44 | Comments: 0
PlateUp! Launches On Xbox, Xbox Game Pass, PS
published by: BigJ | Page Views: 40 | Comments: 0

Tuesday, May 30
Blooming Business Casino hits PC via Steam
published by: BigJ | Page Views: 66 | Comments: 0
Microids announces Dolphin Spirit - Ocean Mis
published by: BigJ | Page Views: 41 | Comments: 0

Monday, May 29
Agatha Christie - Hercule Poirot: The London
published by: BigJ | Page Views: 47 | Comments: 0
Noob: The Factionless hits Xbox, PlayStation,
published by: BigJ | Page Views: 64 | Comments: 0

Friday, May 26
Street Fighter 6 Showcase Steals the Show wit
published by: BigJ | Page Views: 54 | Comments: 0
Cross Tails announced for Xbox Series, PS5, X
published by: BigJ | Page Views: 64 | Comments: 0

Thursday, May 25
Drill Deal - Oil Tycoon releases on Xbox One
published by: BigJ | Page Views: 48 | Comments: 0

Wednesday, May 24
Farworld Pioneers releases May 30th on Xbox G
published by: BigJ | Page Views: 54 | Comments: 0

Tuesday, May 23
Immortals of Aveum heading to Xbox Series X|S
published by: BigJ | Page Views: 65 | Comments: 0

Monday, May 22
3D survival horror SENSEs: Midnight coming to
published by: BigJ | Page Views: 82 | Comments: 0
Discover Shadow Gambit: The Cursed Crew With
published by: BigJ | Page Views: 61 | Comments: 0

Friday, May 19
Team17's Killer Frequency hits consoles, PC a
published by: BigJ | Page Views: 75 | Comments: 0

Thursday, May 18
'Born of Bread' is heading to consoles and PC
published by: BigJ | Page Views: 61 | Comments: 0

Wednesday, May 17
Park Beyond take off on Xbox Series, PS5 and
published by: BigJ | Page Views: 75 | Comments: 0
First speakers for NG23: Nordic Game 23 (May
published by: BigJ | Page Views: 71 | Comments: 0

Tuesday, May 16
Curve Games partners with Orc Chop Games to p
published by: BigJ | Page Views: 76 | Comments: 0

Monday, May 15
Trine 5 confirmed for Xbox One, Xbox Series,
published by: BigJ | Page Views: 80 | Comments: 0
Explore Tin Hearts with New 'Making Of' Docum
published by: BigJ | Page Views: 86 | Comments: 0

Friday, May 12
Farworld Pioneers arrives May 30 on consoles,
published by: BigJ | Page Views: 105 | Comments: 0

Thursday, May 11
The Lord of the Rings: Gollum Releasing May 2
published by: BigJ | Page Views: 84 | Comments: 0

Wednesday, May 10
Wooden Alien confirms Space Prison for Xbox S
published by: BigJ | Page Views: 84 | Comments: 0

Tuesday, May 09
Crusader Kings III: Royal Court Expansion Rel
published by: BigJ | Page Views: 99 | Comments: 0

Monday, May 08
Top Hat announces 'Frogun Encore' for console
published by: forahobby | Page Views: 89 | Comments: 0
Join Italy's video game developers at First P
published by: forahobby | Page Views: 75 | Comments: 0

Friday, May 05
Dear Villagers unveils a fresh visual identit
published by: forahobby | Page Views: 118 | Comments: 0

Thursday, May 04
Short N Sweet Games Set to Deliver Quality In
published by: forahobby | Page Views: 76 | Comments: 0

Wednesday, May 03
'BAT BOY' releases May 25th on Xbox One, Xbo
published by: forahobby | Page Views: 68 | Comments: 0

Tuesday, May 02
Xbox Games with Gold for May 2023
published by: doa666 | Page Views: 75 | Comments: 0

Monday, May 01
Worldless coming to Xbox One, Xbox Series and
published by: forahobby | Page Views: 74 | Comments: 0
Coherence 1.0 will launch on June 1st with ma
published by: forahobby | Page Views: 82 | Comments: 0

Friday, April 28
Inescapable: No Rules, No Rescue hits Xbox, P
published by: forahobby | Page Views: 72 | Comments: 0

Thursday, April 27
Atlas Fallen launches May 16 on Xbox Series,
published by: forahobby | Page Views: 91 | Comments: 0
LEGO 2K Drive: A Racing Game for All Ages Com
published by: forahobby | Page Views: 86 | Comments: 0


News Archive