| | | |
| --- | --- | --- |
| | Monster Energy Supercross 6 Drops A New Trailer | |
Monster Energy Supercross 6 Drops A New Trailer

Milestone and Feld Motor Sports, Inc. dropped a brand new trailer for Monster Energy Supercross 6, launching worldwide from March 9, 2023, on Xbox Series, Xbox One, PlayStation 5, PlayStation 4, and Steam for Windows PC. #Supercross6 #MonsterEnergySupercross #SX6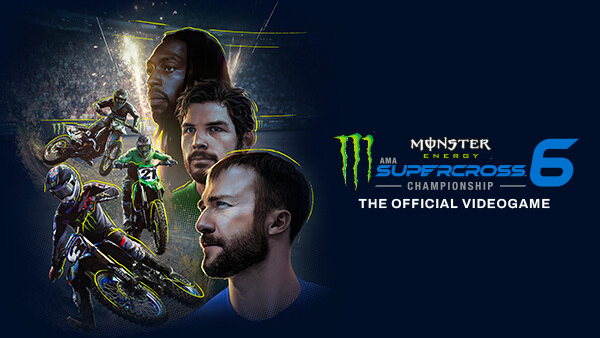 Mud, sweat, fun and adrenaline: find the rider in you and jump into the action with Monster Energy Supercross 6!

Sweat, tears, and dirt await players in the new chapter of the historic franchise featuring all the official riders and tracks. This year, the renewed Career Mode will take the off-road two-wheel gaming experience to the next level, and players will truly feel the adrenaline of Supercross and live their own journey at full throttle. The path to the top will be more engaging than ever, thanks to revised AI and physics ensuring the most realistic competition, pushing players to give their best to realize their dream of becoming a Supercross champion. One more factor that will increase the realism of the game is the refined Riders Shape System, now even more connected to the gameplay, with mental and physical health having a bigger impact on the performance of the rider.
Falling down is allowed. Getting back up is mandatory. This is rule #1 of the Supercross Academy, where riders will learn how to get their hands dirty under the guidance of their personal coach, the "King of Supercross" Jeremy McGrath. With personalized challenges and tutorials, the seven-time Supercross Champion will help players find the last tenth of a second; training after training, both newcomers and veterans will be able to prove their skills, climbing the ladder from one of the 250SX Championships to finally earn a seat in the 450SX Championship and battle their idols.
To achieve their best performance players will have to find the perfect feeling with the bike: beginners will enjoy new tools and settings to customize riding aids according to their level (e.g. auto steering, auto brakes, auto throttle, etc.), while more expert players will be able to fine-tune bike set-ups and even decide their specific riding style thanks to a dedicated skill tree.
Online, the competition promises to be intense like never before: full console cross-play will now allow all console players to challenge each other and a new Ranking System will push them to become the best rider they can be.
Monster Energy Supercross 6 will release worldwide on March 9, 2023, on Xbox Series X|S, Xbox One, PS5, PS4 and Windows PC via Steam.
For more video game news, release dates, exclusive gameplay, and other information, follow @XONEHQ on Twitter, Instagram, and Pinterest, subscribe on YouTube, and install the free Xbox News app for Android.
Xbox Store:
here
News Source:
XBOXONE-HQ.COM
Official Site:
https://supercrossthegame.com/
"
| | | |
| --- | --- | --- |
| | Related Stories | |

| | | |
| --- | --- | --- |
| | Most Popular | |

| | | |
| --- | --- | --- |
| | Rate this Article | |
| | | |
| --- | --- | --- |
| | Associated Topics | |



| | | |
| --- | --- | --- |
| | Xbox Tutorials Database | |

| | | |
| --- | --- | --- |
| | Xbox Tutorials Database | |

| | | |
| --- | --- | --- |
| | Xbox Download Stats | |

| | | |
| --- | --- | --- |
| | Site Statistics | |

| | | |
| --- | --- | --- |
| | Site Statistics | |

HQ Online Statistics
Members: 2 | Guests: 380 | Xbox Live Tags: 4,376


Home

Active Users: 120

Forums

Active Users: 71

News

Active Users: 56

Your Account

Active Users: 28

Downloads

Active Users: 27

Xbox Games

Active Users: 22

Xbox Tutorials

Active Users: 13

Xbox Homebrew

Active Users: 13

Profile

Active Users: 11

Xbox Cheats

Active Users: 4

View More Detailed Statistics

| | | |
| --- | --- | --- |
| | Site Statistics | |

| | | |
| --- | --- | --- |
| | Popular Xbox Games | |
Tiger Woods PGA TOUR 06
Page Views: 333,443

"Strong wind in my face… Smooth swing… People are watching... I don't want to shank it." Earning the prestigious title of #1 Golfer of All Time can be a nerve racking process and it's exactly what gam..

More Xbox Games

| | | |
| --- | --- | --- |
| | HQ Network Affiliates | |

| | | |
| --- | --- | --- |
| | Xbox-Hq.Com - Archived News | |

Friday, June 02
FLASHBACK 2 launches for Xbox One & Xbox Seri
published by: BigJ | Page Views: 20 | Comments: 0

Thursday, June 01
XSEED shares new narrated gameplay for Loop8:
published by: BigJ | Page Views: 33 | Comments: 0
KarmaZoo announced for Xbox One, Xbox Series,
published by: BigJ | Page Views: 33 | Comments: 0
Mineko's Night Market hits Xbox and PlayStati
published by: BigJ | Page Views: 30 | Comments: 0

Wednesday, May 31
Blasphemous 2 releases for Xbox Series, PS5,
published by: BigJ | Page Views: 32 | Comments: 0
Chants of Sennaar is coming to Xbox, PlayStat
published by: BigJ | Page Views: 41 | Comments: 0
PlateUp! Launches On Xbox, Xbox Game Pass, PS
published by: BigJ | Page Views: 38 | Comments: 0

Tuesday, May 30
Blooming Business Casino hits PC via Steam
published by: BigJ | Page Views: 64 | Comments: 0
Microids announces Dolphin Spirit - Ocean Mis
published by: BigJ | Page Views: 41 | Comments: 0

Monday, May 29
Agatha Christie - Hercule Poirot: The London
published by: BigJ | Page Views: 47 | Comments: 0
Noob: The Factionless hits Xbox, PlayStation,
published by: BigJ | Page Views: 63 | Comments: 0

Friday, May 26
Street Fighter 6 Showcase Steals the Show wit
published by: BigJ | Page Views: 53 | Comments: 0
Cross Tails announced for Xbox Series, PS5, X
published by: BigJ | Page Views: 63 | Comments: 0

Thursday, May 25
Drill Deal - Oil Tycoon releases on Xbox One
published by: BigJ | Page Views: 47 | Comments: 0

Wednesday, May 24
Farworld Pioneers releases May 30th on Xbox G
published by: BigJ | Page Views: 54 | Comments: 0

Tuesday, May 23
Immortals of Aveum heading to Xbox Series X|S
published by: BigJ | Page Views: 63 | Comments: 0

Monday, May 22
3D survival horror SENSEs: Midnight coming to
published by: BigJ | Page Views: 82 | Comments: 0
Discover Shadow Gambit: The Cursed Crew With
published by: BigJ | Page Views: 61 | Comments: 0

Friday, May 19
Team17's Killer Frequency hits consoles, PC a
published by: BigJ | Page Views: 74 | Comments: 0

Thursday, May 18
'Born of Bread' is heading to consoles and PC
published by: BigJ | Page Views: 61 | Comments: 0

Wednesday, May 17
Park Beyond take off on Xbox Series, PS5 and
published by: BigJ | Page Views: 73 | Comments: 0
First speakers for NG23: Nordic Game 23 (May
published by: BigJ | Page Views: 70 | Comments: 0

Tuesday, May 16
Curve Games partners with Orc Chop Games to p
published by: BigJ | Page Views: 76 | Comments: 0

Monday, May 15
Trine 5 confirmed for Xbox One, Xbox Series,
published by: BigJ | Page Views: 79 | Comments: 0
Explore Tin Hearts with New 'Making Of' Docum
published by: BigJ | Page Views: 86 | Comments: 0

Friday, May 12
Farworld Pioneers arrives May 30 on consoles,
published by: BigJ | Page Views: 105 | Comments: 0

Thursday, May 11
The Lord of the Rings: Gollum Releasing May 2
published by: BigJ | Page Views: 84 | Comments: 0

Wednesday, May 10
Wooden Alien confirms Space Prison for Xbox S
published by: BigJ | Page Views: 84 | Comments: 0

Tuesday, May 09
Crusader Kings III: Royal Court Expansion Rel
published by: BigJ | Page Views: 98 | Comments: 0

Monday, May 08
Top Hat announces 'Frogun Encore' for console
published by: forahobby | Page Views: 89 | Comments: 0
Join Italy's video game developers at First P
published by: forahobby | Page Views: 74 | Comments: 0

Friday, May 05
Dear Villagers unveils a fresh visual identit
published by: forahobby | Page Views: 117 | Comments: 0

Thursday, May 04
Short N Sweet Games Set to Deliver Quality In
published by: forahobby | Page Views: 74 | Comments: 0

Wednesday, May 03
'BAT BOY' releases May 25th on Xbox One, Xbo
published by: forahobby | Page Views: 66 | Comments: 0

Tuesday, May 02
Xbox Games with Gold for May 2023
published by: doa666 | Page Views: 74 | Comments: 0

Monday, May 01
Worldless coming to Xbox One, Xbox Series and
published by: forahobby | Page Views: 71 | Comments: 0
Coherence 1.0 will launch on June 1st with ma
published by: forahobby | Page Views: 80 | Comments: 0

Friday, April 28
Inescapable: No Rules, No Rescue hits Xbox, P
published by: forahobby | Page Views: 70 | Comments: 0

Thursday, April 27
Atlas Fallen launches May 16 on Xbox Series,
published by: forahobby | Page Views: 91 | Comments: 0
LEGO 2K Drive: A Racing Game for All Ages Com
published by: forahobby | Page Views: 84 | Comments: 0


News Archive