| | | |
| --- | --- | --- |
| | MONOPOLY Madness Dino City DLC Out Now On Consoles & PC | |
MONOPOLY Madness Dino City DLC Out Now On Consoles & PC

MONOPOLY Madness Dino City DLC is now available alongside a new demo on Xbox One, Xbox Series X|S, PlayStation 4/5, Nintendo Switch, as well as Windows PC through the Ubisoft Store and the Epic Games Store. Dinosaurs are on the loose in Dino City DLC!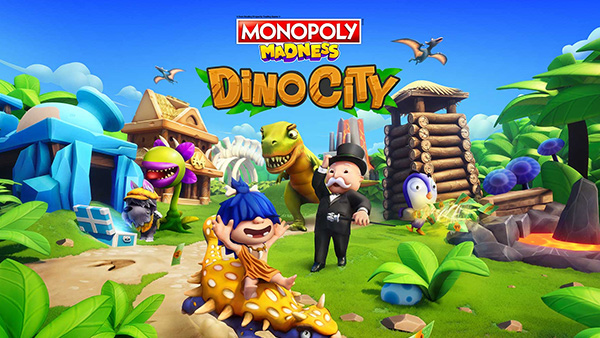 In the new Dino City DLC, madness erupts in the jungle as players must battle each other to collect Money, Lava, and Bones to buy and upgrade properties. Players can open Community Chests to discover new power-ups, wreck mayhem by riding an Ankylosaurus to crash into buildings, hurl carnivorous plants at their opponents, and more. Money hungry moguls will need to keep an eye out, though! A Raptor or T-Rex could appear at any moment. Players can enjoy the Dino City streets either offline or online with their friends in all game modes.
In addition to the new arenas, Dino City introduces two new characters including the sweet Cave Kid and the adventurous Dodo. Two new exclusive hats for players to wear also come in the Dino City DLC.
Starting today, the MONOPOLY Madness demo offers new players a chance to prowl the streets of Monopoly City. Demo players will be able to play as one of ten playable characters (20 in the full version) and play the tutorial and story mode offline alongside other local or AI players in two of the full gameís four different environments.
MONOPOLY Madness is available on Xbox, PlayStation, Switch and PC.
For future Xbox News, release dates, updates and indie releases, follow @XONEHQ on Twitter, YouTube, Instagram, Facebook, and Pinterest, download the free XBOX app for Android, and stay tuned!
Xbox Store:
here
Official Site:
here
News Source:
XBOXONE-HQ.COM
"
| | | |
| --- | --- | --- |
| | Related Stories | |

| | | |
| --- | --- | --- |
| | Most Popular | |

| | | |
| --- | --- | --- |
| | Rate this Article | |
| | | |
| --- | --- | --- |
| | Associated Topics | |



| | | |
| --- | --- | --- |
| | Xbox Tutorials Database | |

| | | |
| --- | --- | --- |
| | Xbox Tutorials Database | |

| | | |
| --- | --- | --- |
| | Xbox Download Stats | |

| | | |
| --- | --- | --- |
| | Site Statistics | |

| | | |
| --- | --- | --- |
| | Site Statistics | |

HQ Online Statistics
Members: 2 | Guests: 288 | Xbox Live Tags: 4,376


Forums

Active Users: 83

News

Active Users: 56

Your Account

Active Users: 39

Home

Active Users: 32

Xbox Games

Active Users: 19

Xbox Tutorials

Active Users: 13

Xbox Homebrew

Active Users: 12

Downloads

Active Users: 9

VIP Signup

Active Users: 5

Downloads VIP

Active Users: 5

View More Detailed Statistics

| | | |
| --- | --- | --- |
| | Site Statistics | |

| | | |
| --- | --- | --- |
| | Popular Xbox Games | |
Tony Hawk's Underground 2
Page Views: 361,179

You paid your dues in THUG. Now prove yourself in THUG 2. Youíve been chosen by Tony Hawk to take on Bam Margera as your teams go on a World Destruction Tour. Itís time to go globetrotting on an insan..

More Xbox Games

| | | |
| --- | --- | --- |
| | HQ Network Affiliates | |

| | | |
| --- | --- | --- |
| | Xbox-Hq.Com - Archived News | |

Monday, March 20
Bike Mechanic Simulator 2023 officially annou
published by: BigJ | Page Views: 7 | Comments: 0

Friday, March 17
Dead Island 2 GOES GOLD; Coming to XBOX, Play
published by: BigJ | Page Views: 22 | Comments: 0
GitHub Founder Launches Developer-Friendly Pu
published by: BigJ | Page Views: 19 | Comments: 0

Thursday, March 16
Turn-Based RPG 'Stolen Realm' Confirmed For X
published by: BigJ | Page Views: 11 | Comments: 0

Wednesday, March 15
SNK is heading to EVO Japan 2023
published by: BigJ | Page Views: 28 | Comments: 0
Souls-like action RPG 'Lies of P' lands this
published by: BigJ | Page Views: 36 | Comments: 0

Tuesday, March 14
'Maximum Football' coming to Xbox, PlayStatio
published by: BigJ | Page Views: 33 | Comments: 0

Monday, March 13
Capes announced for Xbox Series, Xbox One, PS
published by: BigJ | Page Views: 35 | Comments: 0
'Tin Hearts' is coming to Xbox, PlayStation,
published by: BigJ | Page Views: 22 | Comments: 0

Friday, March 10
Road 96: Mile 0 releases April 4 on Xbox Seri
published by: BigJ | Page Views: 57 | Comments: 0
The Crown of Wu drops March 24 on PlayStation
published by: BigJ | Page Views: 25 | Comments: 0
STEEL SEED confirmed for Xbox Series, PlaySta
published by: BigJ | Page Views: 45 | Comments: 0
Comparing the potential earnings of esports b
published by: ozzy | Page Views: 39 | Comments: 0

Thursday, March 09
DRIFTCE Revealed for Xbox and PlayStation con
published by: BigJ | Page Views: 45 | Comments: 0
GitHub co-founder Chris Wanstrath Forms New I
published by: BigJ | Page Views: 23 | Comments: 0
STARFIELD will launch exclusively for Xbox Se
published by: ozzy | Page Views: 43 | Comments: 0
Redfall launches for Xbox Series X & PC in Ma
published by: BigJ | Page Views: 28 | Comments: 0

Monday, March 06
JSAUX Announces New Dock, Skins And Wireless
published by: BigJ | Page Views: 30 | Comments: 0

Friday, March 03
WWE 2K23 releases hits Xbox, PlayStation & PC
published by: BigJ | Page Views: 27 | Comments: 0

Thursday, March 02
Hotel Renovator releases March 7 on Xbox Seri
published by: BigJ | Page Views: 40 | Comments: 0
Shadow Gambit: The Cursed Crew confirmed for
published by: BigJ | Page Views: 30 | Comments: 0

Wednesday, March 01
Honeycomb Aeronautical's Charlie Rudder Pedal
published by: BigJ | Page Views: 65 | Comments: 0

Tuesday, February 28
Curse of the Sea Rats gets an April release d
published by: BigJ | Page Views: 40 | Comments: 0

Monday, February 27
Nocturnal is heading to consoles and PC in 20
published by: BigJ | Page Views: 43 | Comments: 0

Friday, February 24
CATAN Console Edition Launches Next Week On X
published by: BigJ | Page Views: 42 | Comments: 0
Fernbus Simulator coming to Xbox Series X|S a
published by: BigJ | Page Views: 50 | Comments: 0

Thursday, February 23
SteamWorld Build Coming to Xbox, PlayStation
published by: BigJ | Page Views: 29 | Comments: 0

Wednesday, February 22
Alaskan Truck Simulator: Green Man Gaming Sig
published by: BigJ | Page Views: 35 | Comments: 0
Anno 1800 Console Edition sails onto Xbox Ser
published by: BigJ | Page Views: 30 | Comments: 0

Tuesday, February 21
Monster Energy Supercross 6 Drops A New Trail
published by: BigJ | Page Views: 30 | Comments: 0

Monday, February 20
Dead Island 2 Unveils Four Playable Character
published by: BigJ | Page Views: 37 | Comments: 0
Stellaris: First Contact Story Pack Coming So
published by: BigJ | Page Views: 80 | Comments: 0

Friday, February 17
Take part in SpecialEffect's 10th annual Game
published by: BigJ | Page Views: 36 | Comments: 0

Wednesday, February 15
The Dragoness: Command of the Flame announced
published by: BigJ | Page Views: 41 | Comments: 0

Tuesday, February 14
Clash: Artifacts of Chaos now available to pr
published by: BigJ | Page Views: 40 | Comments: 0

Monday, February 13
EA SPORTS PGA TOUR Tees Off March 24 On Xbox
published by: BigJ | Page Views: 54 | Comments: 0

Friday, February 10
Wanted: Dead Releases Comes Out Next Week; N
published by: BigJ | Page Views: 39 | Comments: 0
Microsoft Flight Simulator's New Zealand Worl
published by: BigJ | Page Views: 59 | Comments: 0

Thursday, February 09
emoji Kart Racer launches for Xbox and Ninten
published by: BigJ | Page Views: 49 | Comments: 0

Wednesday, February 08
Tales Of Symphonia Remastered Releases Next W
published by: BigJ | Page Views: 59 | Comments: 0


News Archive