| | | |
| --- | --- | --- |
| | Wanted: Dead - Now Available To Pre-order For Xbox, PlayStation & PC | |
Wanted: Dead - Now Available To Pre-order For Xbox, PlayStation & PC

Wanted: Dead, the new hybrid slasher/shooter from the makers of Ninja Gaiden, is now available to pre-order ahead of its February 14th launch on Xbox, PlayStation, and PC. Pre-orders are available digitally on Xbox Store and PlayStation Store for $59.99 / £54.99 / €59.99, or physically from wherever games are sold.
Developed by Japanese studio Soleil and featuring talent that created Ninja Gaiden, Wanted: Dead carries that series' hardcore DNA with intelligent enemies pushing you to master the game's systems. Utilizing a blend of melee sword combat, exciting gunplay and a unique limb severing mechanic that changes enemy attack patterns, Wanted: Dead forces players to learn how to use combos, parries and other tools to full effect. The reward will be aesthetically pleasing bouts of blood and violence and the sense of satisfaction that comes with becoming a flawless fighting machine.
In Wanted: Dead, players take on the role of Lt. Hannah Stone, stepping into a dark and dangerous vision of cyberpunk Hong Kong as leader of the "Zombie Squad", an elite team who works outside the purview of the traditional police force. You'll have to master Stone's arsenal of fighting skills and issue orders to her teammates if you're to uncover a shadowy corporate conspiracy and cut it off at the knees.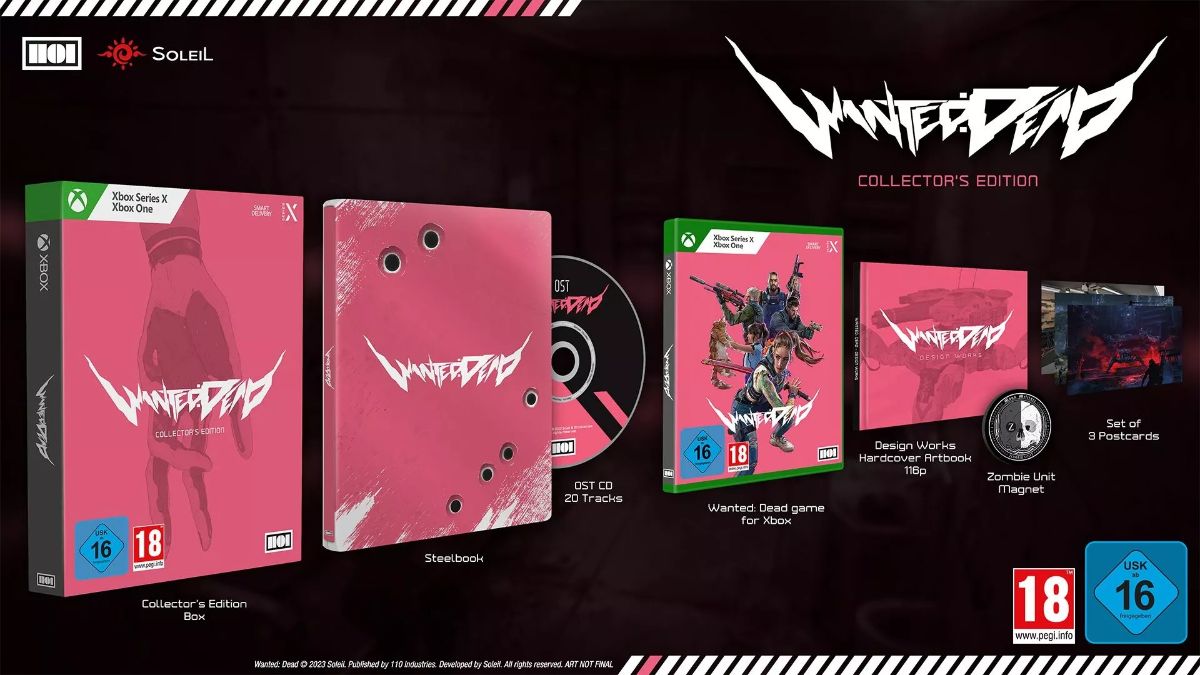 Xbox and PlayStation physical Collector's Edition's are available to pre-order for $79.99 / £74.99 / €79.99 on Amazon.
The physical Collector's Edition includes:
116-page Hardcover Design Works Artbook in landscape format
Wanted: Dead Steelbook
Official Soundtrack CD with 20 tracks
Zombie Unit Magnet
Set of 3 postcards
Collector´s Edition Box, housing all the exclusive contents, plus the physical game
Wanted: Dead will release for Xbox Series X|S, Xbox One, PlayStation 5, PlayStation 4 and PC on February 14, 2023.
For more Xbox News, achievements, release dates and indie updates, follow @XONEHQ on Twitter, YouTube, Instagram, Facebook, and Pinterest, and download the free XBOX app for Android!
Xbox Store:
here
News Source:
XBOXONE-HQ.COM
"
| | | |
| --- | --- | --- |
| | Related Stories | |

| | | |
| --- | --- | --- |
| | Most Popular | |

| | | |
| --- | --- | --- |
| | Rate this Article | |
| | | |
| --- | --- | --- |
| | Associated Topics | |
Associated Topics





| | | |
| --- | --- | --- |
| | Xbox Tutorials Database | |

| | | |
| --- | --- | --- |
| | Xbox Tutorials Database | |

| | | |
| --- | --- | --- |
| | Xbox Download Stats | |

| | | |
| --- | --- | --- |
| | Site Statistics | |

| | | |
| --- | --- | --- |
| | Site Statistics | |

HQ Online Statistics
Members: 4 | Guests: 271 | Xbox Live Tags: 4,376


Forums

Active Users: 87

News

Active Users: 47

Your Account

Active Users: 41

Home

Active Users: 33

Xbox Homebrew

Active Users: 13

Xbox Games

Active Users: 11

Profile

Active Users: 9

Xbox Tutorials

Active Users: 9

VIP Signup

Active Users: 6

Downloads

Active Users: 6

View More Detailed Statistics

| | | |
| --- | --- | --- |
| | Site Statistics | |

| | | |
| --- | --- | --- |
| | Popular Xbox Games | |
Rugby 2005
Page Views: 305,293

EA SPORTS Rugby 2005 incorporates all the major Rugby teams, players, and tournaments, including the Tri-Nations, Super 12 and many more authentic and prestigious events from the world of Rugby. The g..

More Xbox Games

| | | |
| --- | --- | --- |
| | HQ Network Affiliates | |

| | | |
| --- | --- | --- |
| | Xbox-Hq.Com - Archived News | |

Monday, March 20
Bike Mechanic Simulator 2023 officially annou
published by: BigJ | Page Views: 7 | Comments: 0

Friday, March 17
Dead Island 2 GOES GOLD; Coming to XBOX, Play
published by: BigJ | Page Views: 22 | Comments: 0
GitHub Founder Launches Developer-Friendly Pu
published by: BigJ | Page Views: 19 | Comments: 0

Thursday, March 16
Turn-Based RPG 'Stolen Realm' Confirmed For X
published by: BigJ | Page Views: 11 | Comments: 0

Wednesday, March 15
SNK is heading to EVO Japan 2023
published by: BigJ | Page Views: 28 | Comments: 0
Souls-like action RPG 'Lies of P' lands this
published by: BigJ | Page Views: 36 | Comments: 0

Tuesday, March 14
'Maximum Football' coming to Xbox, PlayStatio
published by: BigJ | Page Views: 33 | Comments: 0

Monday, March 13
Capes announced for Xbox Series, Xbox One, PS
published by: BigJ | Page Views: 35 | Comments: 0
'Tin Hearts' is coming to Xbox, PlayStation,
published by: BigJ | Page Views: 22 | Comments: 0

Friday, March 10
Road 96: Mile 0 releases April 4 on Xbox Seri
published by: BigJ | Page Views: 57 | Comments: 0
The Crown of Wu drops March 24 on PlayStation
published by: BigJ | Page Views: 25 | Comments: 0
STEEL SEED confirmed for Xbox Series, PlaySta
published by: BigJ | Page Views: 45 | Comments: 0
Comparing the potential earnings of esports b
published by: ozzy | Page Views: 39 | Comments: 0

Thursday, March 09
DRIFTCE Revealed for Xbox and PlayStation con
published by: BigJ | Page Views: 45 | Comments: 0
GitHub co-founder Chris Wanstrath Forms New I
published by: BigJ | Page Views: 23 | Comments: 0
STARFIELD will launch exclusively for Xbox Se
published by: ozzy | Page Views: 43 | Comments: 0
Redfall launches for Xbox Series X & PC in Ma
published by: BigJ | Page Views: 27 | Comments: 0

Monday, March 06
JSAUX Announces New Dock, Skins And Wireless
published by: BigJ | Page Views: 30 | Comments: 0

Friday, March 03
WWE 2K23 releases hits Xbox, PlayStation & PC
published by: BigJ | Page Views: 27 | Comments: 0

Thursday, March 02
Hotel Renovator releases March 7 on Xbox Seri
published by: BigJ | Page Views: 40 | Comments: 0
Shadow Gambit: The Cursed Crew confirmed for
published by: BigJ | Page Views: 30 | Comments: 0

Wednesday, March 01
Honeycomb Aeronautical's Charlie Rudder Pedal
published by: BigJ | Page Views: 65 | Comments: 0

Tuesday, February 28
Curse of the Sea Rats gets an April release d
published by: BigJ | Page Views: 40 | Comments: 0

Monday, February 27
Nocturnal is heading to consoles and PC in 20
published by: BigJ | Page Views: 43 | Comments: 0

Friday, February 24
CATAN Console Edition Launches Next Week On X
published by: BigJ | Page Views: 42 | Comments: 0
Fernbus Simulator coming to Xbox Series X|S a
published by: BigJ | Page Views: 50 | Comments: 0

Thursday, February 23
SteamWorld Build Coming to Xbox, PlayStation
published by: BigJ | Page Views: 29 | Comments: 0

Wednesday, February 22
Alaskan Truck Simulator: Green Man Gaming Sig
published by: BigJ | Page Views: 35 | Comments: 0
Anno 1800 Console Edition sails onto Xbox Ser
published by: BigJ | Page Views: 30 | Comments: 0

Tuesday, February 21
Monster Energy Supercross 6 Drops A New Trail
published by: BigJ | Page Views: 30 | Comments: 0

Monday, February 20
Dead Island 2 Unveils Four Playable Character
published by: BigJ | Page Views: 37 | Comments: 0
Stellaris: First Contact Story Pack Coming So
published by: BigJ | Page Views: 80 | Comments: 0

Friday, February 17
Take part in SpecialEffect's 10th annual Game
published by: BigJ | Page Views: 36 | Comments: 0

Wednesday, February 15
The Dragoness: Command of the Flame announced
published by: BigJ | Page Views: 41 | Comments: 0

Tuesday, February 14
Clash: Artifacts of Chaos now available to pr
published by: BigJ | Page Views: 40 | Comments: 0

Monday, February 13
EA SPORTS PGA TOUR Tees Off March 24 On Xbox
published by: BigJ | Page Views: 54 | Comments: 0

Friday, February 10
Wanted: Dead Releases Comes Out Next Week; N
published by: BigJ | Page Views: 39 | Comments: 0
Microsoft Flight Simulator's New Zealand Worl
published by: BigJ | Page Views: 59 | Comments: 0

Thursday, February 09
emoji Kart Racer launches for Xbox and Ninten
published by: BigJ | Page Views: 49 | Comments: 0

Wednesday, February 08
Tales Of Symphonia Remastered Releases Next W
published by: BigJ | Page Views: 59 | Comments: 0


News Archive