| | | |
| --- | --- | --- |
| | Company Of Heroes 3 Coming To Xbox Series, PS5 And PC In 2023 | |
Company Of Heroes 3 Coming To Xbox Series, PS5 And PC In 2023

Relic Entertainment and SEGA Europe Ltd announced that Company of Heroes 3, the highly anticipated third installment in the beloved strategy franchise, will be bringing its critically acclaimed tactical gameplay to Xbox Series X|S, PlayStation 5 and PC in 2023.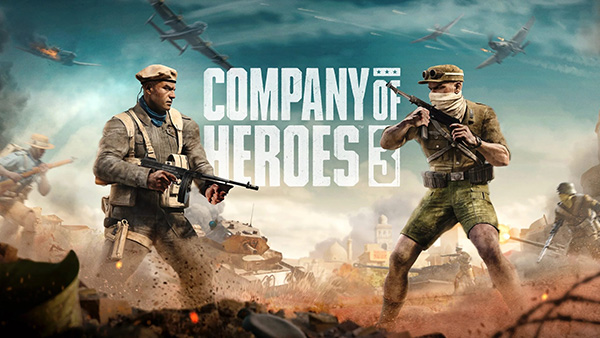 Company of Heroes 3 is bringing the series' intimate boots-on-the-ground storytelling to the Mediterranean, a theater of immense environmental variety, where players can unlock authentic new tactics, experience four distinct factions, and a wealth of untold stories from World War II. ​ Explore the new turn-based Dynamic Campaign Map in Italy for a sandbox-style gameplay experience and an unprecedented level of strategic choice, or head over to the sweeping deserts of North Africa for a more classically designed, narrative-led single-player experience.
Relic Entertainment gave fans a first glimpse at console gameplay, showcasing a major mission from the Italian Dynamic Campaign and demonstrating a powerful new feature, Full Tactical Pause. Players will be delighted to learn that Company of Heroes 3 is being rebuilt from the ground up for Xbox Series X|S and PlayStation 5 and will include a newly designed controller scheme allowing for maximum precision on the battlefield. The User Interface is also getting a full revamp, factoring in intuitive button layouts and readability, making for the ultimate strategy experience on consoles.
Company of Heroes 3 will be available for Xbox Series X|S, PlayStation 5 and PC on Steam in 2023.
For more Xbox News, release dates and video game updates, follow @XONEHQ on Twitter, YouTube, Instagram, Facebook, and Pinterest, and download the free XBOX app for Android!
News Source:
XBOXONEHQ
"
| | | |
| --- | --- | --- |
| | Related Stories | |

| | | |
| --- | --- | --- |
| | Most Popular | |

| | | |
| --- | --- | --- |
| | Rate this Article | |
| | | |
| --- | --- | --- |
| | Associated Topics | |
Associated Topics





| | | |
| --- | --- | --- |
| | Xbox Tutorials Database | |

| | | |
| --- | --- | --- |
| | Xbox Tutorials Database | |

| | | |
| --- | --- | --- |
| | Xbox Download Stats | |

| | | |
| --- | --- | --- |
| | Site Statistics | |

| | | |
| --- | --- | --- |
| | Site Statistics | |

HQ Online Statistics
Members: 1 | Guests: 289 | Xbox Live Tags: 4,376


Forums

Active Users: 81

News

Active Users: 52

Your Account

Active Users: 38

Home

Active Users: 33

Xbox Games

Active Users: 18

Xbox Homebrew

Active Users: 14

Downloads

Active Users: 12

Xbox Tutorials

Active Users: 11

VIP Signup

Active Users: 5

Downloads VIP

Active Users: 5

View More Detailed Statistics

| | | |
| --- | --- | --- |
| | Site Statistics | |

| | | |
| --- | --- | --- |
| | Popular Xbox Games | |
Dominion
Page Views: 332,671

DOMINION is a multiplayer action/RPG game that takes place in a fantasy world which features many different above-ground and underground realms. With 6 races, 6 guilds, and a vast variety of magic, mo..

More Xbox Games

| | | |
| --- | --- | --- |
| | HQ Network Affiliates | |

| | | |
| --- | --- | --- |
| | Xbox-Hq.Com - Archived News | |

Monday, March 20
Bike Mechanic Simulator 2023 officially annou
published by: BigJ | Page Views: 7 | Comments: 0

Friday, March 17
Dead Island 2 GOES GOLD; Coming to XBOX, Play
published by: BigJ | Page Views: 22 | Comments: 0
GitHub Founder Launches Developer-Friendly Pu
published by: BigJ | Page Views: 19 | Comments: 0

Thursday, March 16
Turn-Based RPG 'Stolen Realm' Confirmed For X
published by: BigJ | Page Views: 11 | Comments: 0

Wednesday, March 15
SNK is heading to EVO Japan 2023
published by: BigJ | Page Views: 28 | Comments: 0
Souls-like action RPG 'Lies of P' lands this
published by: BigJ | Page Views: 36 | Comments: 0

Tuesday, March 14
'Maximum Football' coming to Xbox, PlayStatio
published by: BigJ | Page Views: 33 | Comments: 0

Monday, March 13
Capes announced for Xbox Series, Xbox One, PS
published by: BigJ | Page Views: 35 | Comments: 0
'Tin Hearts' is coming to Xbox, PlayStation,
published by: BigJ | Page Views: 22 | Comments: 0

Friday, March 10
Road 96: Mile 0 releases April 4 on Xbox Seri
published by: BigJ | Page Views: 57 | Comments: 0
The Crown of Wu drops March 24 on PlayStation
published by: BigJ | Page Views: 25 | Comments: 0
STEEL SEED confirmed for Xbox Series, PlaySta
published by: BigJ | Page Views: 45 | Comments: 0
Comparing the potential earnings of esports b
published by: ozzy | Page Views: 39 | Comments: 0

Thursday, March 09
DRIFTCE Revealed for Xbox and PlayStation con
published by: BigJ | Page Views: 45 | Comments: 0
GitHub co-founder Chris Wanstrath Forms New I
published by: BigJ | Page Views: 23 | Comments: 0
STARFIELD will launch exclusively for Xbox Se
published by: ozzy | Page Views: 43 | Comments: 0
Redfall launches for Xbox Series X & PC in Ma
published by: BigJ | Page Views: 28 | Comments: 0

Monday, March 06
JSAUX Announces New Dock, Skins And Wireless
published by: BigJ | Page Views: 30 | Comments: 0

Friday, March 03
WWE 2K23 releases hits Xbox, PlayStation & PC
published by: BigJ | Page Views: 27 | Comments: 0

Thursday, March 02
Hotel Renovator releases March 7 on Xbox Seri
published by: BigJ | Page Views: 40 | Comments: 0
Shadow Gambit: The Cursed Crew confirmed for
published by: BigJ | Page Views: 30 | Comments: 0

Wednesday, March 01
Honeycomb Aeronautical's Charlie Rudder Pedal
published by: BigJ | Page Views: 65 | Comments: 0

Tuesday, February 28
Curse of the Sea Rats gets an April release d
published by: BigJ | Page Views: 40 | Comments: 0

Monday, February 27
Nocturnal is heading to consoles and PC in 20
published by: BigJ | Page Views: 43 | Comments: 0

Friday, February 24
CATAN Console Edition Launches Next Week On X
published by: BigJ | Page Views: 42 | Comments: 0
Fernbus Simulator coming to Xbox Series X|S a
published by: BigJ | Page Views: 50 | Comments: 0

Thursday, February 23
SteamWorld Build Coming to Xbox, PlayStation
published by: BigJ | Page Views: 29 | Comments: 0

Wednesday, February 22
Alaskan Truck Simulator: Green Man Gaming Sig
published by: BigJ | Page Views: 35 | Comments: 0
Anno 1800 Console Edition sails onto Xbox Ser
published by: BigJ | Page Views: 30 | Comments: 0

Tuesday, February 21
Monster Energy Supercross 6 Drops A New Trail
published by: BigJ | Page Views: 30 | Comments: 0

Monday, February 20
Dead Island 2 Unveils Four Playable Character
published by: BigJ | Page Views: 37 | Comments: 0
Stellaris: First Contact Story Pack Coming So
published by: BigJ | Page Views: 80 | Comments: 0

Friday, February 17
Take part in SpecialEffect's 10th annual Game
published by: BigJ | Page Views: 36 | Comments: 0

Wednesday, February 15
The Dragoness: Command of the Flame announced
published by: BigJ | Page Views: 41 | Comments: 0

Tuesday, February 14
Clash: Artifacts of Chaos now available to pr
published by: BigJ | Page Views: 40 | Comments: 0

Monday, February 13
EA SPORTS PGA TOUR Tees Off March 24 On Xbox
published by: BigJ | Page Views: 54 | Comments: 0

Friday, February 10
Wanted: Dead Releases Comes Out Next Week; N
published by: BigJ | Page Views: 39 | Comments: 0
Microsoft Flight Simulator's New Zealand Worl
published by: BigJ | Page Views: 59 | Comments: 0

Thursday, February 09
emoji Kart Racer launches for Xbox and Ninten
published by: BigJ | Page Views: 49 | Comments: 0

Wednesday, February 08
Tales Of Symphonia Remastered Releases Next W
published by: BigJ | Page Views: 59 | Comments: 0


News Archive