| | | |
| --- | --- | --- |
| | Dying Light 2's Accessibility And User Interface Details Revealed | |
Dying Light 2's Accessibility And User Interface Details Revealed

Techland released a new episode of Dying 2 Know More revealing new information about the user interface and accessibility options for Dying Light 2 Stay Human (@DyingLightGame).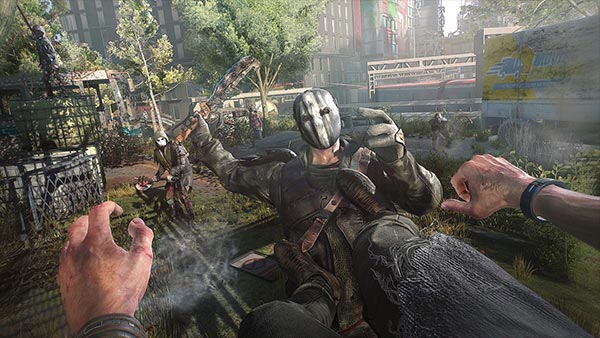 In this episode, Agata Sykuła, UI Producer at Techland, tells us more about the UI, HUD, and accessibility options, as well as the overall user experience. Community feedback is vital to this development process and great changes are possible given players can adjust the HUD and other in-game elements to increase their comfort.
Let's check it out:
To celebrate its 30th anniversary, Techland has partnered with GOG and Steam to let gamers play some of their previous games completely free of charge. More gifts and offers will be available soon, so be sure to visit the special anniversary section on TechlandGG, Techland's own player reward program. VAs revealed in today's episode of D2K More, TechlandGG has received a new update letting players activate special achievements on the website and claim rewards in Dying Light. This will even extend to Dying Light 2 Stay Human so players can get a headstart exploring The City upon release.
Dying Light 2 Stay Human, published by Techland, launches on February 4, 2022 on Xbox One, Xbox Series X|S PlayStation 4, PlayStation 5, and Nintendo Switch (Cloud Version) and PC.
Pre-orders are available via dyinglightgame.com/preorder. All pre-orders will come with the exclusive digital Reload Pack and Reach for the Sky Packs, featuring unique outfits, weapons, backpack, and paraglider skins. The Reach for the Sky Pack was created in collaboration with Rosario Dawson (The Mandalorian, Sin City), who plays Lawan, a key character whose fate connects with main protagonist Aiden during his journey.

Xbox Store:
here
News Source:
https://www.xboxone-hq.com/news.html
"
| | | |
| --- | --- | --- |
| | Related Stories | |

| | | |
| --- | --- | --- |
| | Most Popular | |

| | | |
| --- | --- | --- |
| | Rate this Article | |
| | | |
| --- | --- | --- |
| | Associated Topics | |



| | | |
| --- | --- | --- |
| | Xbox Tutorials Database | |

| | | |
| --- | --- | --- |
| | Xbox Tutorials Database | |

| | | |
| --- | --- | --- |
| | Xbox Download Stats | |

| | | |
| --- | --- | --- |
| | Site Statistics | |

| | | |
| --- | --- | --- |
| | Site Statistics | |

HQ Online Statistics
Members: 4 | Guests: 251 | Xbox Live Tags: 4,379


Forums

Active Users: 73

Your Account

Active Users: 30

Home

Active Users: 29

News

Active Users: 26

Downloads

Active Users: 24

Xbox Games

Active Users: 22

Xbox Homebrew

Active Users: 18

Xbox Tutorials

Active Users: 13

Profile

Active Users: 5

Xbox Cheats

Active Users: 4

View More Detailed Statistics

| | | |
| --- | --- | --- |
| | Site Statistics | |

| | | |
| --- | --- | --- |
| | Popular Xbox Games | |
Scooby-Doo! Night of a 100 Frights
Page Views: 337,574

Oh no! The Mastermind has kidnapped Mystery Inc! It's up to Scooby-Doo to search for his lost friends. Guide Scooby through 12 huge levels that include a creepy mansion, a spooky cave, a ghostly grave..

More Xbox Games

| | | |
| --- | --- | --- |
| | HQ Network Affiliates | |

| | | |
| --- | --- | --- |
| | Xbox-Hq.Com - Archived News | |

Thursday, May 12
Paper Cut Mansion coming to Console and PC in
published by: forahobby | Page Views: 16 | Comments: 0

Wednesday, May 11
No More Heroes 3 arrives in 2022 on Xbox Play
published by: forahobby | Page Views: 17 | Comments: 0
'Winter Ember' is out now for Xbox One and Xb
published by: forahobby | Page Views: 8 | Comments: 0

Tuesday, May 10
'Bloodhound' is heading to Xbox and PC later
published by: forahobby | Page Views: 28 | Comments: 0

Monday, May 09
Ultraviolent Cyberpunk FPS "Turbo Overkill" s
published by: forahobby | Page Views: 32 | Comments: 0

Friday, May 06
Skater XL: Tampa Pro Esports Contest to be li
published by: forahobby | Page Views: 21 | Comments: 0
SOEDESCO expands with new office in Madrid, S
published by: forahobby | Page Views: 25 | Comments: 0

Thursday, May 05
Demolish & Build 3 announced for Xbox One & X
published by: forahobby | Page Views: 24 | Comments: 0

Wednesday, May 04
Barton Lynch Pro Surfing 2022 confirmed for X
published by: forahobby | Page Views: 23 | Comments: 0
Moo Lander Releases May 27th on Xbox, PlaySta
published by: forahobby | Page Views: 30 | Comments: 0

Tuesday, May 03
Swordship Is Heading To Xbox, PlayStation, Sw
published by: forahobby | Page Views: 38 | Comments: 0
All in! Games Appoints Marcin Kawa as the New
published by: forahobby | Page Views: 29 | Comments: 0

Monday, May 02
Gigapocalypse Smashes Launches June 2nd On Co
published by: forahobby | Page Views: 30 | Comments: 0

Friday, April 29
Hello Neighbor 2 Now Available To Pre-order F
published by: forahobby | Page Views: 32 | Comments: 0

Thursday, April 28
Source of Madness drops for Xbox, PlayStation
published by: forahobby | Page Views: 31 | Comments: 0
Warhammer 40,000: Darktide launches this Sept
published by: forahobby | Page Views: 32 | Comments: 0

Wednesday, April 27
Deliver Us The Moon Coming to Next-Gen Consol
published by: forahobby | Page Views: 37 | Comments: 0

Tuesday, April 26
The Outbound Ghost coming in 2022 on Xbox, Pl
published by: forahobby | Page Views: 37 | Comments: 0
GUNDAM EVOLUTION hits Series X|S, Xbox One, P
published by: forahobby | Page Views: 35 | Comments: 0

Monday, April 25
Dungeon Defenders: Going Rogue Confirmed for
published by: forahobby | Page Views: 42 | Comments: 0

Friday, April 22
Tom Clancy's Rainbow Six: Siege 'Northern Pre
published by: forahobby | Page Views: 43 | Comments: 0
One Piece Odyssey Releases on Xbox Series X|S
published by: forahobby | Page Views: 38 | Comments: 0

Thursday, April 21
Deliver Us Mars confirmed for Xbox Series X|S
published by: forahobby | Page Views: 44 | Comments: 0
MX vs ATV Legends digital pre-order's are liv
published by: forahobby | Page Views: 47 | Comments: 0

Wednesday, April 20
New Forever Skies Gameplay Trailer
published by: forahobby | Page Views: 33 | Comments: 0
Farming Simulator 22 Antonio Carraro Pack Out
published by: forahobby | Page Views: 34 | Comments: 0

Tuesday, April 19
Fursan al-Aqsa is available now on PC via Ste
published by: forahobby | Page Views: 39 | Comments: 0
LEGO Bricktales is coming to PC and Consoles
published by: forahobby | Page Views: 62 | Comments: 0
Cursed to Golf Swings Its Way to XBOX, Ninten
published by: forahobby | Page Views: 49 | Comments: 0

Thursday, April 14
Action-RPG Souldiers hits Xbox, PlayStation,
published by: forahobby | Page Views: 51 | Comments: 0

Wednesday, April 13
'Floppy Knights' Coming to Xbox and PC Game P
published by: forahobby | Page Views: 44 | Comments: 0

Tuesday, April 12
Cursed to Golf Is Heading To Xbox, Switch & P
published by: forahobby | Page Views: 48 | Comments: 0
Slaycation Paradise coming to XBOX, PlayStati
published by: forahobby | Page Views: 52 | Comments: 0

Monday, April 11
Ghostbusters: Spirits Unleashed announced for
published by: forahobby | Page Views: 49 | Comments: 0
Godfall: Ultimate Edition now available for X
published by: forahobby | Page Views: 39 | Comments: 0

Friday, April 08
The Quarry now available for digital preorder
published by: forahobby | Page Views: 53 | Comments: 0
Flintlock: The Siege Of Dawn Coming to XB, PS
published by: forahobby | Page Views: 44 | Comments: 0

Thursday, April 07
Arcade racer Slipstream launches Today on Xbo
published by: forahobby | Page Views: 58 | Comments: 0

Wednesday, April 06
Dying Light 2 Gets New Parkour Challenges
published by: forahobby | Page Views: 45 | Comments: 0
Time on Frog Island Leaps Onto Consoles and I
published by: forahobby | Page Views: 49 | Comments: 0


News Archive