| | | |
| --- | --- | --- |
| | Pre-Season 7 of 'Second Extincition' Now Available | |
Pre-Season 7 of 'Second Extincition' Now Available

Systemic Reaction (@SystemicRxn) has announced that the free Pre-Season 7 update for Second Extinction is now available on Xbox Series X|S, Xbox One, and PC via Steam, the Microsoft Store, and the Epic Games Store.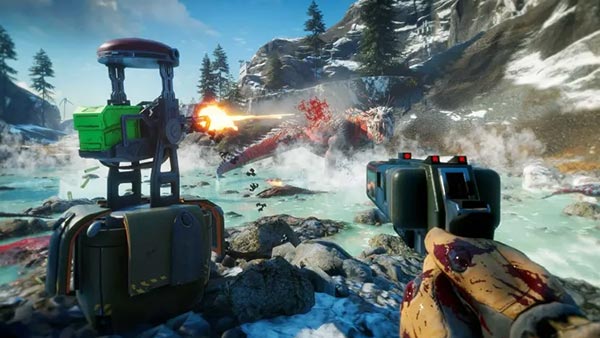 "Adaptation" has landed and with it, we are getting new toys to play with in our hero arsenal. Try out the new secondary weapon, the Hand Cannon, which packs a punch to every shot you take. Or equip the Auto Turret outside of Horde Mode and watch it keep the dinosaurs at bay with precision bullets. On top of that, Pre-season 7 brings with it new seasonal contracts and rewards to keep you entertained during the holiday season.
Pre-Season 7 Features:

New Secondary Weapon -- Hand Cannon
New seasonal contracts and rewards
Horde Mode extraction is now possible from Wave 4
Basic Training (tutorial) is now the first mission for new players (but you can skip it, too)
Balance changes to all player equipment
Second Extinction is available on Xbox Series X|S, Xbox One, the Microsoft Store for PC, and Xbox Game Pass for consoles and PC via Xbox Game Preview. It is also available in PC early access via Steam and the Epic Games Store.View the full list of patch notes here.
To keep up with all the latest Xbox games news, release dates and updates, follow @XONEHQ on Twitter, YouTube, Instagram, Facebook, and Pinterest, download the free XBOX app for Android or subscribe via email and rss.
Xbox Store:
here
Official Site:
https://www.secondextinctiongame.com
News Source:
https://www.xboxone-hq.com/news.html
"
| | | |
| --- | --- | --- |
| | Related Stories | |

| | | |
| --- | --- | --- |
| | Most Popular | |

| | | |
| --- | --- | --- |
| | Rate this Article | |
| | | |
| --- | --- | --- |
| | Associated Topics | |



| | | |
| --- | --- | --- |
| | Xbox Tutorials Database | |

| | | |
| --- | --- | --- |
| | Xbox Tutorials Database | |

| | | |
| --- | --- | --- |
| | Xbox Download Stats | |

| | | |
| --- | --- | --- |
| | Site Statistics | |

| | | |
| --- | --- | --- |
| | Site Statistics | |

HQ Online Statistics
Members: 4 | Guests: 254 | Xbox Live Tags: 4,379


Forums

Active Users: 76

Your Account

Active Users: 30

News

Active Users: 26

Home

Active Users: 26

Downloads

Active Users: 25

Xbox Games

Active Users: 23

Xbox Homebrew

Active Users: 19

Xbox Tutorials

Active Users: 13

Profile

Active Users: 5

Xbox Cheats

Active Users: 4

View More Detailed Statistics

| | | |
| --- | --- | --- |
| | Site Statistics | |

| | | |
| --- | --- | --- |
| | Popular Xbox Games | |
Fuzion Frenzy
Page Views: 336,386

Fuzion Frenzy is a non-stop party game with an edge. Fuzion Frenzy is a continuous, heart-pounding experience. With six arenas and more than 45 mini-games, Fuzion Frenzy provides competitive fun for u..

More Xbox Games

| | | |
| --- | --- | --- |
| | HQ Network Affiliates | |

| | | |
| --- | --- | --- |
| | Xbox-Hq.Com - Archived News | |

Thursday, May 12
Paper Cut Mansion coming to Console and PC in
published by: forahobby | Page Views: 16 | Comments: 0

Wednesday, May 11
No More Heroes 3 arrives in 2022 on Xbox Play
published by: forahobby | Page Views: 17 | Comments: 0
'Winter Ember' is out now for Xbox One and Xb
published by: forahobby | Page Views: 8 | Comments: 0

Tuesday, May 10
'Bloodhound' is heading to Xbox and PC later
published by: forahobby | Page Views: 28 | Comments: 0

Monday, May 09
Ultraviolent Cyberpunk FPS "Turbo Overkill" s
published by: forahobby | Page Views: 32 | Comments: 0

Friday, May 06
Skater XL: Tampa Pro Esports Contest to be li
published by: forahobby | Page Views: 21 | Comments: 0
SOEDESCO expands with new office in Madrid, S
published by: forahobby | Page Views: 25 | Comments: 0

Thursday, May 05
Demolish & Build 3 announced for Xbox One & X
published by: forahobby | Page Views: 24 | Comments: 0

Wednesday, May 04
Barton Lynch Pro Surfing 2022 confirmed for X
published by: forahobby | Page Views: 23 | Comments: 0
Moo Lander Releases May 27th on Xbox, PlaySta
published by: forahobby | Page Views: 30 | Comments: 0

Tuesday, May 03
Swordship Is Heading To Xbox, PlayStation, Sw
published by: forahobby | Page Views: 38 | Comments: 0
All in! Games Appoints Marcin Kawa as the New
published by: forahobby | Page Views: 29 | Comments: 0

Monday, May 02
Gigapocalypse Smashes Launches June 2nd On Co
published by: forahobby | Page Views: 30 | Comments: 0

Friday, April 29
Hello Neighbor 2 Now Available To Pre-order F
published by: forahobby | Page Views: 32 | Comments: 0

Thursday, April 28
Source of Madness drops for Xbox, PlayStation
published by: forahobby | Page Views: 31 | Comments: 0
Warhammer 40,000: Darktide launches this Sept
published by: forahobby | Page Views: 32 | Comments: 0

Wednesday, April 27
Deliver Us The Moon Coming to Next-Gen Consol
published by: forahobby | Page Views: 37 | Comments: 0

Tuesday, April 26
The Outbound Ghost coming in 2022 on Xbox, Pl
published by: forahobby | Page Views: 37 | Comments: 0
GUNDAM EVOLUTION hits Series X|S, Xbox One, P
published by: forahobby | Page Views: 35 | Comments: 0

Monday, April 25
Dungeon Defenders: Going Rogue Confirmed for
published by: forahobby | Page Views: 42 | Comments: 0

Friday, April 22
Tom Clancy's Rainbow Six: Siege 'Northern Pre
published by: forahobby | Page Views: 43 | Comments: 0
One Piece Odyssey Releases on Xbox Series X|S
published by: forahobby | Page Views: 38 | Comments: 0

Thursday, April 21
Deliver Us Mars confirmed for Xbox Series X|S
published by: forahobby | Page Views: 44 | Comments: 0
MX vs ATV Legends digital pre-order's are liv
published by: forahobby | Page Views: 47 | Comments: 0

Wednesday, April 20
New Forever Skies Gameplay Trailer
published by: forahobby | Page Views: 33 | Comments: 0
Farming Simulator 22 Antonio Carraro Pack Out
published by: forahobby | Page Views: 34 | Comments: 0

Tuesday, April 19
Fursan al-Aqsa is available now on PC via Ste
published by: forahobby | Page Views: 39 | Comments: 0
LEGO Bricktales is coming to PC and Consoles
published by: forahobby | Page Views: 62 | Comments: 0
Cursed to Golf Swings Its Way to XBOX, Ninten
published by: forahobby | Page Views: 49 | Comments: 0

Thursday, April 14
Action-RPG Souldiers hits Xbox, PlayStation,
published by: forahobby | Page Views: 51 | Comments: 0

Wednesday, April 13
'Floppy Knights' Coming to Xbox and PC Game P
published by: forahobby | Page Views: 44 | Comments: 0

Tuesday, April 12
Cursed to Golf Is Heading To Xbox, Switch & P
published by: forahobby | Page Views: 48 | Comments: 0
Slaycation Paradise coming to XBOX, PlayStati
published by: forahobby | Page Views: 52 | Comments: 0

Monday, April 11
Ghostbusters: Spirits Unleashed announced for
published by: forahobby | Page Views: 49 | Comments: 0
Godfall: Ultimate Edition now available for X
published by: forahobby | Page Views: 39 | Comments: 0

Friday, April 08
The Quarry now available for digital preorder
published by: forahobby | Page Views: 53 | Comments: 0
Flintlock: The Siege Of Dawn Coming to XB, PS
published by: forahobby | Page Views: 44 | Comments: 0

Thursday, April 07
Arcade racer Slipstream launches Today on Xbo
published by: forahobby | Page Views: 58 | Comments: 0

Wednesday, April 06
Dying Light 2 Gets New Parkour Challenges
published by: forahobby | Page Views: 45 | Comments: 0
Time on Frog Island Leaps Onto Consoles and I
published by: forahobby | Page Views: 49 | Comments: 0


News Archive