| | | |
| --- | --- | --- |
| | 'Weird West' rides into town in January 2022 for XB, PS and PC | |
'Weird West' rides into town in January 2022 for XB, PS and PC

WolfEye Studios (@WolfEyeGames) and Devolver Digital (@devolverdigital) announced that their upcoming action RPG experience Weird West is coming to Xbox, PlayStation and PC on Jan. 11. Watch the first part of the brand new video series and learn more about the game below on @XONEHQ!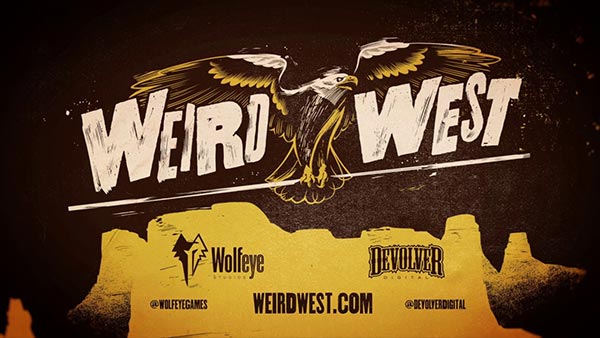 Discover a dark fantasy reimagining of the Wild West where lawmen and gunslingers share the frontier with fantastical creatures. Journey through the story of a group of atypical heroes, written into legend by the decisions you make in an unforgiving land. Each journey is unique and tailored to the actions taken - a series of high stakes adventures where everything counts and the world reacts to the choices you make. Form a posse or venture forth alone into an otherworldly confines of the Weird West and make each legend your own.
Newly opened
pre-orders on Steam
will furnish players with a horse named Calamity; a dependable mule that provides leg up at the beginning of their adventures by doubling their inventory size, allowing them to escape locations even if enemies are chasing them, and faster travel to avoid missing out on timed objectives. Calamity's saddle bags will also be stocked up with essential items, including lockpicks, bandages, tools and a Golden Ace of Spades upgrade token.
WolfEye Studios creative director Raf Colantonio walks through an overview of the game in the first of a series of deeper dive videos.
Weird West features
Weird West: Dark Fantasy reimagining of the Wild West where lawmen and gunslingers share the frontier with fantastical creatures, each playing with their own rules and their own peculiar motives.


Intertwined Destinies: Discover the world through origin stories of different characters, moving from one character's journey to the next until all converge in a final chapter.


Bespoke Experience: Each playthrough is unique as the game tailors the story to the player's actions and past choices for an ideal dramatic arc.


Immersive Sim: Weird West supports different styles of play in a simulated sandbox world where characters, factions, and even places react to a player's decisions.


High Stakes: Players are faced with brutal choices and consequence that can't be undone - including death.
Weird West will be available for the Xbox One, Xbox Series X/S, PlayStation 4, PlayStation 5, and PC via Steam on January 11, 2021.
To keep up with all the latest Xbox games news, release dates and updates, follow @XONEHQ on Twitter, YouTube, Instagram, Facebook, and Pinterest, download the free XBOX app for Android and subscribe via email and rss.
Official Site:
https://www.weirdwest.com/
News Source:
https://www.xboxone-hq.com/news.html
"
| | | |
| --- | --- | --- |
| | Related Stories | |

| | | |
| --- | --- | --- |
| | Most Popular | |

| | | |
| --- | --- | --- |
| | Rate this Article | |
| | | |
| --- | --- | --- |
| | Associated Topics | |



| | | |
| --- | --- | --- |
| | Xbox Tutorials Database | |

| | | |
| --- | --- | --- |
| | Xbox Tutorials Database | |

| | | |
| --- | --- | --- |
| | Xbox Download Stats | |

| | | |
| --- | --- | --- |
| | Site Statistics | |

| | | |
| --- | --- | --- |
| | Site Statistics | |

HQ Online Statistics
Members: 0 | Guests: 251 | Xbox Live Tags: 4,376


Forums

Active Users: 77

Your Account

Active Users: 37

Home

Active Users: 32

News

Active Users: 27

Downloads

Active Users: 22

Xbox Homebrew

Active Users: 21

Xbox Tutorials

Active Users: 16

XBOXLive Tags

Active Users: 7

Xbox Developers

Active Users: 2

Xbox Games

Active Users: 2

View More Detailed Statistics

| | | |
| --- | --- | --- |
| | Site Statistics | |

| | | |
| --- | --- | --- |
| | Popular Xbox Games | |
XGRA
Page Views: 269,879

In the future racing is faster - much faster. More dangerous - much more dangerous. And it's totally merciless, which means anything goes. Run by the XGRA (the Extreme Gravity Racing Association), thi..

More Xbox Games

| | | |
| --- | --- | --- |
| | HQ Network Affiliates | |

| | | |
| --- | --- | --- |
| | Xbox-Hq.Com - Archived News | |

Tuesday, November 29
The Wingman XB2 Converter Coming Soon!
published by: forahobby | Page Views: 17 | Comments: 0

Monday, November 28
The Chant Is Out Now For Xbox Series X|S & PC
published by: forahobby | Page Views: 17 | Comments: 0
Makea Games raises €1.3m in pre-seed funding
published by: forahobby | Page Views: 22 | Comments: 0
Non-Xbox games that Xbox users should try
published by: forahobby | Page Views: 26 | Comments: 0

Friday, November 25
Crusader Kings III Northern Lords Expansion I
published by: forahobby | Page Views: 31 | Comments: 0
High On Life arrives December 13 on Xbox One,
published by: forahobby | Page Views: 25 | Comments: 0

Wednesday, November 23
Turbo Overkill Episode 2 Coming to Xbox, Play
published by: forahobby | Page Views: 22 | Comments: 0
Atomic Heart Releases On February 21 On Xbox,
published by: forahobby | Page Views: 20 | Comments: 0

Tuesday, November 22
New One Piece Odyssey Trailer Reveals Storyli
published by: forahobby | Page Views: 24 | Comments: 0
The top sports games on Xbox in 2022
published by: forahobby | Page Views: 33 | Comments: 0

Monday, November 21
Sci-Fi Detective Tale 'Between Horizons' Comi
published by: forahobby | Page Views: 31 | Comments: 0
Valve, Amazon & Raw Fury Join The Bilbao Inte
published by: forahobby | Page Views: 25 | Comments: 0

Friday, November 18
'Neon Blood' Releases Digitally On Consoles &
published by: forahobby | Page Views: 31 | Comments: 0

Thursday, November 17
Team17 Announces Partnership With Absolutely
published by: forahobby | Page Views: 32 | Comments: 0

Wednesday, November 16
Sci-Fi Adventure Game Somerville Is Out Now O
published by: forahobby | Page Views: 35 | Comments: 0

Tuesday, November 15
FATAL FRAME: Mask of the Lunar Eclipse lands
published by: forahobby | Page Views: 34 | Comments: 0
Apogee Announces 'Exocide' For Xbox, PlayStat
published by: forahobby | Page Views: 37 | Comments: 0

Monday, November 14
Backfirewall_ releases for Xbox One, Xbox Ser
published by: forahobby | Page Views: 37 | Comments: 0
Birmingham Cross-City add-on launches this we
published by: forahobby | Page Views: 40 | Comments: 0
Acclaimed Watch Dogs Creative Director, Jonat
published by: forahobby | Page Views: 39 | Comments: 0

Friday, November 11
'Bravery & Greed' launches November 15 on Xbo
published by: forahobby | Page Views: 40 | Comments: 0

Wednesday, November 09
REPO MAN coming to Xbox One and Xbox Series i
published by: forahobby | Page Views: 43 | Comments: 0
Ghostbusters: Spirits Unleashed Out Now on XB
published by: forahobby | Page Views: 46 | Comments: 0

Tuesday, November 08
Yakuza: Like A Dragon: Ishin remaster announc
published by: forahobby | Page Views: 46 | Comments: 0

Monday, November 07
The Rumble Fish 2 releases December 8 on all
published by: forahobby | Page Views: 32 | Comments: 0

Friday, November 04
FATAL FRAME: Mask of the Lunar Eclipse launch
published by: forahobby | Page Views: 50 | Comments: 0
Tekken 8 expected to launch on Xbox Series &
published by: forahobby | Page Views: 42 | Comments: 0

Thursday, November 03
GoldenEye 007 Remaster Is Coming Soon For Xbo
published by: forahobby | Page Views: 53 | Comments: 0

Wednesday, November 02
Vengeance Is Mine Brings Mech Combat To Xbox
published by: forahobby | Page Views: 40 | Comments: 0

Tuesday, November 01
Arcade Paradise Tops the Leaderboard as Noseb
published by: forahobby | Page Views: 45 | Comments: 0

Monday, October 31
Casino Themed Sim Management Game 'Blooming B
published by: forahobby | Page Views: 36 | Comments: 0

Friday, October 28
Trackmania drifts onto consoles and select cl
published by: forahobby | Page Views: 36 | Comments: 0

Thursday, October 27
2D adventure platformer 'Worldless' coming to
published by: forahobby | Page Views: 43 | Comments: 0

Wednesday, October 26
Ubisoft announces Assassin's Creed Mirage for
published by: forahobby | Page Views: 35 | Comments: 0
LUCID heading to Xbox X|S, XB1, PS5, PS4, SWI
published by: forahobby | Page Views: 44 | Comments: 0

Tuesday, October 25
Ghost Song Launches On Xbox One, PlayStation,
published by: forahobby | Page Views: 37 | Comments: 0
'Goblin Stone' drops in 2023 on Xbox X|S, PS5
published by: forahobby | Page Views: 40 | Comments: 0
New Flintlock: The Siege of Dawn Trailer For
published by: forahobby | Page Views: 43 | Comments: 0
DREDGE announced for Xbox, PlayStation, Switc
published by: forahobby | Page Views: 49 | Comments: 0

Monday, October 24
Swordship launches on Xbox, PlayStation, Swit
published by: forahobby | Page Views: 44 | Comments: 0


News Archive