| | | |
| --- | --- | --- |
| | BLOODSHORE heads to XBOX, PlayStation, Switch, iOS, and PC this November | |
BLOODSHORE heads to XBOX, PlayStation, Switch, iOS, and PC this November

Wales Interactive announced that BLOODSHORE, a brand new FMV game from the producers of The Complex and Five Dates, is coming to Xbox One, Xbox Series X|S, PS4, PS5, Switch, iOS, Mac and Steam PC this November.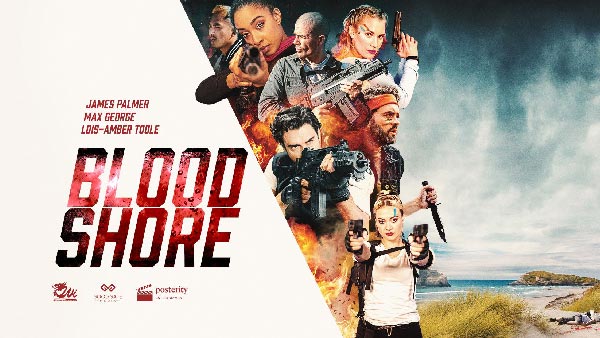 Published by Wales Interactive, Bloodshore is co-developed by Wayout Pictures, Good Gate Media, Posterity Entertainment and Wales Interactive, and follows Nick, a washed-up actor who is competing on Kill/Stream for a life-changing cash prize, although a sinister truth is hidden on The Island he finds himself in. Each playthrough changes dramatically depending on player choices and the relationships built, some will bring deadly consequences for Nick and his fellow contestants.
All is not what it seems in this latest season of Kill/Stream, the hottest reality TV show on the planet. Can Nick uncover the truth about Bloodshore Island before his time runs out?
BLOODSHORE features include:
8 hours of total FMV footage, the most amount in any game
Decisions matter, with visual feedback on what effect they have
Relationships are tracked and can influence the story
One story, several different paths and outcomes
From the producers of The Complex and Five dates
Let's take a look at the newly released trailer:
BLOODSHORE arrives in November on Xbox One, Xbox Series S/X, PC, PS4, PS5, Nintendo Switch, Mac, and iOS, with more details available on the Steam page.
To keep up with all the latest Xbox information, release dates and updates, follow
@XONEHQ
on
Twitter
,
YouTube
,
Instagram
,
Facebook
, and
Pinterest
, download the
free XBOX app for Android
or
subscribe via email and rss
.
News Source:
https://www.xboxone-hq.com/news.html
"
| | | |
| --- | --- | --- |
| | Related Stories | |

| | | |
| --- | --- | --- |
| | Most Popular | |

| | | |
| --- | --- | --- |
| | Rate this Article | |
| | | |
| --- | --- | --- |
| | Associated Topics | |



| | | |
| --- | --- | --- |
| | Xbox Tutorials Database | |

| | | |
| --- | --- | --- |
| | Xbox Tutorials Database | |

| | | |
| --- | --- | --- |
| | Xbox Download Stats | |

| | | |
| --- | --- | --- |
| | Site Statistics | |

| | | |
| --- | --- | --- |
| | Site Statistics | |

HQ Online Statistics
Members: 2 | Guests: 403 | Xbox Live Tags: 4,379


Forums

Active Users: 96

Your Account

Active Users: 58

News

Active Users: 52

Xbox Games

Active Users: 37

Downloads

Active Users: 34

Home

Active Users: 29

Profile

Active Users: 22

Xbox Homebrew

Active Users: 20

Xbox Cheats

Active Users: 19

Xbox Tutorials

Active Users: 18

View More Detailed Statistics

| | | |
| --- | --- | --- |
| | Site Statistics | |

| | | |
| --- | --- | --- |
| | Popular Xbox Games | |
Tetris Worlds
Page Views: 328,967

Tetris, the world's most popular electronic game, is a deceptively simple, completely addictive puzzle game! With Tetris Worlds, you get everything you love about Tetris, and more with beautiful graph..

More Xbox Games

| | | |
| --- | --- | --- |
| | HQ Network Affiliates | |

| | | |
| --- | --- | --- |
| | Xbox-Hq.Com - Archived News | |

Thursday, December 02
Kingdom Two Crowns: Norse Lands Edition Now A
published by: forahobby | Page Views: 13 | Comments: 0

Wednesday, December 01
Detective Di: The Silk Rose Murders announced
published by: forahobby | Page Views: 24 | Comments: 0

Tuesday, November 30
Surviving the Aftermath Leaves Early Access,
published by: forahobby | Page Views: 22 | Comments: 0
Tom Clancy's Rainbow Six Extraction launches
published by: forahobby | Page Views: 23 | Comments: 0
Total Arcade Racing Is Available Now For Xbox
published by: forahobby | Page Views: 23 | Comments: 0

Monday, November 29
Gynoug drops on Xbox, PlayStation and Nintend
published by: forahobby | Page Views: 18 | Comments: 0
Venus: Improbable Dream Launches On Xbox, Pla
published by: forahobby | Page Views: 16 | Comments: 0
Whiskey Mafia: Leo's Family available now on
published by: forahobby | Page Views: 18 | Comments: 0
Dying Light 2 Vinyl Album Soundtrack Set for
published by: forahobby | Page Views: 19 | Comments: 0

Friday, November 26
Path Of Giants Now Available on Xbox One, Xbo
published by: forahobby | Page Views: 19 | Comments: 0
Xbox Design Lab: Rubberized Grips, Metallic F
published by: forahobby | Page Views: 19 | Comments: 0
Grand Theft Auto: The Trilogy - The Definitiv
published by: forahobby | Page Views: 18 | Comments: 0
Orcs Must Die! 3 Cold As Eyes DLC launches on
published by: forahobby | Page Views: 15 | Comments: 0

Thursday, November 25
Real Farm 'Premium Edition' lands on Xbox Ser
published by: forahobby | Page Views: 22 | Comments: 0
The Elder Scrolls V: Skyrim Anniversary Editi
published by: forahobby | Page Views: 24 | Comments: 0

Wednesday, November 24
Mars Horizon's next update is heading to Cons
published by: forahobby | Page Views: 21 | Comments: 0
Jurassic World Evolution 2 is out now on Xbox
published by: forahobby | Page Views: 25 | Comments: 0

Tuesday, November 23
Epic Chef launches on Xbox, PlayStation, Nint
published by: forahobby | Page Views: 23 | Comments: 0
Back 4 Blood Post-Launch Content Roadmap, Fre
published by: forahobby | Page Views: 31 | Comments: 0
Splitgate Custom Game Mode Update & New Seaso
published by: forahobby | Page Views: 26 | Comments: 0

Monday, November 22
Forza Horizon 5 is OUT NOW on XBOX and WINDOW
published by: forahobby | Page Views: 25 | Comments: 0
Edge of Eternity Summons Console Gameplay Deb
published by: forahobby | Page Views: 26 | Comments: 0

Friday, November 19
Rune Factory 4 Special Launches Dec. 7 on Xbo
published by: forahobby | Page Views: 32 | Comments: 0
Encodya OUT NOW for Xbox One/Xbox Series X|S,
published by: forahobby | Page Views: 28 | Comments: 0

Thursday, November 18
ELDEN RING Is Now Available To Pre-Order
published by: forahobby | Page Views: 28 | Comments: 0
Ghost Sync launches on Xbox Series X|S, Xbox
published by: forahobby | Page Views: 37 | Comments: 0

Wednesday, November 17
Action-packed platformer 'Little Bug' is head
published by: forahobby | Page Views: 32 | Comments: 0
Call of Duty: Vanguard launches on all major
published by: forahobby | Page Views: 41 | Comments: 0
Stinky Company Simulator confirmed for Xbox O
published by: forahobby | Page Views: 25 | Comments: 0

Tuesday, November 16
Bloodshore Is Available Now on Consoles and P
published by: forahobby | Page Views: 30 | Comments: 0
The Binding Of Isaac: Repentance out on Xbox
published by: forahobby | Page Views: 38 | Comments: 0

Monday, November 15
Tunche Available Now on console and PC
published by: forahobby | Page Views: 45 | Comments: 0
'Weird West' rides into town in January 2022
published by: forahobby | Page Views: 52 | Comments: 0
Lucid Cycle Now Available For Xbox One, PlayS
published by: forahobby | Page Views: 36 | Comments: 0

Friday, November 12
DYNASTY WARRIORS 9 Empires release date set f
published by: forahobby | Page Views: 55 | Comments: 0
Bassmaster Fishing 2022 OUT NOW on Xbox, Play
published by: forahobby | Page Views: 26 | Comments: 0
Disciples: Liberation is OUT NOW on Console a
published by: forahobby | Page Views: 23 | Comments: 0

Thursday, November 11
Aluna: Sentinel of the Shards coming soon for
published by: forahobby | Page Views: 23 | Comments: 0
Battle Royale FMV 'Bloodshore' is available n
published by: forahobby | Page Views: 30 | Comments: 0

Wednesday, November 10
MXGP 2021 releases November 30 for Xbox, Pla
published by: forahobby | Page Views: 33 | Comments: 0


News Archive