| | | |
| --- | --- | --- |
| | BIOMUTANT Now Available To Pre-order Digitally On Xbox One & Xbox Series X|S | |
BIOMUTANT Now Available To Pre-order Digitally On Xbox One & Xbox Series X|S

Post-apocalyptic open-world ARPG "BIOMUTANT" is now available for digital pre-order and pre-download on Xbox One and Xbox Series X/S ready for its official 25th of May release. Pre-Order BIOMUTANT now & get the Mercenary class DLC, a unique combination of perks, in addition to the full game.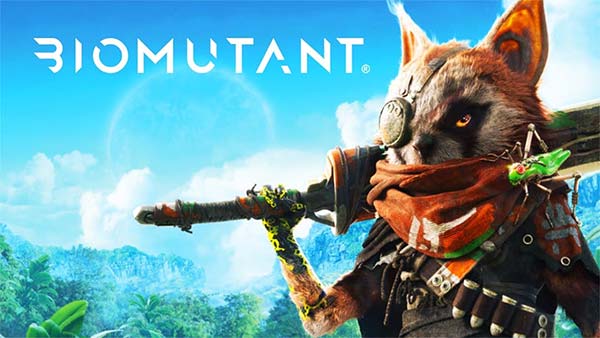 BIOMUTANT is a post-apocalyptic open-world ARPG that delivers real-time melee, shooter and mutant ability action. Replayability by varied and deep character progression, exploration of three systematically generated worlds, an underworld and a small solar system, by foot, mech, air-balloon, jetski and UFO.
The game features a fully customizable (MMO style) character and mutation system, bionics and creative item crafting, plus an interactive narrative featuring a contextual storyteller where the players creates their own story of survival in a vibrant colorful world.
Biomutant arrives May 25, 2021 on Xbox One, Xbox Series X/S, PlayStation 4, PS5 and Windows PC.
To keep up with all the latest Xbox One Series X|S and Xbox One news, release dates and updates, follow @XONEHQ on Twitter, YouTube, Instagram, Facebook, and Pinterest, download the free XBOX app for Android, and stay tuned for more info as it arrives.
Digital Pre-order:
here
Price: $59.99, £54.99, €59,99, CAD $76.99, AU$99.95
News Source:
XBOX ONE HQ
"
| | | |
| --- | --- | --- |
| | Related Stories | |

| | | |
| --- | --- | --- |
| | Most Popular | |

| | | |
| --- | --- | --- |
| | Rate this Article | |
| | | |
| --- | --- | --- |
| | Associated Topics | |



| | | |
| --- | --- | --- |
| | Xbox Tutorials Database | |

| | | |
| --- | --- | --- |
| | Xbox Tutorials Database | |

| | | |
| --- | --- | --- |
| | Xbox Download Stats | |

| | | |
| --- | --- | --- |
| | Site Statistics | |

| | | |
| --- | --- | --- |
| | Site Statistics | |

HQ Online Statistics
Members: 3 | Guests: 272 | Xbox Live Tags: 4,379


Forums

Active Users: 90

Your Account

Active Users: 48

Home

Active Users: 36

Downloads

Active Users: 28

News

Active Users: 19

Xbox Tutorials

Active Users: 13

Profile

Active Users: 11

Xbox Homebrew

Active Users: 9

Xbox Games

Active Users: 7

VIP Signup

Active Users: 3

View More Detailed Statistics

| | | |
| --- | --- | --- |
| | Site Statistics | |

| | | |
| --- | --- | --- |
| | Popular Xbox Games | |

| | | |
| --- | --- | --- |
| | HQ Network Affiliates | |

| | | |
| --- | --- | --- |
| | Xbox-Hq.Com - Archived News | |

Tuesday, May 04
Leisure Suit Larry 'Wet Dreams Dry Twice' Con
published by: forahobby | Page Views: 12 | Comments: 0

Monday, May 03
Riot Control Simulator comes to XB1 PS4, Xbox
published by: forahobby | Page Views: 11 | Comments: 0

Friday, April 30
F1 2021 heads to Xbox Series, PS5, Xbox One,
published by: forahobby | Page Views: 17 | Comments: 0

Thursday, April 29
OlliOlli World confirmed for Xbox Series, XB1
published by: forahobby | Page Views: 18 | Comments: 0

Wednesday, April 28
SouthPAW's 2D action platformer 'Skul' coming
published by: forahobby | Page Views: 24 | Comments: 0

Tuesday, April 27
Microsoft Xbox Games with Gold for May 2021
published by: forahobby | Page Views: 32 | Comments: 0
RiMS Racing announced for Xbox Series, PS5, X
published by: forahobby | Page Views: 20 | Comments: 0

Monday, April 26
Cris Tales Releases July 20th - Pre-Order Now
published by: forahobby | Page Views: 25 | Comments: 0
Youtubers Life 2 launches on Xbox, PlayStatio
published by: forahobby | Page Views: 24 | Comments: 0

Friday, April 23
King of Seas to Set Sail on Xbox, PlayStation
published by: forahobby | Page Views: 31 | Comments: 0
Tools Up! - The Renovation Spree Bundle is no
published by: forahobby | Page Views: 26 | Comments: 0

Thursday, April 22
Xbox Live Multiplayer Is Now Available For Fr
published by: forahobby | Page Views: 37 | Comments: 0
Ghostrunner Adds Free Modes, New Cosmetic DLC
published by: forahobby | Page Views: 24 | Comments: 0

Wednesday, April 21
Knight Squad 2 Catapults Onto Xbox One & Xbox
published by: forahobby | Page Views: 24 | Comments: 0
Hood: Outlaws & Legends new in-depth gameplay
published by: forahobby | Page Views: 27 | Comments: 0

Tuesday, April 20
Streets of Rage 4: Three New Playable Charact
published by: forahobby | Page Views: 31 | Comments: 0
AntVentor Now Available For Digital Pre-order
published by: forahobby | Page Views: 28 | Comments: 0

Monday, April 19
Dungeon And Gravestone comes to XBOX on April
published by: forahobby | Page Views: 26 | Comments: 0

Thursday, April 15
'Wardens Rising' is coming to Xbox Series X|S
published by: forahobby | Page Views: 33 | Comments: 0

Wednesday, April 14
Dovetail Games announces Bassmaster Fishing 2
published by: forahobby | Page Views: 27 | Comments: 0
Hitchhiker A Mystery Game Hits Console and PC
published by: forahobby | Page Views: 27 | Comments: 0

Tuesday, April 13
Rain On Your Parade available to preorder on
published by: forahobby | Page Views: 32 | Comments: 0
Super Meat Boy Forever comes to Xbox One and
published by: forahobby | Page Views: 36 | Comments: 0

Monday, April 12
Grand Theft Auto 5 and Zombie Army 4 Out Now
published by: forahobby | Page Views: 32 | Comments: 0

Friday, April 09
Last Oasis Game Preview Flies Onto The Xbox G
published by: forahobby | Page Views: 37 | Comments: 0

Thursday, April 08
'Embr' lights up Xbox, PlayStation, and Switc
published by: forahobby | Page Views: 35 | Comments: 0

Wednesday, April 07
Digital Pre-order's For MotoGP 21 Go LIVE On
published by: forahobby | Page Views: 39 | Comments: 0
Team17 Showcases A Smorgabord Of Upcoming Gam
published by: forahobby | Page Views: 31 | Comments: 0

Tuesday, April 06
Hot Wheels Unleashed launches September 30 -
published by: forahobby | Page Views: 39 | Comments: 0
BIOMUTANT Now Available To Pre-order Digitall
published by: forahobby | Page Views: 33 | Comments: 0
Overcooked! All You Can Eat Serves Launches o
published by: forahobby | Page Views: 36 | Comments: 0

Monday, April 05
Ironic outer space survival adventure game 'B
published by: forahobby | Page Views: 30 | Comments: 0
RetroMania Wrestling Hits Xbox One, Xbox Seri
published by: forahobby | Page Views: 30 | Comments: 0

Friday, April 02
Life Is Strange: True Colors is now available
published by: forahobby | Page Views: 34 | Comments: 0

Thursday, April 01
House Flipper's 'Garden Bundle' DLC is out no
published by: forahobby | Page Views: 33 | Comments: 0
"Dark Alliance" Launch Date Set for June 22nd
published by: forahobby | Page Views: 37 | Comments: 0

Wednesday, March 31
Subnautica: Below Zero launches for consoles
published by: forahobby | Page Views: 44 | Comments: 0

Tuesday, March 30
The NINJA GAIDEN Master Collection Now Availa
published by: forahobby | Page Views: 38 | Comments: 0
Angry Video Game Nerd I & II Deluxe Is Now Av
published by: forahobby | Page Views: 39 | Comments: 0

Monday, March 29
Puzzle platformer 'Escape from Life Inc' hits
published by: forahobby | Page Views: 33 | Comments: 0


News Archive