| | | |
| --- | --- | --- |
| | Open-world action RPG "Under The Jolly Roger" sets sail on Xbox | |
Open-world action RPG "Under The Jolly Roger" sets sail on Xbox

Open-world action Role Playing Game "Under The Jolly Roger" is now available for digital download on the Microsoft Store for XBOX consoles.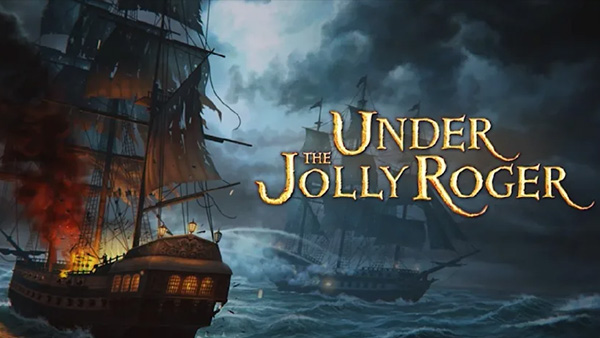 Under the Jolly Roger is offering an ultimate ability to free roam three vast worlds filled with dozens of colonies and forts, hundreds of quests, and countless ships to plunder. You can trade, fight, explore on your own, or call friends to do the same together! Set your foot on the land to plunder it! Game features: - Limitless sailing in real-time - use Global Map only if you want to! - A system of leveling your pirates, let them grow from sailor boys to skilled old salts! - Hundreds of quests.
Check out the official ID@Xbox launch trailer and head on over to the Xbox achievements hub to see the complete list of achievements for the game.
Under the Jolly Roger is available to purchase on Xbox One & Xbox Series X/S for $17.99, €17.99, £14.99, AU$26.95.
For the latest Xbox updates & release dates, check out the Xbox games database, follow @XONEHQ on Twitter, Facebook, Pinterest, Reddit, and YouTube, and stay tuned for the latest Xbox news & rumors, and the best new upcoming Xbox Series X|S & Xbox One games, achievements, game trailers, screenshots, and Xbox Info.
Microsoft Store:
here
Price: $17.99, €17.99, £14.99, AU$26.95"
| | | |
| --- | --- | --- |
| | Related Stories | |

| | | |
| --- | --- | --- |
| | Most Popular | |

| | | |
| --- | --- | --- |
| | Rate this Article | |
| | | |
| --- | --- | --- |
| | Associated Topics | |



| | | |
| --- | --- | --- |
| | Xbox Tutorials Database | |

| | | |
| --- | --- | --- |
| | Xbox Tutorials Database | |

| | | |
| --- | --- | --- |
| | Xbox Download Stats | |

| | | |
| --- | --- | --- |
| | Site Statistics | |

| | | |
| --- | --- | --- |
| | Site Statistics | |

HQ Online Statistics
Members: 2 | Guests: 259 | Xbox Live Tags: 4,379


Forums

Active Users: 86

Your Account

Active Users: 40

Home

Active Users: 33

Downloads

Active Users: 24

News

Active Users: 16

Xbox Homebrew

Active Users: 14

Profile

Active Users: 12

Xbox Tutorials

Active Users: 11

Xbox Games

Active Users: 6

VIP Signup

Active Users: 5

View More Detailed Statistics

| | | |
| --- | --- | --- |
| | Site Statistics | |

| | | |
| --- | --- | --- |
| | Popular Xbox Games | |
Robots
Page Views: 328450

Based upon Twentieth Century Fox's CG animated feature film releasing on March 11, 2005 the game will place players in the role of the film's hero Rodney Copperbottom, as he sets off on thrilling adve..

More Xbox Games

| | | |
| --- | --- | --- |
| | HQ Network Affiliates | |

| | | |
| --- | --- | --- |
| | Xbox-Hq.Com - Archived News | |

Tuesday, May 04
Leisure Suit Larry 'Wet Dreams Dry Twice' Con
published by: forahobby | Page Views: 12 | Comments: 0

Monday, May 03
Riot Control Simulator comes to XB1 PS4, Xbox
published by: forahobby | Page Views: 11 | Comments: 0

Friday, April 30
F1 2021 heads to Xbox Series, PS5, Xbox One,
published by: forahobby | Page Views: 17 | Comments: 0

Thursday, April 29
OlliOlli World confirmed for Xbox Series, XB1
published by: forahobby | Page Views: 18 | Comments: 0

Wednesday, April 28
SouthPAW's 2D action platformer 'Skul' coming
published by: forahobby | Page Views: 24 | Comments: 0

Tuesday, April 27
Microsoft Xbox Games with Gold for May 2021
published by: forahobby | Page Views: 32 | Comments: 0
RiMS Racing announced for Xbox Series, PS5, X
published by: forahobby | Page Views: 20 | Comments: 0

Monday, April 26
Cris Tales Releases July 20th - Pre-Order Now
published by: forahobby | Page Views: 25 | Comments: 0
Youtubers Life 2 launches on Xbox, PlayStatio
published by: forahobby | Page Views: 24 | Comments: 0

Friday, April 23
King of Seas to Set Sail on Xbox, PlayStation
published by: forahobby | Page Views: 31 | Comments: 0
Tools Up! - The Renovation Spree Bundle is no
published by: forahobby | Page Views: 26 | Comments: 0

Thursday, April 22
Xbox Live Multiplayer Is Now Available For Fr
published by: forahobby | Page Views: 37 | Comments: 0
Ghostrunner Adds Free Modes, New Cosmetic DLC
published by: forahobby | Page Views: 24 | Comments: 0

Wednesday, April 21
Knight Squad 2 Catapults Onto Xbox One & Xbox
published by: forahobby | Page Views: 24 | Comments: 0
Hood: Outlaws & Legends new in-depth gameplay
published by: forahobby | Page Views: 27 | Comments: 0

Tuesday, April 20
Streets of Rage 4: Three New Playable Charact
published by: forahobby | Page Views: 31 | Comments: 0
AntVentor Now Available For Digital Pre-order
published by: forahobby | Page Views: 28 | Comments: 0

Monday, April 19
Dungeon And Gravestone comes to XBOX on April
published by: forahobby | Page Views: 26 | Comments: 0

Thursday, April 15
'Wardens Rising' is coming to Xbox Series X|S
published by: forahobby | Page Views: 33 | Comments: 0

Wednesday, April 14
Dovetail Games announces Bassmaster Fishing 2
published by: forahobby | Page Views: 27 | Comments: 0
Hitchhiker A Mystery Game Hits Console and PC
published by: forahobby | Page Views: 27 | Comments: 0

Tuesday, April 13
Rain On Your Parade available to preorder on
published by: forahobby | Page Views: 32 | Comments: 0
Super Meat Boy Forever comes to Xbox One and
published by: forahobby | Page Views: 36 | Comments: 0

Monday, April 12
Grand Theft Auto 5 and Zombie Army 4 Out Now
published by: forahobby | Page Views: 32 | Comments: 0

Friday, April 09
Last Oasis Game Preview Flies Onto The Xbox G
published by: forahobby | Page Views: 37 | Comments: 0

Thursday, April 08
'Embr' lights up Xbox, PlayStation, and Switc
published by: forahobby | Page Views: 35 | Comments: 0

Wednesday, April 07
Digital Pre-order's For MotoGP 21 Go LIVE On
published by: forahobby | Page Views: 39 | Comments: 0
Team17 Showcases A Smorgabord Of Upcoming Gam
published by: forahobby | Page Views: 30 | Comments: 0

Tuesday, April 06
Hot Wheels Unleashed launches September 30 -
published by: forahobby | Page Views: 39 | Comments: 0
BIOMUTANT Now Available To Pre-order Digitall
published by: forahobby | Page Views: 32 | Comments: 0
Overcooked! All You Can Eat Serves Launches o
published by: forahobby | Page Views: 35 | Comments: 0

Monday, April 05
Ironic outer space survival adventure game 'B
published by: forahobby | Page Views: 30 | Comments: 0
RetroMania Wrestling Hits Xbox One, Xbox Seri
published by: forahobby | Page Views: 29 | Comments: 0

Friday, April 02
Life Is Strange: True Colors is now available
published by: forahobby | Page Views: 34 | Comments: 0

Thursday, April 01
House Flipper's 'Garden Bundle' DLC is out no
published by: forahobby | Page Views: 32 | Comments: 0
"Dark Alliance" Launch Date Set for June 22nd
published by: forahobby | Page Views: 36 | Comments: 0

Wednesday, March 31
Subnautica: Below Zero launches for consoles
published by: forahobby | Page Views: 44 | Comments: 0

Tuesday, March 30
The NINJA GAIDEN Master Collection Now Availa
published by: forahobby | Page Views: 37 | Comments: 0
Angry Video Game Nerd I & II Deluxe Is Now Av
published by: forahobby | Page Views: 38 | Comments: 0

Monday, March 29
Puzzle platformer 'Escape from Life Inc' hits
published by: forahobby | Page Views: 33 | Comments: 0


News Archive