| | | |
| --- | --- | --- |
| | BALAN WONDERWORLD Releases March 26, 2021 - Pre-order Now! | |
BALAN WONDERWORLD Releases March 26, 2021 - Pre-order Now!

Balan Wonderworld (@BalanWonderworld), a wonderous adventure game from legendary creators Yuji Naka & Naoto Ohshima, is now available for digital pre-order on Xbox Series X/S, Xbox One, PlayStation 5, PS4, Nintendo Switch and PC. Become the star of the show & pre-order #BalanWonderworld today!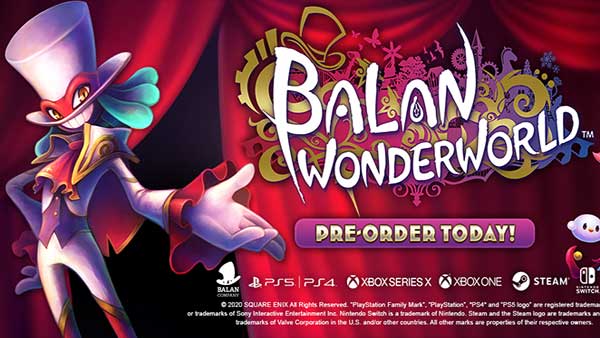 Balan Wonderworld a wonderous all-action show, the likes of which has never been seen before! Twelve different tales await our stars Leo and Emma in Wonderworld, each with their own unique quirks and over 80 different costumes give you all the action that you could possibly imagine!
Two Legendary Creators Reunite! - Come one, come all and enjoy the pinnacle of Square Enix storytelling in an all-action world of wonder created by the legendary Naka Yuji. For the first time in 20 years Naka Yuji and Oshima Naoto join forces forming the BALAN COMPANY team; founded around, bringing together action game development, video and music production professionals from both inside and outside of the company.


Wonderworld exists in people's hearts and imagination - The setting for this tale is the fantastic, bizarre land of Wonderworld; a place where people's happy and positive memories mix with their restless worries and negativity. Leo and Emma are led into Wonderworld by the mysterious clown Balan and set off on a journey to find what is important to them. Before they can return to the real world, they must first restore the lost balance in their hearts...


Over 80 different costumes open up all the action you could want - The stars of the show can use powers from the inhabitants of Wonderworld by wearing their colorful costumes, with over 80 different ones to try on! Bash your enemies, walk in the air, freeze time or manipulate all kinds of objects... the possibilities are endless when you pick up a new costume.
Take a seat & check out the brand new trailer, featuring newly revealed costumes & a first look at co-op play.
Balan Wonderworld will be available for Xbox Series X/S, Xbox One, PlayStation 5, PlayStation 4, Nintendo Switch and PC on March 26th, 2021.
BALAND WONDERWORLD supports Smart Delivery, and can be played on both Xbox One and Xbox Series X.
For the latest Xbox updates follow @XONEHQ on Twitter, like us on Facebook, subscribe to us on YouTube, install the free Xbox app for android, and stay tuned for more of the best new and upcoming Xbox games for 2020, 2021, screenshots, news & rumors, Xbox achievements, and Video Game Trailers.
Digital Pre-order:
here
Price: $59.99, € 59,99, £49.99, AU$89.95
Official Site:
https://balanwonderworld.square-enix-games.com/
News Source:
https://www.xboxone-hq.com/news.html
"
| | | |
| --- | --- | --- |
| | Related Stories | |

| | | |
| --- | --- | --- |
| | Most Popular | |

| | | |
| --- | --- | --- |
| | Rate this Article | |
| | | |
| --- | --- | --- |
| | Associated Topics | |



| | | |
| --- | --- | --- |
| | Xbox Tutorials Database | |

| | | |
| --- | --- | --- |
| | Xbox Tutorials Database | |

| | | |
| --- | --- | --- |
| | Xbox Download Stats | |

| | | |
| --- | --- | --- |
| | Site Statistics | |

| | | |
| --- | --- | --- |
| | Site Statistics | |

HQ Online Statistics
Members: 0 | Guests: 771 | Xbox Live Tags: 4,379


Home

Active Users: 420

Xbox Homebrew

Active Users: 89

Xbox Tutorials

Active Users: 67

Forums

Active Users: 64

Xbox Games

Active Users: 64

Downloads

Active Users: 21

Your Account

Active Users: 19

News

Active Users: 17


Active Users: 2

Active Topics

Active Users: 1

View More Detailed Statistics

| | | |
| --- | --- | --- |
| | Site Statistics | |

| | | |
| --- | --- | --- |
| | Popular Xbox Games | |
Metal Shell
Page Views: 240415

Metal Shell (working title) is arcade combat in high-speed, purposebuilt tanks, with online tournaments, and environments that destruct and deform as you play. With a huge selection of single and mult..

More Xbox Games

| | | |
| --- | --- | --- |
| | HQ Network Affiliates | |

| | | |
| --- | --- | --- |
| | Xbox-Hq.Com - Archived News | |

Tuesday, December 01
GTA Online Casino: How to Get Free Casino Chi
published by: forahobby | Page Views: 9 | Comments: 0

Monday, November 30
Space Engineers 'Wasteland' DLC Update 1.197
published by: forahobby | Page Views: 13 | Comments: 0
Seeds Of Resilience Out Now on Xbox One and X
published by: forahobby | Page Views: 6 | Comments: 0

Saturday, November 28
Ruinverse launches December 4 for Xbox One, X
published by: forahobby | Page Views: 13 | Comments: 0

Friday, November 27
Out Of Space: Couch Edition Hits Xbox One And
published by: forahobby | Page Views: 9 | Comments: 0

Thursday, November 26
Xbox Games with Gold for December 2020
published by: forahobby | Page Views: 24 | Comments: 0
LAST OASIS coming to Xbox Series X|S & XB1 wi
published by: forahobby | Page Views: 24 | Comments: 0
GTA5 Slot Machines Glitches That Are Still Wo
published by: forahobby | Page Views: 19 | Comments: 0
Best Casino Games on Xbox
published by: forahobby | Page Views: 21 | Comments: 0
Skater XL Delivers Modded Maps And Gear On Al
published by: forahobby | Page Views: 29 | Comments: 0

Wednesday, November 25
SnowRunner Season 2 is out now for Xbox One,
published by: forahobby | Page Views: 43 | Comments: 0
CasinoRex - The best casino in EU with fast p
published by: forahobby | Page Views: 36 | Comments: 0
Professor Rubik's Brain Fitness Now Available
published by: forahobby | Page Views: 15 | Comments: 0
Next Gen consoles set to close door for new g
published by: forahobby | Page Views: 21 | Comments: 0

Tuesday, November 24
'Call Of The Sea' arrives December 8 on Xbox
published by: forahobby | Page Views: 26 | Comments: 0

Monday, November 23
"Poker Club" now available for Xbox Series X|
published by: forahobby | Page Views: 40 | Comments: 0

Thursday, November 19
Brawl Chess lands November 20th for Xbox One
published by: forahobby | Page Views: 18 | Comments: 0

Wednesday, November 18
Cloud Gaming Preview launches in Mexico, Japa
published by: forahobby | Page Views: 39 | Comments: 0
DiRT 5 is available now for Xbox One, PS4 and
published by: forahobby | Page Views: 24 | Comments: 0

Tuesday, November 17
Twin Mirror digital pre-order pricing & relea
published by: forahobby | Page Views: 27 | Comments: 0
Gears Tactics now available for Xbox One and
published by: forahobby | Page Views: 36 | Comments: 0

Monday, November 16
Need for Speed Hot Pursuit Remastered Out Now
published by: forahobby | Page Views: 45 | Comments: 0

Thursday, November 12
Grey Skies: A War Of The Worlds Story hits Xb
published by: forahobby | Page Views: 26 | Comments: 0
Sparkle 4 Tales now available for digital pre
published by: forahobby | Page Views: 23 | Comments: 0

Wednesday, November 11
Autobahn Police Simulator 2 is Out Now on Xbo
published by: forahobby | Page Views: 21 | Comments: 0

Tuesday, November 10
Fishing Sim World Bass Pro Shops Edition now
published by: forahobby | Page Views: 24 | Comments: 0

Monday, November 09
SMITE x TMNT Plus Bundle Available Now For Xb
published by: forahobby | Page Views: 25 | Comments: 0

Friday, November 06
Poker Club launches for XBOX, PlayStation, Sw
published by: forahobby | Page Views: 32 | Comments: 0

Thursday, November 05
Day of the Tentacle Remastered Out Now On Xbo
published by: forahobby | Page Views: 42 | Comments: 0

Wednesday, November 04
Watch Dogs: Legion is Out Now for Xbox One, P
published by: forahobby | Page Views: 27 | Comments: 0

Tuesday, November 03
Supraland is out now on Xbox One and included
published by: forahobby | Page Views: 44 | Comments: 0

Monday, November 02
Asterix & Obelix XXL: Romastered Available No
published by: forahobby | Page Views: 37 | Comments: 0

Friday, October 30
Double Pug Switch launches for Xbox One, PS4,
published by: forahobby | Page Views: 43 | Comments: 0

Thursday, October 29
Truck Driver delivers free DLC on Xbox One an
published by: forahobby | Page Views: 46 | Comments: 0

Wednesday, October 28
Puyo Puyo Tetris 2 digital pre-order on XBOX
published by: forahobby | Page Views: 37 | Comments: 0
A Mother's Journey is available now for XBOX,
published by: forahobby | Page Views: 42 | Comments: 0

Tuesday, October 27
Farm Mechanic Simulator officially announced
published by: forahobby | Page Views: 33 | Comments: 0

Monday, October 26
Planet Coaster Console Edition pre-order for
published by: forahobby | Page Views: 38 | Comments: 0
Xbox Series X & S Optimized Launch Titles
published by: forahobby | Page Views: 51 | Comments: 0
ZOMBIE ARMY 4: SEASON 2 kicks off on all plat
published by: forahobby | Page Views: 41 | Comments: 0


News Archive