| | | |
| --- | --- | --- |
| | Immortals Fenyx Rising Launches December 3 on Console and PC | |
Immortals Fenyx Rising Launches December 3 on Console and PC

Immortals Fenyx Rising, a new grand Mythological adventure game from the creators of Assassin's Creed Odyssey, is now available for digital pre-order and pre-load on Xbox One. Pre-order now for the bonus quest, A Tale of Fire and Lightning!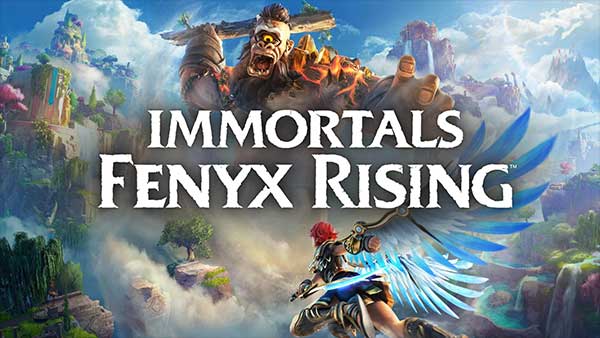 Immortals Fenyx Rising brings grand mythological adventure to life. Play as Fenyx, a new, winged demigod, on a quest to save the Greek gods. Wield the powers of the gods like Achilles' sword and Daidalos' wings to battle powerful enemies and solve ancient puzzles. Fight iconic mythological beasts like Cyclops and Medusa in dynamic combat in the air and on the ground. Use your skills and diverse weapons, including self-guided arrows, telekinesis, and more, for devastating damage. Discover a stylized open world across seven unique regions, each inspired by the gods.
There are 2 digital editions of Immortals Fenyx available to pre-order:
Immortals Fenyx Rising leverages the Smart Delivery technology - buy the game once and play it on either Xbox One or Xbox Series X when both the console and that version of Immortals Fenyx Rising are available.
Check out the official world premiere trailer and browse through our extensive coverage right here on @XONEHQ!
Immortals Fenyx Rising will be available December 3, 2020 on Xbox Series X, Xbox One, PlayStation 5, PlayStation 4, Nintendo Switch, Google Stadia and PC.
For more information on the game, browse through all of our Xbox coverage, and don't forget to follow @XONEHQ on YouTube, Twitter, Facebook and Pinterest for more of the latest Xbox news & Rumors, updates, dlc updates and release dates.
Official Site:
https://www.ubisoft.com/en-us/game/immortals-fenyx-rising
News Source:
https://www.xboxone-hq.com/news.html
"
| | | |
| --- | --- | --- |
| | Related Stories | |

| | | |
| --- | --- | --- |
| | Most Popular | |

| | | |
| --- | --- | --- |
| | Rate this Article | |
| | | |
| --- | --- | --- |
| | Associated Topics | |



| | | |
| --- | --- | --- |
| | Xbox Tutorials Database | |

| | | |
| --- | --- | --- |
| | Xbox Tutorials Database | |

| | | |
| --- | --- | --- |
| | Xbox Download Stats | |

| | | |
| --- | --- | --- |
| | Site Statistics | |

| | | |
| --- | --- | --- |
| | Site Statistics | |

HQ Online Statistics
Members: 1 | Guests: 775 | Xbox Live Tags: 4,379


Home

Active Users: 424

Xbox Homebrew

Active Users: 89

Forums

Active Users: 72

Xbox Tutorials

Active Users: 65

Xbox Games

Active Users: 64

Downloads

Active Users: 22

Your Account

Active Users: 17

News

Active Users: 13


Active Users: 2

XBOXLive Tags

Active Users: 1

View More Detailed Statistics

| | | |
| --- | --- | --- |
| | Site Statistics | |

| | | |
| --- | --- | --- |
| | Popular Xbox Games | |
The Guy Game
Page Views: 421463

The Guy Game is aimed squarely at testosterone-laden college students, spring breakers, and, well, any red-blooded American guy. Forming a sinful trinity, it combines boozing, nudity, and revelry. The..

More Xbox Games

| | | |
| --- | --- | --- |
| | HQ Network Affiliates | |

| | | |
| --- | --- | --- |
| | Xbox-Hq.Com - Archived News | |

Tuesday, December 01
GTA Online Casino: How to Get Free Casino Chi
published by: forahobby | Page Views: 9 | Comments: 0

Monday, November 30
Space Engineers 'Wasteland' DLC Update 1.197
published by: forahobby | Page Views: 13 | Comments: 0
Seeds Of Resilience Out Now on Xbox One and X
published by: forahobby | Page Views: 6 | Comments: 0

Saturday, November 28
Ruinverse launches December 4 for Xbox One, X
published by: forahobby | Page Views: 13 | Comments: 0

Friday, November 27
Out Of Space: Couch Edition Hits Xbox One And
published by: forahobby | Page Views: 9 | Comments: 0

Thursday, November 26
Xbox Games with Gold for December 2020
published by: forahobby | Page Views: 24 | Comments: 0
LAST OASIS coming to Xbox Series X|S & XB1 wi
published by: forahobby | Page Views: 24 | Comments: 0
GTA5 Slot Machines Glitches That Are Still Wo
published by: forahobby | Page Views: 19 | Comments: 0
Best Casino Games on Xbox
published by: forahobby | Page Views: 21 | Comments: 0
Skater XL Delivers Modded Maps And Gear On Al
published by: forahobby | Page Views: 29 | Comments: 0

Wednesday, November 25
SnowRunner Season 2 is out now for Xbox One,
published by: forahobby | Page Views: 43 | Comments: 0
CasinoRex - The best casino in EU with fast p
published by: forahobby | Page Views: 36 | Comments: 0
Professor Rubik's Brain Fitness Now Available
published by: forahobby | Page Views: 15 | Comments: 0
Next Gen consoles set to close door for new g
published by: forahobby | Page Views: 21 | Comments: 0

Tuesday, November 24
'Call Of The Sea' arrives December 8 on Xbox
published by: forahobby | Page Views: 26 | Comments: 0

Monday, November 23
"Poker Club" now available for Xbox Series X|
published by: forahobby | Page Views: 40 | Comments: 0

Thursday, November 19
Brawl Chess lands November 20th for Xbox One
published by: forahobby | Page Views: 18 | Comments: 0

Wednesday, November 18
Cloud Gaming Preview launches in Mexico, Japa
published by: forahobby | Page Views: 39 | Comments: 0
DiRT 5 is available now for Xbox One, PS4 and
published by: forahobby | Page Views: 25 | Comments: 0

Tuesday, November 17
Twin Mirror digital pre-order pricing & relea
published by: forahobby | Page Views: 27 | Comments: 0
Gears Tactics now available for Xbox One and
published by: forahobby | Page Views: 36 | Comments: 0

Monday, November 16
Need for Speed Hot Pursuit Remastered Out Now
published by: forahobby | Page Views: 45 | Comments: 0

Thursday, November 12
Grey Skies: A War Of The Worlds Story hits Xb
published by: forahobby | Page Views: 26 | Comments: 0
Sparkle 4 Tales now available for digital pre
published by: forahobby | Page Views: 23 | Comments: 0

Wednesday, November 11
Autobahn Police Simulator 2 is Out Now on Xbo
published by: forahobby | Page Views: 21 | Comments: 0

Tuesday, November 10
Fishing Sim World Bass Pro Shops Edition now
published by: forahobby | Page Views: 24 | Comments: 0

Monday, November 09
SMITE x TMNT Plus Bundle Available Now For Xb
published by: forahobby | Page Views: 25 | Comments: 0

Friday, November 06
Poker Club launches for XBOX, PlayStation, Sw
published by: forahobby | Page Views: 32 | Comments: 0

Thursday, November 05
Day of the Tentacle Remastered Out Now On Xbo
published by: forahobby | Page Views: 42 | Comments: 0

Wednesday, November 04
Watch Dogs: Legion is Out Now for Xbox One, P
published by: forahobby | Page Views: 27 | Comments: 0

Tuesday, November 03
Supraland is out now on Xbox One and included
published by: forahobby | Page Views: 44 | Comments: 0

Monday, November 02
Asterix & Obelix XXL: Romastered Available No
published by: forahobby | Page Views: 37 | Comments: 0

Friday, October 30
Double Pug Switch launches for Xbox One, PS4,
published by: forahobby | Page Views: 43 | Comments: 0

Thursday, October 29
Truck Driver delivers free DLC on Xbox One an
published by: forahobby | Page Views: 46 | Comments: 0

Wednesday, October 28
Puyo Puyo Tetris 2 digital pre-order on XBOX
published by: forahobby | Page Views: 37 | Comments: 0
A Mother's Journey is available now for XBOX,
published by: forahobby | Page Views: 42 | Comments: 0

Tuesday, October 27
Farm Mechanic Simulator officially announced
published by: forahobby | Page Views: 33 | Comments: 0

Monday, October 26
Planet Coaster Console Edition pre-order for
published by: forahobby | Page Views: 38 | Comments: 0
Xbox Series X & S Optimized Launch Titles
published by: forahobby | Page Views: 51 | Comments: 0
ZOMBIE ARMY 4: SEASON 2 kicks off on all plat
published by: forahobby | Page Views: 41 | Comments: 0


News Archive