| | | |
| --- | --- | --- |
| | Free-to-Play SPELLBREAK Out Now on Xbox One, PS4, SWITCH and PC | |
Free-to-Play SPELLBREAK Out Now on Xbox One, PS4, SWITCH and PC

Award-winning independent game studio Proletariat today announced that their highly-anticipated magic-focused battle royale title, Spellbreak, is now available Xbox One, PlayStation 4, Nintendo Switch and PC on the Epic Games store. Unleash your inner battlemage in Spellbreak!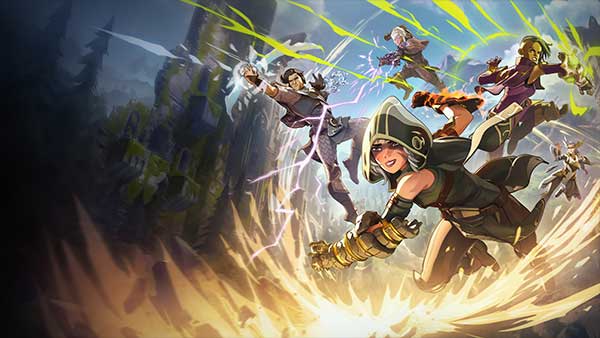 Spellbreak is one of the first titles on the market to support full cross-play and cross-progression across these platforms. Players will be able to create a Spellbreak account and access it on any supported platform to maintain their game progression, customizations, and stats. Players will also be able to use their account to easily find friends and create cross-platform squads.
"Today marks the beginning of a new era in multiplayer gaming. The team worked incredibly hard to deliver one of the first ever simultaneous cross-platform, cross-play, and cross-progression launches," said Seth Sivak, CEO of Proletariat. "Spellbreak's unique combat and innovative gameplay will be available for all players to play with whoever they want, on whatever platform they want, regardless of hardware choice."
Spellbreak is a multiplayer action-spellcasting game where players unleash their inner battlemage and wield two powerful magic gauntlets that blend devastating spell combinations to control the battlefield with fiery tornadoes, electrified gas clouds, and more! Set in the Hollow Lands, players can explore the map to find tactical advantages and discover hidden chests that contain magical runes that give new abilities, including flight, teleport, and invisibility.
Price: Free
Microsoft Store:
here
Official Site:
https://playspellbreak.com/
"
| | | |
| --- | --- | --- |
| | Related Stories | |

| | | |
| --- | --- | --- |
| | Most Popular | |

| | | |
| --- | --- | --- |
| | Rate this Article | |
| | | |
| --- | --- | --- |
| | Associated Topics | |



| | | |
| --- | --- | --- |
| | Xbox Tutorials Database | |

| | | |
| --- | --- | --- |
| | Xbox Tutorials Database | |

| | | |
| --- | --- | --- |
| | Xbox Download Stats | |

| | | |
| --- | --- | --- |
| | Site Statistics | |

| | | |
| --- | --- | --- |
| | Site Statistics | |

HQ Online Statistics
Members: 5 | Guests: 263 | Xbox Live Tags: 4,379


Forums

Active Users: 82

Your Account

Active Users: 46

Home

Active Users: 33

News

Active Users: 27

Downloads

Active Users: 25

Xbox Homebrew

Active Users: 24

Xbox Games

Active Users: 13

Xbox Tutorials

Active Users: 11

Profile

Active Users: 2

Xbox Reviews

Active Users: 2

View More Detailed Statistics

| | | |
| --- | --- | --- |
| | Site Statistics | |

| | | |
| --- | --- | --- |
| | Popular Xbox Games | |
Phantom Dust
Page Views: 299663

Phantom Dust is an action game with elements of strategy where players assume the role of a "gifted one" and fight supernatural battles in a devastated futuristic environment. The single player..

More Xbox Games

| | | |
| --- | --- | --- |
| | HQ Network Affiliates | |

| | | |
| --- | --- | --- |
| | Xbox-Hq.Com - Archived News | |

Friday, October 16
Slide Stars Release Date, Price, Digital Pre-
published by: forahobby | Page Views: 12 | Comments: 0
G.I. Joe: Operation Blackout Now Available On
published by: forahobby | Page Views: 12 | Comments: 0
Foregone out now on Xbox One, PlayStation 4 a
published by: forahobby | Page Views: 12 | Comments: 0
OUTRIDERS coming to XBOX, PLAYSTATION, STADIA
published by: forahobby | Page Views: 30 | Comments: 0
Xbox looking at resurgence with gaming indust
published by: forahobby | Page Views: 19 | Comments: 0
TY The Tasmanian Tiger HD Is Available Now Fo
published by: forahobby | Page Views: 14 | Comments: 0
Knights of the Al-Aqsa Mosque - Free Campaign
published by: udkultimate | Page Views: 17 | Comments: 0
Best of the Best: Top Online Slots You Can Pl
published by: forahobby | Page Views: 22 | Comments: 0
Street Racer Underground Available Now on Con
published by: forahobby | Page Views: 14 | Comments: 0

Thursday, October 15
The Survivalists Now Available On XBOX, PS4,
published by: forahobby | Page Views: 17 | Comments: 0
FIFA 21 out now for Xbox One, PlayStation 4 a
published by: forahobby | Page Views: 25 | Comments: 0

Wednesday, October 14
Assassin's Creed Valhalla digital pre-order n
published by: forahobby | Page Views: 58 | Comments: 0
RIDE 4 is Out Now on XB1, PS4 and PC via Stea
published by: forahobby | Page Views: 11 | Comments: 0

Tuesday, October 13
Cloudpunk launches this week on XBOX ONE
published by: forahobby | Page Views: 9 | Comments: 0

Monday, October 12
Commander '85 now available on Xbox One, PS4,
published by: forahobby | Page Views: 14 | Comments: 0

Friday, October 09
Need For Speed: Hot Pursuit Remastered Launch
published by: forahobby | Page Views: 34 | Comments: 0

Thursday, October 08
Free Play Days: Saints Row IV: Re-Elected, Bl
published by: forahobby | Page Views: 30 | Comments: 0
Foregone Xbox One Digital Pre-order Is Now Av
published by: forahobby | Page Views: 17 | Comments: 0
Red Wings: Aces Of The Sky Launches October 1
published by: forahobby | Page Views: 25 | Comments: 0

Wednesday, October 07
EA Play For Xbox Game Pass Ultimate Members B
published by: forahobby | Page Views: 63 | Comments: 0

Tuesday, October 06
Crash Bandicoot 4 available now for Xbox One
published by: forahobby | Page Views: 32 | Comments: 0
STAR WARS: Squadrons is out now on Xbox One,
published by: forahobby | Page Views: 57 | Comments: 0

Monday, October 05
NieR Replicant ver.1.22474487139 Xbox digital
published by: forahobby | Page Views: 33 | Comments: 0

Friday, October 02
THE INVINCIBLE Coming To Xbox Series X, PS5 a
published by: forahobby | Page Views: 36 | Comments: 0

Thursday, October 01
Mafia Definitive Edition is available now on
published by: forahobby | Page Views: 42 | Comments: 0

Wednesday, September 30
Port Royale 4 sets sail on Xbox One, PS4 and
published by: forahobby | Page Views: 25 | Comments: 0

Tuesday, September 29
CastleStorm II is Out Now on Xbox One, PS4, S
published by: forahobby | Page Views: 28 | Comments: 0

Monday, September 28
The Drone Racing League Simulator (DRL Sim) I
published by: forahobby | Page Views: 32 | Comments: 0

Friday, September 25
Tennis World Tour 2 Out Now On Xbox One, PS4,
published by: forahobby | Page Views: 63 | Comments: 0
Rebel Galaxy Outlaw Is Available Now!
published by: forahobby | Page Views: 41 | Comments: 0
Commandos 2 & Praetorians: HD Remaster Double
published by: forahobby | Page Views: 33 | Comments: 0
Call of Duty Leaves Console Behind
published by: forahobby | Page Views: 37 | Comments: 0

Thursday, September 24
DRL Sim Is Available Now on Xbox One!
published by: forahobby | Page Views: 35 | Comments: 0
The Catch: Carp & Coarse Deluxe Edition Out N
published by: forahobby | Page Views: 50 | Comments: 0

Wednesday, September 23
BALAN WONDERWORLD Releases March 26, 2021 - P
published by: forahobby | Page Views: 76 | Comments: 0
Gears Tactics now available for pre-order and
published by: forahobby | Page Views: 42 | Comments: 0
Can You Play Casino Games On The Xbox Series
published by: forahobby | Page Views: 37 | Comments: 0
Animal Rescue announced for Xbox Series X/S,
published by: forahobby | Page Views: 52 | Comments: 0

Tuesday, September 22
"Dustoff Z" takes off October 15 on Xbox One,
published by: forahobby | Page Views: 37 | Comments: 0
Crysis Remastered Out Now for Xbox One, PS4 a
published by: forahobby | Page Views: 33 | Comments: 0


News Archive