| | | |
| --- | --- | --- |
| | Tropico 6's Lobbyistico DLC is out now on Xbox One and PS4 | |
Tropico 6's Lobbyistico DLC is out now on Xbox One and PS4

Kalypso Media has announced that the politically-charged 'Lobbyistico' DLC for Tropico 6 is available today on Xbox One and PlayStation 4. #Tropico6 #Lobbyistico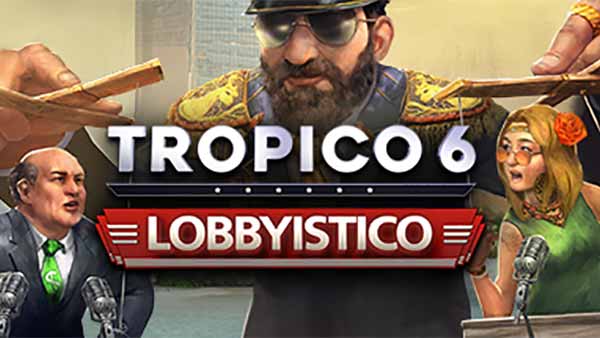 The Lobbyistico DLC brings the European Union and big league politics to the fair isles of Tropico, introducing a range of new features to the game like the new "Corruption" gameplay mechanic, three new buildings, personality traits for your Presidente, new music tracks and extra customization options for your avatar and palace residence.
Corruption lies at the heart of the Lobbyistico DLC. Invite faction leaders as lobbyists into the El Presidente Club and conduct backroom politics to unlock a unique new set of perks to boost the economy and manipulate faction standings. However, with increased lobby work comes increased corruption, all of which will impact the wider Tropican economy and society. Fight the spread of corruption - or, let's be honest, just try to cover everything up - using the new Corruption Agency. Enjoy two new traits, three music tracks and a fetching new set of customization items for El Prez and his palace.
Watch the new trailer and learn more about the new DLC below.
Lobbyistico DLC Features:
Corruption gameplay mechanic:

Use lobby work to gain access to new perks to boost your economy while trying to balance the resulting corruption, which will ruin your island paradise with negative effects if left unchecked

3 new buildings:

Get some dirty lobbying work done in the El Presidente Club, where statesmen can discuss affairs of state in seclusion and secrecy. Use the Corruption Agency to cover everything up and invite faction leaders to stay at the Official Residence in exchange for political favours

Additional traits:

'Polarizing', 'All For The Folk'

Even more music:

Viva la Corrupción, Fiesta en el Club, Bruselas está Bailando

4 additional customization options

for El Prez and the palace
Tropico 6's Lobbyistico DLC is available now on Xbox One and PS4, and for PC, Mac and Linux via the Kalypso Store and Steam.
For all things Xbox including the latest Xbox news & rumors, video game release dates, dlc updates, screenshots, achievements, game trailers and more, follow @XONEHQ on Twitter, YouTube, Facebook and Pinterest, download and install the free Xbox app for android, and stay tuned!
Microsoft Store |
PlayStation Store
"
| | | |
| --- | --- | --- |
| | Related Stories | |

| | | |
| --- | --- | --- |
| | Most Popular | |

| | | |
| --- | --- | --- |
| | Rate this Article | |
| | | |
| --- | --- | --- |
| | Associated Topics | |



| | | |
| --- | --- | --- |
| | Xbox Tutorials Database | |

| | | |
| --- | --- | --- |
| | Xbox Tutorials Database | |

| | | |
| --- | --- | --- |
| | Xbox Download Stats | |

| | | |
| --- | --- | --- |
| | Site Statistics | |

| | | |
| --- | --- | --- |
| | Site Statistics | |

HQ Online Statistics
Members: 2 | Guests: 353 | Xbox Live Tags: 4,379


Forums

Active Users: 113

Your Account

Active Users: 45

News

Active Users: 43

Home

Active Users: 42

Downloads

Active Users: 31

Xbox Homebrew

Active Users: 26

Xbox Tutorials

Active Users: 12

Xbox Games

Active Users: 12

Profile

Active Users: 6

Xbox Cheats

Active Users: 5

View More Detailed Statistics

| | | |
| --- | --- | --- |
| | Site Statistics | |

| | | |
| --- | --- | --- |
| | Popular Xbox Games | |
Tom Clancy's Rainbow Six 3
Page Views: 282,122

It is a brutal kind of warfare, which strikes with ferocious singular purpose and with little or no warning. The entire world is its battleground, leaving no civilian safe. As terrorism threatens to u..

More Xbox Games

| | | |
| --- | --- | --- |
| | HQ Network Affiliates | |

| | | |
| --- | --- | --- |
| | Xbox-Hq.Com - Archived News | |

Wednesday, October 20
Rover Mechanic Simulator available now for Xb
published by: forahobby | Page Views: 19 | Comments: 0
THE INVINCIBLE heading to Xbox Series X, PS5,
published by: forahobby | Page Views: 18 | Comments: 0

Tuesday, October 19
Omen Of Sorrow is now available on XBOX Conso
published by: forahobby | Page Views: 25 | Comments: 0

Monday, October 18
Youtubers Life 2 releases October 19 on PC an
published by: forahobby | Page Views: 33 | Comments: 0

Friday, October 15
Inked: A Tale Of Love Releases for Xbox One X
published by: forahobby | Page Views: 29 | Comments: 0

Thursday, October 14
Rainbow Six Extraction 'World trailer' shows
published by: forahobby | Page Views: 43 | Comments: 0
Nuclear Throne hits Xbox One, Xbox Series X|S
published by: forahobby | Page Views: 32 | Comments: 0
Is It Time for Platform Exclusives to End?
published by: forahobby | Page Views: 32 | Comments: 0
Tales Of Arise launches on Xbox One, Xbox Ser
published by: forahobby | Page Views: 37 | Comments: 0

Wednesday, October 13
WRC 10 is OUT NOW on Xbox, PlayStation & PC!
published by: forahobby | Page Views: 42 | Comments: 0

Tuesday, October 12
Bus Simulator 21 now available for Xbox, Play
published by: forahobby | Page Views: 31 | Comments: 0
Tormented Souls available now for Xbox Series
published by: forahobby | Page Views: 28 | Comments: 0

Monday, October 11
Life Is Strange: True Colors Is Out Now!
published by: forahobby | Page Views: 34 | Comments: 0
"Turbo Overkill" coming to Xbox, PlayStation,
published by: forahobby | Page Views: 35 | Comments: 0

Friday, October 08
Crysis Remastered Trilogy gets an October rel
published by: forahobby | Page Views: 36 | Comments: 0

Thursday, October 07
Sonic Colors: Ultimate Out Today For Xbox One
published by: forahobby | Page Views: 40 | Comments: 0
'The Last Worker' reveals world-class voice c
published by: forahobby | Page Views: 32 | Comments: 0

Wednesday, October 06
Big Rumble Boxing: Creed Champions officially
published by: forahobby | Page Views: 37 | Comments: 0
The Ultimate Horror Bundle Arrives For Xbox O
published by: forahobby | Page Views: 41 | Comments: 0

Tuesday, October 05
Endless Fables: Shadow Within Launches For Xb
published by: forahobby | Page Views: 42 | Comments: 0
Golf Club: Wasteland Out Now on Xbox, PlaySta
published by: forahobby | Page Views: 49 | Comments: 0

Monday, October 04
"Ravva And The Cyclops Curse" available now o
published by: forahobby | Page Views: 56 | Comments: 0
Cute action-adventure RPG "Kitaria Fables" La
published by: forahobby | Page Views: 37 | Comments: 0

Friday, October 01
LAKE now available for Xbox One, Series X|S &
published by: forahobby | Page Views: 49 | Comments: 0
The Ultimate Horror Bundle Hits Xbox One & Xb
published by: forahobby | Page Views: 39 | Comments: 0

Thursday, September 30
Thunderful Games acquires Spanish game develo
published by: forahobby | Page Views: 41 | Comments: 0
"Weapon Of Choice DX" OUT NOW on Xbox, PlaySt
published by: forahobby | Page Views: 41 | Comments: 0

Wednesday, September 29
Golf Club Wasteland is Out Now on Xbox, PlayS
published by: forahobby | Page Views: 40 | Comments: 0
Yuoni available now for Xbox One, Xbox Series
published by: forahobby | Page Views: 48 | Comments: 0

Tuesday, September 28
KeyWe is available today on PC & console!
published by: forahobby | Page Views: 36 | Comments: 0

Monday, September 27
Truck Driver 'Heading North' DLC and Premium
published by: forahobby | Page Views: 40 | Comments: 0
'Monster Harvest' hits Xbox One/Series X & S
published by: forahobby | Page Views: 36 | Comments: 0

Friday, September 24
"Zelda-like" XEL Announced for PC and Console
published by: forahobby | Page Views: 38 | Comments: 0
The Dark Pictures Anthology 'House Of Ashes'
published by: forahobby | Page Views: 43 | Comments: 0
Farming Simulator 22 YEAR 1 Bundle now availa
published by: forahobby | Page Views: 40 | Comments: 0
Space Station Sprint Infiltrates Xbox One And
published by: forahobby | Page Views: 39 | Comments: 0

Thursday, September 23
The Sequel to Blasphemous is coming to XBOX,
published by: forahobby | Page Views: 34 | Comments: 0
Space Station Sprint Infiltrates XBOX One And
published by: forahobby | Page Views: 40 | Comments: 0

Wednesday, September 22
Saints Row (2022) now available to pre-order
published by: forahobby | Page Views: 49 | Comments: 0
THE KING OF FIGHTERS XV launches Feb. 16, 202
published by: forahobby | Page Views: 46 | Comments: 0


News Archive