| | | |
| --- | --- | --- |
| | Goosebumps Dead Of Night hits XB1, PS4, Switch and PC on June 12 | |
Goosebumps Dead Of Night hits XB1, PS4, Switch and PC on June 12

First-person spooky survival adventure game 'Goosebumps Dead Of Night', the next game in best-selling Goosebumps franchise, is now available for digital pre-order on Xbox One.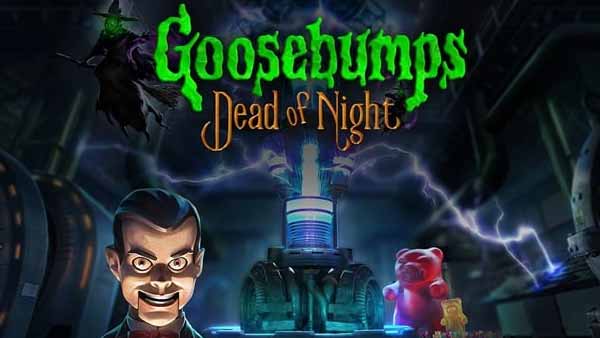 Experience three chapters of stealth gameplay with 3D graphics and chilling AI monsters. Slappy the Dummy has unleashed a nightmare of Goosebumps monsters, and they're all out to get you! Escape from frightening creatures like the Graveyard Ghoul, Lawn Gnomes, Annihilator 3000, Murder the Clown, and the Werewolf of Fever Swamp as you collect the scattered pages of Slappy's book to seal him away. You'll explore infamous Goosebumps locales for clues, hide from monsters, and solve Slappy's devious puzzles. It's up to you to stop Slappy's evil plan to unleash his monsters across the world… don't worry, you'll have some allies along the way like Nikola Tesla, Dr. Brewer and R.L. Stine, voiced by Jack Black. For the faint of heart, beware—you're in for a scare!
Goosebumps Dead of Night is coming to Xbox One, PlayStation 4, Nintendo Switch and PC on June 12. The game is available for digital pre-order and pre-download on the Microsoft Store for $39.99 / €39,99 / £33.49 / AU$59.95.
To keep up with all things XBOX, follow @XONEHQ on Twitter, like us on Facebook, subscribe to us on YouTube, install the free Xbox app for android, and stay tuned for the best new and upcoming Xbox games for 2020, 2021, screenshots, news & rumors, Xbox achievements, and Video Game Trailers.
File Size: 2.47 GB
Digital Pre-order:
here
Price: $39.99, € 39,99, £33.49, AU$59.95
News Source:
https://www.xboxone-hq.com/news.html
"
| | | |
| --- | --- | --- |
| | Related Stories | |

| | | |
| --- | --- | --- |
| | Most Popular | |

| | | |
| --- | --- | --- |
| | Rate this Article | |
| | | |
| --- | --- | --- |
| | Associated Topics | |



| | | |
| --- | --- | --- |
| | Xbox Tutorials Database | |

| | | |
| --- | --- | --- |
| | Xbox Tutorials Database | |

| | | |
| --- | --- | --- |
| | Xbox Download Stats | |

| | | |
| --- | --- | --- |
| | Site Statistics | |

| | | |
| --- | --- | --- |
| | Site Statistics | |

HQ Online Statistics
Members: 5 | Guests: 257 | Xbox Live Tags: 4,385


Forums

Active Users: 78

Your Account

Active Users: 41

Downloads

Active Users: 30

Home

Active Users: 28

News

Active Users: 17

Xbox Games

Active Users: 17

Xbox Tutorials

Active Users: 14

Xbox Homebrew

Active Users: 11

Profile

Active Users: 9

XBOXLive Tags

Active Users: 3

View More Detailed Statistics

| | | |
| --- | --- | --- |
| | Site Statistics | |

| | | |
| --- | --- | --- |
| | Popular Xbox Games | |
NFL Fever 2003
Page Views: 313947

NFL Fever 2003 is the best-selling, fast and hard-hitting football game for Xbox. Easy to pick up and start playing, NFL Fever 2003 delivers all the action, attitude and excitement of the National Foo..

More Xbox Games

| | | |
| --- | --- | --- |
| | HQ Network Affiliates | |

| | | |
| --- | --- | --- |
| | Xbox-Hq.Com - Archived News | |

Sunday, August 09
Aery Broken Memories releases for XBOX ONE, S
published by: forahobby | Page Views: 21 | Comments: 0
'Spitlings' is out now for Xbox One
published by: forahobby | Page Views: 26 | Comments: 0
A beginner's guide to gambling
published by: forahobby | Page Views: 17 | Comments: 0
UnderMine Out Now on Xbox One, Windows 10, an
published by: forahobby | Page Views: 10 | Comments: 0
Xbox Series X will be Compatible with Xbox On
published by: forahobby | Page Views: 39 | Comments: 0
History of Roulette
published by: forahobby | Page Views: 22 | Comments: 0
Clan N available now on Xbox One and Windows
published by: forahobby | Page Views: 14 | Comments: 0

Saturday, August 08
The Mean Greens: Plastic Warfare Launches On
published by: forahobby | Page Views: 45 | Comments: 0
History of slot machines
published by: forahobby | Page Views: 35 | Comments: 0

Friday, August 07
Xbox Live Multiplayer is FREE on Xbox One thi
published by: forahobby | Page Views: 49 | Comments: 0

Thursday, August 06
Spellbreak confirmed for Xbox One, PS4, Ninte
published by: forahobby | Page Views: 27 | Comments: 0

Wednesday, August 05
The DOOM Slayers Collection is Out Now for Xb
published by: forahobby | Page Views: 30 | Comments: 0

Tuesday, August 04
NBA 2K21 Xbox One digital pre-order and pre-d
published by: forahobby | Page Views: 46 | Comments: 0
Psychological horror game "The Medium" is com
published by: forahobby | Page Views: 16 | Comments: 0
'Relicta' launches today on Xbox One
published by: forahobby | Page Views: 19 | Comments: 0
Project CARS 3 races onto Xbox One, PS4 and P
published by: forahobby | Page Views: 34 | Comments: 0
The gambling culture in South Africa
published by: forahobby | Page Views: 32 | Comments: 0
Darkestville Castle Now Available For Digital
published by: forahobby | Page Views: 21 | Comments: 0
The Touryst is Out Now for Xbox One and Windo
published by: forahobby | Page Views: 27 | Comments: 0

Monday, August 03
Metamorphosis Xbox Digital Pre-order Availabl
published by: forahobby | Page Views: 23 | Comments: 0
Battletoads arrives on August 20 on Xbox One,
published by: forahobby | Page Views: 21 | Comments: 0
Xbox Games With Gold for August 2020
published by: forahobby | Page Views: 44 | Comments: 0
What is the Dutch gambling culture?
published by: forahobby | Page Views: 23 | Comments: 0

Friday, July 31
Microsoft Flight Simulator Lands August 18 on
published by: forahobby | Page Views: 65 | Comments: 0

Thursday, July 30
Destroy All Humans! Available Now On Xbox One
published by: forahobby | Page Views: 19 | Comments: 0
Yakuza Kiwami 2 Hits Xbox Game Pass for Xbox
published by: forahobby | Page Views: 43 | Comments: 0
NHL 21 digital pre-orders go LIVE on the Micr
published by: forahobby | Page Views: 19 | Comments: 0
Dragon Quest XI: XBOX ONE Digital Pre-orders
published by: forahobby | Page Views: 21 | Comments: 0
Skater XL Releases Today for Xbox One, PlaySt
published by: forahobby | Page Views: 35 | Comments: 0

Wednesday, July 29
Tell Me Why Launches August 28 On Xbox One, W
published by: forahobby | Page Views: 54 | Comments: 0
The Top 7 Casino Games On Xbox One Right Now
published by: forahobby | Page Views: 35 | Comments: 0
Tannenberg is Out Now on Xbox One & PS4
published by: forahobby | Page Views: 40 | Comments: 0

Tuesday, July 28
Grounded is Out Now on Xbox One and PC with X
published by: forahobby | Page Views: 34 | Comments: 0

Monday, July 27
Yakuza: Like A Dragon XBOX Digital Pre-order
published by: forahobby | Page Views: 30 | Comments: 0

Friday, July 24
Kaze and the Wild Masks announced for XBOX ON
published by: forahobby | Page Views: 26 | Comments: 0
Swimsanity arrives August 7; Xbox digital pre
published by: forahobby | Page Views: 27 | Comments: 0

Thursday, July 23
MY HERO One's Justice 2 Outlaw Suit Costumes
published by: forahobby | Page Views: 41 | Comments: 0
Rogue Company Founder's Packs Available Now F
published by: forahobby | Page Views: 33 | Comments: 0

Wednesday, July 22
Play Over 70+ New Xbox One Game Demos (July 2
published by: forahobby | Page Views: 53 | Comments: 0
Warhammer 40,000: Mechanicus is Out Now on Xb
published by: forahobby | Page Views: 36 | Comments: 0


News Archive