| | | |
| --- | --- | --- |
| | Saints Row The Third Remastered Available Now on XBOX | |
Saints Row The Third Remastered Available Now on XBOX

The Xbox One remastered version of Saints Row: The Third is now available and ready to download on Xbox consoles.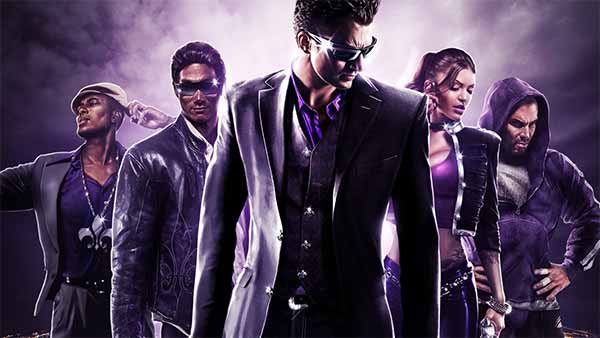 Saints Row The Third Remastered gives you control of the Saints at the height of their power, and you live the life to show for it. This is your City. These are your rules. Remastered with enhanced graphics, Steelport the original city of sin, has never looked so good as it drowns in sex, drugs and guns.
Years after taking Stilwater for their own, the Third Street Saints have evolved from street gang to household brand name, with Saints sneakers, Saints energy drinks and Johnny Gat bobblehead dolls all available at a store near you. The Saints are kings of Stilwater, but their celebrity status has not gone unnoticed. The Syndicate, a legendary criminal fraternity with pawns in play all over the globe, has turned its eye on the Saints and demands tribute.
Refusing to kneel to the Syndicate, you take the fight to Steelport, a once-proud metropolis reduced to a struggling city of sin under Syndicate control. Take a tank skydiving, call in a satellite-targeted airstrike on a Mexican wrestling gang, and fight against a highly-trained military force by your lonesome in the most outlandish gameplay scenarios ever seen.
Saints Row: The Third Remastered (The Full Package) is available now on Xbox One!
To keep up with the latest Xbox news & rumors and the best new and upcoming games for XBOX, follow @XONEHQ on Twitter, YouTube, Facebook and Pinterest, download the free XBOX app for Android and stay tuned!
Xbox Store:
here
Official Site:
https://saintsrow.com/
News Source:
https://www.xboxone-hq.com/news.html
"
| | | |
| --- | --- | --- |
| | Related Stories | |

| | | |
| --- | --- | --- |
| | Most Popular | |

| | | |
| --- | --- | --- |
| | Rate this Article | |
| | | |
| --- | --- | --- |
| | Associated Topics | |



| | | |
| --- | --- | --- |
| | Xbox Tutorials Database | |

| | | |
| --- | --- | --- |
| | Xbox Tutorials Database | |

| | | |
| --- | --- | --- |
| | Xbox Download Stats | |

| | | |
| --- | --- | --- |
| | Site Statistics | |

| | | |
| --- | --- | --- |
| | Site Statistics | |

HQ Online Statistics
Members: 5 | Guests: 227 | Xbox Live Tags: 4,385


Forums

Active Users: 92

Your Account

Active Users: 33

Downloads

Active Users: 22

Xbox Homebrew

Active Users: 21

News

Active Users: 15

Home

Active Users: 14

Xbox Tutorials

Active Users: 9

Xbox Games

Active Users: 8

Profile

Active Users: 8

Downloads VIP

Active Users: 2

View More Detailed Statistics

| | | |
| --- | --- | --- |
| | Site Statistics | |

| | | |
| --- | --- | --- |
| | Popular Xbox Games | |
Crime Life: Gang War
Page Views: 332798

Crime Life: Gang Wars is a free roaming crime based beat em up. Mixing action and strategy elements within a gritty, detailed storyline to explore modern-day urban gang culture, the player is cast as ..

More Xbox Games

| | | |
| --- | --- | --- |
| | HQ Network Affiliates | |

| | | |
| --- | --- | --- |
| | Xbox-Hq.Com - Archived News | |

Wednesday, July 08
The Catch: Carp & Coarse Out Now on Xbox One,
published by: forahobby | Page Views: 15 | Comments: 0

Tuesday, July 07
BEN 10: Power Trip announced for XB1, PS4, SW
published by: forahobby | Page Views: 17 | Comments: 0

Monday, July 06
Wolfenstein: Alt History Collection Available
published by: forahobby | Page Views: 19 | Comments: 0

Friday, July 03
Party Crasher Simulator announced for XSX, PS
published by: forahobby | Page Views: 20 | Comments: 0

Thursday, July 02
WW1 FPS Tannenberg coming to XB1 and PS4 cons
published by: forahobby | Page Views: 26 | Comments: 0

Wednesday, July 01
Marvel's Avengers Confirmed for Xbox Series X
published by: forahobby | Page Views: 39 | Comments: 0
The Otterman Empire hits XBOX, PS4, SWITCH an
published by: forahobby | Page Views: 25 | Comments: 0
Sisters Royale: Five Sisters Under now digita
published by: forahobby | Page Views: 39 | Comments: 0
2020, the new era has begun for mobile games
published by: forahobby | Page Views: 60 | Comments: 0

Tuesday, June 30
Control's 'The Foundation' is available now o
published by: forahobby | Page Views: 26 | Comments: 0

Monday, June 29
New Xbox Games with Gold for July 2020 Reveal
published by: forahobby | Page Views: 49 | Comments: 0

Friday, June 26
New Games Coming to Xbox Game Pass for PC and
published by: forahobby | Page Views: 76 | Comments: 0
Assetto Corsa Competizione races onto Xbox On
published by: forahobby | Page Views: 46 | Comments: 0

Thursday, June 25
"Night Call" Out Now And Included With Xbox G
published by: forahobby | Page Views: 27 | Comments: 0

Wednesday, June 24
DiRT 5 digital pre-order's go live on Xbox On
published by: forahobby | Page Views: 39 | Comments: 0
West Of Dead: Out Now and included in Xbox Ga
published by: forahobby | Page Views: 50 | Comments: 0

Tuesday, June 23
Disintegration Launches On Xbox One, PS4 and
published by: forahobby | Page Views: 61 | Comments: 0
4 Games Bundle: Luc Bernard Collection Availa
published by: forahobby | Page Views: 70 | Comments: 0

Monday, June 22
STAR WARS: Squadrons Xbox One digital pre-ord
published by: forahobby | Page Views: 58 | Comments: 0

Friday, June 19
Windbound hits Xbox One, PS4, Switch and PC o
published by: forahobby | Page Views: 39 | Comments: 0
"Othercide" is now available for digital pre-
published by: forahobby | Page Views: 51 | Comments: 0

Thursday, June 18
Super Soccer Blast kicks off for Xbox One
published by: forahobby | Page Views: 57 | Comments: 0
"Tower Of Time" now available for digital pre
published by: forahobby | Page Views: 39 | Comments: 0

Wednesday, June 17
Hard West Ultimate Edition XBOX ONE Digital P
published by: forahobby | Page Views: 43 | Comments: 0
Glass Masquerade Double Pack: Available Now O
published by: forahobby | Page Views: 40 | Comments: 0

Tuesday, June 16
Radical Rabbit Stew out now for Xbox One, PS4
published by: forahobby | Page Views: 41 | Comments: 0
Pathfinder: Kingmaker XBOX ONE Digital Pre-or
published by: forahobby | Page Views: 33 | Comments: 0

Monday, June 15
Greymoor: The New ESO Chapter Out Now‎
published by: forahobby | Page Views: 81 | Comments: 0
Procedurally generated 2D platformer "Pity Pi
published by: forahobby | Page Views: 45 | Comments: 0

Friday, June 12
1971 Project Helios Hits XBOX One, PS4, Switc
published by: forahobby | Page Views: 39 | Comments: 0

Thursday, June 11
Charlotte Cracker Joins ONE PIECE: PIRATE WAR
published by: forahobby | Page Views: 56 | Comments: 0

Wednesday, June 10
'Beyond Blue' digital pre-order is available
published by: forahobby | Page Views: 42 | Comments: 0
WAKING Digital Pre-order And Pre-download Is
published by: forahobby | Page Views: 45 | Comments: 0

Tuesday, June 09
Remnant: From the Ashes 'Swamps of Corsus' Bu
published by: forahobby | Page Views: 60 | Comments: 0
Cuty Comedy VN "Strawberry Vinegar" Is Availa
published by: forahobby | Page Views: 47 | Comments: 0

Monday, June 08
Skelattack Is Available Now On Xbox One
published by: forahobby | Page Views: 53 | Comments: 0
'Elite Dangerous: Odyssey' expansion arrives
published by: forahobby | Page Views: 69 | Comments: 0
Best Horse Racing Games for Xbox
published by: forahobby | Page Views: 69 | Comments: 0
TRACKS 'Suburban Pack' DLC now out on Xbox On
published by: forahobby | Page Views: 59 | Comments: 0

Friday, June 05
New Super Lucky's Tale is coming to Xbox One
published by: forahobby | Page Views: 48 | Comments: 0


News Archive