| | | |
| --- | --- | --- |
| | Minecraft Dungeons Is Now Out For Xbox One And Windows 10 | |
Minecraft Dungeons Is Now Out For Xbox One And Windows 10

'Minecraft Dungeons', a brand new dungeon crawler, set in the Minecraft universe, is now available for Xbox One And Windows 10 devices.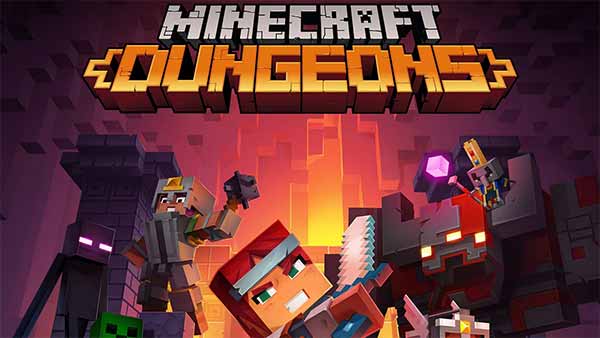 Fight your way through an all-new action-adventure game, inspired by classic dungeon crawlers and set in the Minecraft universe! Brave the dungeons alone, or team up with friends! Up to four players can battle together through action-packed, treasure-stuffed, wildly varied levels – all in an epic quest to save the villagers and take down the evil Arch-Illager!
Minecraft Dungeons is available on Xbox One, Windows, macOS, PlayStation 4, and Nintendo Switch for $19.99, €19,99, £16.74, AU$29.95.
For future Xbox news & rumors and the best new and upcoming games for XBOX, including game trailers, previews, screenshots, release dates and an always updated Xbox One X enhanced 4K games list, follow @XONEHQ on Twitter, YouTube, Facebook and Pinterest, download the free XBOX app for Android and stay tuned!
Xbox Store:
here
Price: $19.99, €19,99, £16.74, AU$29.95
Official Site:
https://www.minecraft.net/en-us/about-dungeons
News Source:
https://www.xboxone-hq.com/news.html
"
| | | |
| --- | --- | --- |
| | Related Stories | |

| | | |
| --- | --- | --- |
| | Most Popular | |

| | | |
| --- | --- | --- |
| | Rate this Article | |
| | | |
| --- | --- | --- |
| | Associated Topics | |



| | | |
| --- | --- | --- |
| | Xbox Tutorials Database | |

| | | |
| --- | --- | --- |
| | Xbox Tutorials Database | |

| | | |
| --- | --- | --- |
| | Xbox Download Stats | |

| | | |
| --- | --- | --- |
| | Site Statistics | |

| | | |
| --- | --- | --- |
| | Site Statistics | |

HQ Online Statistics
Members: 2 | Guests: 236 | Xbox Live Tags: 4,385


Forums

Active Users: 70

Your Account

Active Users: 46

News

Active Users: 23

Downloads

Active Users: 23

Home

Active Users: 21

Xbox Tutorials

Active Users: 17

Xbox Homebrew

Active Users: 15

Xbox Games

Active Users: 10

http://www.google.com

Active Users: 2

VIP Signup

Active Users: 2

View More Detailed Statistics

| | | |
| --- | --- | --- |
| | Site Statistics | |

| | | |
| --- | --- | --- |
| | Popular Xbox Games | |
Legends of Wrestling
Page Views: 339377

For the first time in wrestling video game history the top grappler's from all over the world are in one game to battle it out to see who will reign supreme! Legends of Wrestling will put you right in..

More Xbox Games

| | | |
| --- | --- | --- |
| | HQ Network Affiliates | |

| | | |
| --- | --- | --- |
| | Xbox-Hq.Com - Archived News | |

Wednesday, July 08
The Catch: Carp & Coarse Out Now on Xbox One,
published by: forahobby | Page Views: 13 | Comments: 0

Tuesday, July 07
BEN 10: Power Trip announced for XB1, PS4, SW
published by: forahobby | Page Views: 15 | Comments: 0

Monday, July 06
Wolfenstein: Alt History Collection Available
published by: forahobby | Page Views: 14 | Comments: 0

Friday, July 03
Party Crasher Simulator announced for XSX, PS
published by: forahobby | Page Views: 18 | Comments: 0

Thursday, July 02
WW1 FPS Tannenberg coming to XB1 and PS4 cons
published by: forahobby | Page Views: 26 | Comments: 0

Wednesday, July 01
Marvel's Avengers Confirmed for Xbox Series X
published by: forahobby | Page Views: 34 | Comments: 0
The Otterman Empire hits XBOX, PS4, SWITCH an
published by: forahobby | Page Views: 22 | Comments: 0
Sisters Royale: Five Sisters Under now digita
published by: forahobby | Page Views: 34 | Comments: 0
2020, the new era has begun for mobile games
published by: forahobby | Page Views: 58 | Comments: 0

Tuesday, June 30
Control's 'The Foundation' is available now o
published by: forahobby | Page Views: 22 | Comments: 0

Monday, June 29
New Xbox Games with Gold for July 2020 Reveal
published by: forahobby | Page Views: 48 | Comments: 0

Friday, June 26
New Games Coming to Xbox Game Pass for PC and
published by: forahobby | Page Views: 72 | Comments: 0
Assetto Corsa Competizione races onto Xbox On
published by: forahobby | Page Views: 45 | Comments: 0

Thursday, June 25
"Night Call" Out Now And Included With Xbox G
published by: forahobby | Page Views: 26 | Comments: 0

Wednesday, June 24
DiRT 5 digital pre-order's go live on Xbox On
published by: forahobby | Page Views: 37 | Comments: 0
West Of Dead: Out Now and included in Xbox Ga
published by: forahobby | Page Views: 47 | Comments: 0

Tuesday, June 23
Disintegration Launches On Xbox One, PS4 and
published by: forahobby | Page Views: 61 | Comments: 0
4 Games Bundle: Luc Bernard Collection Availa
published by: forahobby | Page Views: 68 | Comments: 0

Monday, June 22
STAR WARS: Squadrons Xbox One digital pre-ord
published by: forahobby | Page Views: 58 | Comments: 0

Friday, June 19
Windbound hits Xbox One, PS4, Switch and PC o
published by: forahobby | Page Views: 38 | Comments: 0
"Othercide" is now available for digital pre-
published by: forahobby | Page Views: 50 | Comments: 0

Thursday, June 18
Super Soccer Blast kicks off for Xbox One
published by: forahobby | Page Views: 55 | Comments: 0
"Tower Of Time" now available for digital pre
published by: forahobby | Page Views: 38 | Comments: 0

Wednesday, June 17
Hard West Ultimate Edition XBOX ONE Digital P
published by: forahobby | Page Views: 41 | Comments: 0
Glass Masquerade Double Pack: Available Now O
published by: forahobby | Page Views: 37 | Comments: 0

Tuesday, June 16
Radical Rabbit Stew out now for Xbox One, PS4
published by: forahobby | Page Views: 41 | Comments: 0
Pathfinder: Kingmaker XBOX ONE Digital Pre-or
published by: forahobby | Page Views: 33 | Comments: 0

Monday, June 15
Greymoor: The New ESO Chapter Out Now‎
published by: forahobby | Page Views: 81 | Comments: 0
Procedurally generated 2D platformer "Pity Pi
published by: forahobby | Page Views: 45 | Comments: 0

Friday, June 12
1971 Project Helios Hits XBOX One, PS4, Switc
published by: forahobby | Page Views: 38 | Comments: 0

Thursday, June 11
Charlotte Cracker Joins ONE PIECE: PIRATE WAR
published by: forahobby | Page Views: 55 | Comments: 0

Wednesday, June 10
'Beyond Blue' digital pre-order is available
published by: forahobby | Page Views: 41 | Comments: 0
WAKING Digital Pre-order And Pre-download Is
published by: forahobby | Page Views: 43 | Comments: 0

Tuesday, June 09
Remnant: From the Ashes 'Swamps of Corsus' Bu
published by: forahobby | Page Views: 60 | Comments: 0
Cuty Comedy VN "Strawberry Vinegar" Is Availa
published by: forahobby | Page Views: 44 | Comments: 0

Monday, June 08
Skelattack Is Available Now On Xbox One
published by: forahobby | Page Views: 53 | Comments: 0
'Elite Dangerous: Odyssey' expansion arrives
published by: forahobby | Page Views: 67 | Comments: 0
Best Horse Racing Games for Xbox
published by: forahobby | Page Views: 67 | Comments: 0
TRACKS 'Suburban Pack' DLC now out on Xbox On
published by: forahobby | Page Views: 58 | Comments: 0

Friday, June 05
New Super Lucky's Tale is coming to Xbox One
published by: forahobby | Page Views: 46 | Comments: 0


News Archive