| | | |
| --- | --- | --- |
| | Halo 2: Anniversary is Out Now on PC and Included with Xbox Game Pass | |
Halo 2: Anniversary is Out Now on PC and Included with Xbox Game Pass

Halo 2: Anniversary is Out Now on PC as part of Halo: The Master Chief Collection with Xbox Game Pass and on the Microsoft Store and on Steam.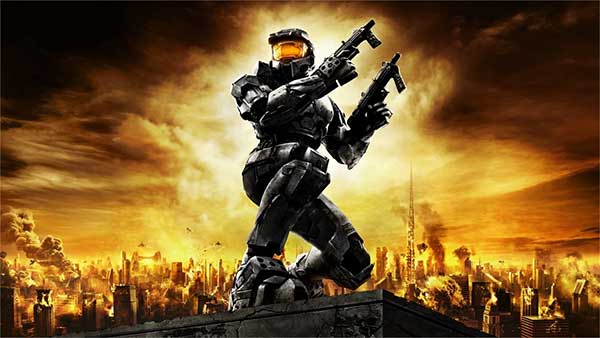 Halo 2: Anniversary on PC comes equipped with new features, optimizations, and customizations built for the platform. The game looks and plays better than ever at 60 frames-per-second (or greater) with 4K UHD support, and players can fine-tune their experience with a vast array of options, including customizable mouse and keyboard support, ultrawide support, FOV customization and more.
Like all titles in Halo: The Master Chief Collection on PC, players will have a few different ways to experience Halo 2: Anniversary depending on their platform of choice:
Xbox Game Pass – Join Xbox Game Pass Ultimate or Xbox Game Pass for PC (Beta) and get Halo 2: Anniversary, the next chapter in Halo: The Master Chief Collection. Halo 3, Halo 3: ODST (Campaign), and Halo 4 will also be included in your membership and will be available on each game's respective release date, completing the collection in 2020.
Microsoft Store and Steam – The Halo: The Master Chief Collection bundle is available today for $39.99 USD, which includes Halo: Reach and Halo: Combat Evolved Anniversary, and now Halo 2: Anniversary, plus the remaining titles as they launch next year. Halo 2: Anniversary can also be purchased individually for $9.99 USD.
To keep up with all things
XBOX
, follow
@XONEHQ
on
Twitter
, like us on
Facebook
, subscribe to us on
YouTube
, install the
free Xbox app for android
, and stay tuned for the
best new and upcoming Xbox games for 2020, 2021
, screenshots, news & rumors,
Xbox achievements
, and
Video Game Trailers
. "
| | | |
| --- | --- | --- |
| | Related Stories | |

| | | |
| --- | --- | --- |
| | Most Popular | |

| | | |
| --- | --- | --- |
| | Rate this Article | |
| | | |
| --- | --- | --- |
| | Associated Topics | |



| | | |
| --- | --- | --- |
| | Xbox Tutorials Database | |

| | | |
| --- | --- | --- |
| | Xbox Tutorials Database | |

| | | |
| --- | --- | --- |
| | Xbox Download Stats | |

| | | |
| --- | --- | --- |
| | Site Statistics | |

| | | |
| --- | --- | --- |
| | Site Statistics | |

HQ Online Statistics
Members: 4 | Guests: 230 | Xbox Live Tags: 4,385


Forums

Active Users: 72

Your Account

Active Users: 47

News

Active Users: 22

Home

Active Users: 22

Downloads

Active Users: 20

Xbox Homebrew

Active Users: 16

Xbox Tutorials

Active Users: 15

Xbox Games

Active Users: 8

Stories Archive

Active Users: 2

VIP Signup

Active Users: 2

View More Detailed Statistics

| | | |
| --- | --- | --- |
| | Site Statistics | |

| | | |
| --- | --- | --- |
| | Popular Xbox Games | |
TimeSplitters 2
Page Views: 328998

TimeSplitters 2 will improve on many of the features that made the original so awesome and fun to play. The game offers fully developed single player and co-operative story modes, featuring a complex ..

More Xbox Games

| | | |
| --- | --- | --- |
| | HQ Network Affiliates | |

| | | |
| --- | --- | --- |
| | Xbox-Hq.Com - Archived News | |

Wednesday, July 08
The Catch: Carp & Coarse Out Now on Xbox One,
published by: forahobby | Page Views: 13 | Comments: 0

Tuesday, July 07
BEN 10: Power Trip announced for XB1, PS4, SW
published by: forahobby | Page Views: 15 | Comments: 0

Monday, July 06
Wolfenstein: Alt History Collection Available
published by: forahobby | Page Views: 14 | Comments: 0

Friday, July 03
Party Crasher Simulator announced for XSX, PS
published by: forahobby | Page Views: 18 | Comments: 0

Thursday, July 02
WW1 FPS Tannenberg coming to XB1 and PS4 cons
published by: forahobby | Page Views: 26 | Comments: 0

Wednesday, July 01
Marvel's Avengers Confirmed for Xbox Series X
published by: forahobby | Page Views: 34 | Comments: 0
The Otterman Empire hits XBOX, PS4, SWITCH an
published by: forahobby | Page Views: 22 | Comments: 0
Sisters Royale: Five Sisters Under now digita
published by: forahobby | Page Views: 35 | Comments: 0
2020, the new era has begun for mobile games
published by: forahobby | Page Views: 58 | Comments: 0

Tuesday, June 30
Control's 'The Foundation' is available now o
published by: forahobby | Page Views: 22 | Comments: 0

Monday, June 29
New Xbox Games with Gold for July 2020 Reveal
published by: forahobby | Page Views: 48 | Comments: 0

Friday, June 26
New Games Coming to Xbox Game Pass for PC and
published by: forahobby | Page Views: 72 | Comments: 0
Assetto Corsa Competizione races onto Xbox On
published by: forahobby | Page Views: 45 | Comments: 0

Thursday, June 25
"Night Call" Out Now And Included With Xbox G
published by: forahobby | Page Views: 26 | Comments: 0

Wednesday, June 24
DiRT 5 digital pre-order's go live on Xbox On
published by: forahobby | Page Views: 37 | Comments: 0
West Of Dead: Out Now and included in Xbox Ga
published by: forahobby | Page Views: 47 | Comments: 0

Tuesday, June 23
Disintegration Launches On Xbox One, PS4 and
published by: forahobby | Page Views: 61 | Comments: 0
4 Games Bundle: Luc Bernard Collection Availa
published by: forahobby | Page Views: 68 | Comments: 0

Monday, June 22
STAR WARS: Squadrons Xbox One digital pre-ord
published by: forahobby | Page Views: 58 | Comments: 0

Friday, June 19
Windbound hits Xbox One, PS4, Switch and PC o
published by: forahobby | Page Views: 38 | Comments: 0
"Othercide" is now available for digital pre-
published by: forahobby | Page Views: 50 | Comments: 0

Thursday, June 18
Super Soccer Blast kicks off for Xbox One
published by: forahobby | Page Views: 55 | Comments: 0
"Tower Of Time" now available for digital pre
published by: forahobby | Page Views: 38 | Comments: 0

Wednesday, June 17
Hard West Ultimate Edition XBOX ONE Digital P
published by: forahobby | Page Views: 41 | Comments: 0
Glass Masquerade Double Pack: Available Now O
published by: forahobby | Page Views: 37 | Comments: 0

Tuesday, June 16
Radical Rabbit Stew out now for Xbox One, PS4
published by: forahobby | Page Views: 41 | Comments: 0
Pathfinder: Kingmaker XBOX ONE Digital Pre-or
published by: forahobby | Page Views: 33 | Comments: 0

Monday, June 15
Greymoor: The New ESO Chapter Out Now‎
published by: forahobby | Page Views: 81 | Comments: 0
Procedurally generated 2D platformer "Pity Pi
published by: forahobby | Page Views: 45 | Comments: 0

Friday, June 12
1971 Project Helios Hits XBOX One, PS4, Switc
published by: forahobby | Page Views: 38 | Comments: 0

Thursday, June 11
Charlotte Cracker Joins ONE PIECE: PIRATE WAR
published by: forahobby | Page Views: 55 | Comments: 0

Wednesday, June 10
'Beyond Blue' digital pre-order is available
published by: forahobby | Page Views: 41 | Comments: 0
WAKING Digital Pre-order And Pre-download Is
published by: forahobby | Page Views: 43 | Comments: 0

Tuesday, June 09
Remnant: From the Ashes 'Swamps of Corsus' Bu
published by: forahobby | Page Views: 60 | Comments: 0
Cuty Comedy VN "Strawberry Vinegar" Is Availa
published by: forahobby | Page Views: 44 | Comments: 0

Monday, June 08
Skelattack Is Available Now On Xbox One
published by: forahobby | Page Views: 53 | Comments: 0
'Elite Dangerous: Odyssey' expansion arrives
published by: forahobby | Page Views: 67 | Comments: 0
Best Horse Racing Games for Xbox
published by: forahobby | Page Views: 67 | Comments: 0
TRACKS 'Suburban Pack' DLC now out on Xbox On
published by: forahobby | Page Views: 58 | Comments: 0

Friday, June 05
New Super Lucky's Tale is coming to Xbox One
published by: forahobby | Page Views: 46 | Comments: 0


News Archive