| | | |
| --- | --- | --- |
| | MotoGP 20 Races Onto Xbox One, PS4, Switch, Stadia and Windows PC | |
MotoGP 20 Races Onto Xbox One, PS4, Switch, Stadia and Windows PC

MotoGP 20, the next game in the @MotoGP racing franchise, is now available for Xbox One, PlayStation 4, Nintendo Switch, Google Stadia and Windows PC.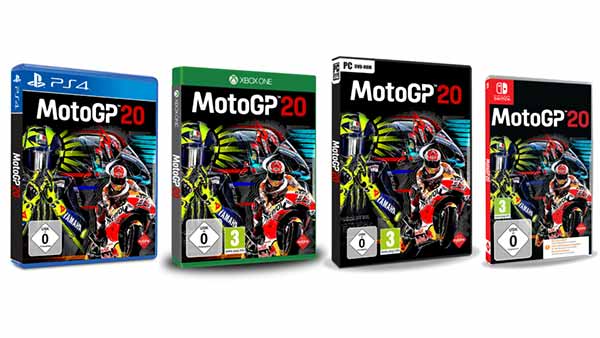 Rev up your engines for a new chapter of the MotoGP series! MotoGP 20 is back with a revived Managerial Career mode and more. Awaiting you are even more realistic graphics, improved gameplay, a new way to experience the historic content and all the excitement of the 2020 season!
Experience all the thrills of the more-complete-than-ever Managerial Career mode and decide whether to join a 2020 season team and race together with the official riders or join a totally brand new team. Discover more realistic physics, improved graphics, new 3D models of riders and face scans of official MotoGP team managers, plus new animations. Learn to manage gasoline and tire consumption.
Customize your bike and your suit! Find the best combination of sponsor and livery, and choose colors and materials. Coordinate everything to win in style! Compete with legendary riders! New historic content and a new gaming mode await you to let you relive MotoGP history. Challenge your friends, create custom events and become the Race Director thanks to a brand new multiplayer experience supported by dedicated servers!
Click here to see the full list of MotoGP 20 achievements for Xbox One.
MotoGP 20 is available to purchase worldwide for $59.99, €69.99, £49.99, AU$99.95.
To keep up with all things XBOX, follow @XONEHQ on Twitter, like us on Facebook, subscribe to us on YouTube, install the free Xbox app for android, and stay tuned for the best new and upcoming Xbox games for 2020, 2021, screenshots, news & rumors, Xbox achievements, and Video Game Trailers.
Xbox Store:
here
File Size: 19.52 GB
Price: $59.99, €69.99, £49.99, AU$99.95
Official Site:
https://motogpvideogame.com/
"
| | | |
| --- | --- | --- |
| | Related Stories | |

| | | |
| --- | --- | --- |
| | Most Popular | |

| | | |
| --- | --- | --- |
| | Rate this Article | |
| | | |
| --- | --- | --- |
| | Associated Topics | |



| | | |
| --- | --- | --- |
| | Xbox Tutorials Database | |

| | | |
| --- | --- | --- |
| | Xbox Tutorials Database | |

| | | |
| --- | --- | --- |
| | Xbox Download Stats | |

| | | |
| --- | --- | --- |
| | Site Statistics | |

| | | |
| --- | --- | --- |
| | Site Statistics | |

HQ Online Statistics
Members: 6 | Guests: 272 | Xbox Live Tags: 4,385


Forums

Active Users: 103

Downloads

Active Users: 36

Xbox Homebrew

Active Users: 29

Your Account

Active Users: 22

Xbox Tutorials

Active Users: 19

News

Active Users: 16

Home

Active Users: 14

VIP Signup

Active Users: 14

Xbox Games

Active Users: 6

Profile

Active Users: 5

View More Detailed Statistics

| | | |
| --- | --- | --- |
| | Site Statistics | |

| | | |
| --- | --- | --- |
| | Popular Xbox Games | |
Rally Fusion:Race of Champions
Page Views: 276425

This rally racing game will include 25 cars from leading manufacturers such as Mitsubishi, Toyota, Peugeot, Audi, Porsche, and Citroen, among others. More than 30 real-world drivers including such leg..

More Xbox Games

| | | |
| --- | --- | --- |
| | HQ Network Affiliates | |

| | | |
| --- | --- | --- |
| | Xbox-Hq.Com - Archived News | |

Wednesday, July 08
The Catch: Carp & Coarse Out Now on Xbox One,
published by: forahobby | Page Views: 15 | Comments: 0

Tuesday, July 07
BEN 10: Power Trip announced for XB1, PS4, SW
published by: forahobby | Page Views: 17 | Comments: 0

Monday, July 06
Wolfenstein: Alt History Collection Available
published by: forahobby | Page Views: 19 | Comments: 0

Friday, July 03
Party Crasher Simulator announced for XSX, PS
published by: forahobby | Page Views: 19 | Comments: 0

Thursday, July 02
WW1 FPS Tannenberg coming to XB1 and PS4 cons
published by: forahobby | Page Views: 26 | Comments: 0

Wednesday, July 01
Marvel's Avengers Confirmed for Xbox Series X
published by: forahobby | Page Views: 39 | Comments: 0
The Otterman Empire hits XBOX, PS4, SWITCH an
published by: forahobby | Page Views: 25 | Comments: 0
Sisters Royale: Five Sisters Under now digita
published by: forahobby | Page Views: 39 | Comments: 0
2020, the new era has begun for mobile games
published by: forahobby | Page Views: 60 | Comments: 0

Tuesday, June 30
Control's 'The Foundation' is available now o
published by: forahobby | Page Views: 25 | Comments: 0

Monday, June 29
New Xbox Games with Gold for July 2020 Reveal
published by: forahobby | Page Views: 49 | Comments: 0

Friday, June 26
New Games Coming to Xbox Game Pass for PC and
published by: forahobby | Page Views: 76 | Comments: 0
Assetto Corsa Competizione races onto Xbox On
published by: forahobby | Page Views: 46 | Comments: 0

Thursday, June 25
"Night Call" Out Now And Included With Xbox G
published by: forahobby | Page Views: 27 | Comments: 0

Wednesday, June 24
DiRT 5 digital pre-order's go live on Xbox On
published by: forahobby | Page Views: 39 | Comments: 0
West Of Dead: Out Now and included in Xbox Ga
published by: forahobby | Page Views: 50 | Comments: 0

Tuesday, June 23
Disintegration Launches On Xbox One, PS4 and
published by: forahobby | Page Views: 61 | Comments: 0
4 Games Bundle: Luc Bernard Collection Availa
published by: forahobby | Page Views: 70 | Comments: 0

Monday, June 22
STAR WARS: Squadrons Xbox One digital pre-ord
published by: forahobby | Page Views: 58 | Comments: 0

Friday, June 19
Windbound hits Xbox One, PS4, Switch and PC o
published by: forahobby | Page Views: 38 | Comments: 0
"Othercide" is now available for digital pre-
published by: forahobby | Page Views: 51 | Comments: 0

Thursday, June 18
Super Soccer Blast kicks off for Xbox One
published by: forahobby | Page Views: 57 | Comments: 0
"Tower Of Time" now available for digital pre
published by: forahobby | Page Views: 39 | Comments: 0

Wednesday, June 17
Hard West Ultimate Edition XBOX ONE Digital P
published by: forahobby | Page Views: 43 | Comments: 0
Glass Masquerade Double Pack: Available Now O
published by: forahobby | Page Views: 40 | Comments: 0

Tuesday, June 16
Radical Rabbit Stew out now for Xbox One, PS4
published by: forahobby | Page Views: 41 | Comments: 0
Pathfinder: Kingmaker XBOX ONE Digital Pre-or
published by: forahobby | Page Views: 33 | Comments: 0

Monday, June 15
Greymoor: The New ESO Chapter Out Now‎
published by: forahobby | Page Views: 81 | Comments: 0
Procedurally generated 2D platformer "Pity Pi
published by: forahobby | Page Views: 45 | Comments: 0

Friday, June 12
1971 Project Helios Hits XBOX One, PS4, Switc
published by: forahobby | Page Views: 39 | Comments: 0

Thursday, June 11
Charlotte Cracker Joins ONE PIECE: PIRATE WAR
published by: forahobby | Page Views: 56 | Comments: 0

Wednesday, June 10
'Beyond Blue' digital pre-order is available
published by: forahobby | Page Views: 42 | Comments: 0
WAKING Digital Pre-order And Pre-download Is
published by: forahobby | Page Views: 45 | Comments: 0

Tuesday, June 09
Remnant: From the Ashes 'Swamps of Corsus' Bu
published by: forahobby | Page Views: 60 | Comments: 0
Cuty Comedy VN "Strawberry Vinegar" Is Availa
published by: forahobby | Page Views: 47 | Comments: 0

Monday, June 08
Skelattack Is Available Now On Xbox One
published by: forahobby | Page Views: 53 | Comments: 0
'Elite Dangerous: Odyssey' expansion arrives
published by: forahobby | Page Views: 69 | Comments: 0
Best Horse Racing Games for Xbox
published by: forahobby | Page Views: 69 | Comments: 0
TRACKS 'Suburban Pack' DLC now out on Xbox On
published by: forahobby | Page Views: 59 | Comments: 0

Friday, June 05
New Super Lucky's Tale is coming to Xbox One
published by: forahobby | Page Views: 48 | Comments: 0


News Archive