| | | |
| --- | --- | --- |
| | SKATER XL confirmed for Xbox One, PS4, Nintendo Switch, and PC | |
SKATER XL confirmed for Xbox One, PS4, Nintendo Switch, and PC

Easy Day Studios announced today that Skater XL, a game that delivers unparalleled access to skateboarding culture, will launch simultaneously on Xbox One, PS4, Nintendo Switch and PC, when it launches later this year.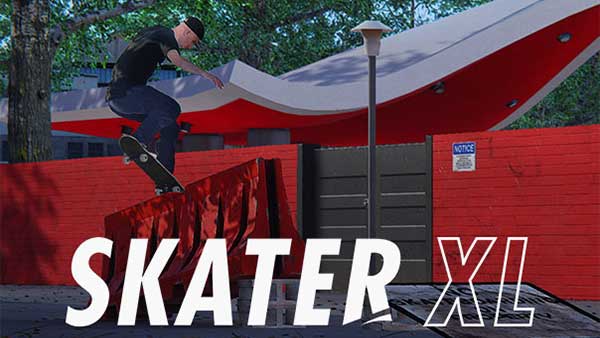 Skater XL is the first ever skateboarding title to give direct control of the feet and board at all times rather than canned trick animations, unlocking the creative potential of the player with sandbox-style gameplay. Create, combine, and style tricks as you hit iconic California locations where street legends have left their mark. Dive into the digital skate subculture with skate spots based on iconic real locations from the West Coast. With a huge modding community that has created thousands of maps, digital skate ezines, personal video parts, in-game brands, and contests, Skater XL celebrates the creativity and dedication of the skate community.
Since its debut on Steam's Early Access, Skater XL has spawned a massive community with more than 50,000 players in its Discord channel, thousands of "very positive" reviews on Steam and boasts several players who have more 1,000 hours of playtime. This highly passionate community has created thousands of video parts, mods, 'fakeskate' brands and even their own digital magazine. Their top request? - "Bring it to PlayStation 4!"
Skater XL will be available launch later this year on Xbox One, PlayStation 4, Nintendo Switch and PC via Steam - making it the first skateboarding game to come to all major platforms in more than 10 years.
Official Site:
http://www.skaterxl.com/
News Source:
https://www.xboxone-hq.com/news.html
"
| | | |
| --- | --- | --- |
| | Related Stories | |

| | | |
| --- | --- | --- |
| | Most Popular | |

| | | |
| --- | --- | --- |
| | Rate this Article | |
| | | |
| --- | --- | --- |
| | Associated Topics | |
Associated Topics





| | | |
| --- | --- | --- |
| | Xbox Tutorials Database | |

| | | |
| --- | --- | --- |
| | Xbox Tutorials Database | |

| | | |
| --- | --- | --- |
| | Xbox Download Stats | |

| | | |
| --- | --- | --- |
| | Site Statistics | |

| | | |
| --- | --- | --- |
| | Site Statistics | |

HQ Online Statistics
Members: 3 | Guests: 275 | Xbox Live Tags: 4,379


Forums

Active Users: 73

Home

Active Users: 39

Your Account

Active Users: 34

Downloads

Active Users: 31

News

Active Users: 28

Xbox Homebrew

Active Users: 27

Xbox Games

Active Users: 14

Xbox Tutorials

Active Users: 14

Flash Games

Active Users: 3

Private Messages

Active Users: 1

View More Detailed Statistics

| | | |
| --- | --- | --- |
| | Site Statistics | |

| | | |
| --- | --- | --- |
| | Popular Xbox Games | |
Tak: The Great Juju Challenge
Page Views: 280979

The top teams from across the world have come to compete in the Great Juju Challenge. Representing the Pupanunu Tribe are Tak and Lok who will face great adversity in the form of Jujus, wild animals, ..

More Xbox Games

| | | |
| --- | --- | --- |
| | HQ Network Affiliates | |

| | | |
| --- | --- | --- |
| | Xbox-Hq.Com - Archived News | |

Friday, January 22
Little Nightmares II DEMO Is Available To Dow
published by: forahobby | Page Views: 15 | Comments: 0
Dead Cells 'Fatal Falls' DLC Update Arrives o
published by: forahobby | Page Views: 13 | Comments: 0

Thursday, January 21
Disjunction releases January 28 on Xbox One,
published by: forahobby | Page Views: 13 | Comments: 0

Wednesday, January 20
Next Studios' puzzle adventure Iris Fall hits
published by: forahobby | Page Views: 11 | Comments: 0
Path of Exile: Echoes of the Atlas Expansion
published by: forahobby | Page Views: 12 | Comments: 0

Tuesday, January 19
Project Winter is Coming to Xbox consoles and
published by: forahobby | Page Views: 14 | Comments: 0
Retro Shoot 'em Up Habroxia 2 Blasts Off On F
published by: forahobby | Page Views: 16 | Comments: 0

Monday, January 18
Okinawa Rush is heading to Xbox One in Q1 202
published by: forahobby | Page Views: 17 | Comments: 0
Blacksmith Of The Sand Kingdom is out now on
published by: forahobby | Page Views: 16 | Comments: 0
Best Exclusive Games For Xbox Series X
published by: forahobby | Page Views: 19 | Comments: 0
Summer In Mara launches for Xbox One, Xbox Se
published by: forahobby | Page Views: 20 | Comments: 0

Friday, January 15
Unspottable Now Available For Digital Pre-ord
published by: forahobby | Page Views: 21 | Comments: 0

Thursday, January 14
Gods Will Fall Pre-orders go live ahead of Ja
published by: forahobby | Page Views: 22 | Comments: 0

Tuesday, January 12
Spacebase Startopia's Xbox Preview is now liv
published by: forahobby | Page Views: 25 | Comments: 0
The Dark Eye: Memoria And Chains Of Satinav N
published by: forahobby | Page Views: 26 | Comments: 0

Monday, January 11
Killer Queen Black Xbox Game Pass Launch Dela
published by: forahobby | Page Views: 28 | Comments: 0

Friday, January 08
PBA Pro Bowling 2021 is out NOW for Consoles
published by: forahobby | Page Views: 28 | Comments: 0
Naruto To Boruto: Shinobi Striker Season 3 Ad
published by: forahobby | Page Views: 40 | Comments: 0

Thursday, January 07
Stellaris: Console Edition's Third Expansion
published by: forahobby | Page Views: 32 | Comments: 0

Wednesday, January 06
SKATER XL: Over 1 Million Mod Downloads In A
published by: forahobby | Page Views: 37 | Comments: 0
The 'All-In' Bundle is Out Now for Xbox Serie
published by: forahobby | Page Views: 44 | Comments: 0

Tuesday, January 05
Blacksmith of the Sand Kingdom pre-order avai
published by: forahobby | Page Views: 34 | Comments: 0

Monday, January 04
The Microsoft Flight Simulator VR update is o
published by: forahobby | Page Views: 34 | Comments: 0
Override 2: Super Mech League Is Out Now
published by: forahobby | Page Views: 31 | Comments: 0

Thursday, December 31
Games With Gold January 2021 Features Little
published by: forahobby | Page Views: 30 | Comments: 0
Dead by Daylight: Stranger Things Edition Is
published by: forahobby | Page Views: 37 | Comments: 0

Wednesday, December 30
War Thunder's "Hot Tracks" update adds Italia
published by: forahobby | Page Views: 31 | Comments: 0
Find the Best Gambling Video Games for the Xb
published by: forahobby | Page Views: 69 | Comments: 0
Taxi Chaos coming to Xbox One, PlayStation 4,
published by: forahobby | Page Views: 26 | Comments: 0
Grand Theft Auto Casino has slot machines gli
published by: forahobby | Page Views: 58 | Comments: 0
Back 4 Blood Digital Pre-orders Go Live on Xb
published by: forahobby | Page Views: 30 | Comments: 0
Elemental War TD hits Xbox One, Xbox Series X
published by: forahobby | Page Views: 30 | Comments: 0

Tuesday, December 29
SYNTHETIK: Ultimate Launches For Xbox One And
published by: forahobby | Page Views: 31 | Comments: 0

Monday, December 28
Spellbreak Chapter 1 Out Now on XBOX, PlaySta
published by: forahobby | Page Views: 31 | Comments: 0
World Of Tanks Legend Of War Pack Is Availabl
published by: forahobby | Page Views: 40 | Comments: 0
Xbox's Latest NBA game: NBA2k21 for Xbox Seri
published by: forahobby | Page Views: 49 | Comments: 0

Thursday, December 24
Metro Saga Bundle Is Out Now On Xbox One And
published by: forahobby | Page Views: 33 | Comments: 0

Tuesday, December 22
MXGP 2020 The Official Motocross Videogame Is
published by: forahobby | Page Views: 34 | Comments: 0
Biggest and best upcoming games for Xbox One
published by: forahobby | Page Views: 91 | Comments: 0
Werewolf: The Apocalypse Earthblood Hits Cons
published by: forahobby | Page Views: 63 | Comments: 0


News Archive