| | | |
| --- | --- | --- |
| | One Finger Death Punch 2 launches for Xbox, Switch, and GOG on February 26 | |
One Finger Death Punch 2 launches for Xbox, Switch, and GOG on February 26

One Finger Death Punch 2 releases for Xbox One, Nintendo Switch, and GOG on February 26th.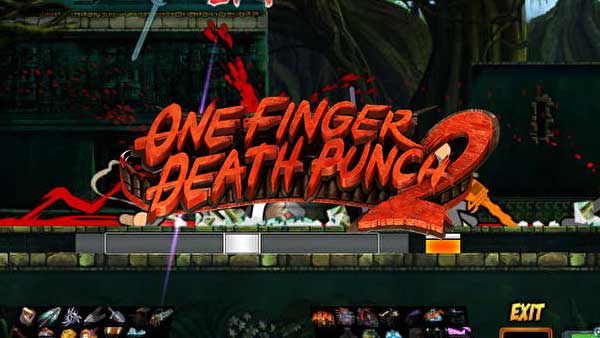 In One Finger Death Punch 2, players take on the role of the chosen one (AKA white stick figure) as they fight through wave after wave of bad guys. Using their advanced martial arts techniques, various weapons, deadly skills, and surroundings, players can fight their way across over 400 levels, 15 level types, 4 endless survival modes, and two gauntlet run game modes all while helping the chosen one learn a total of 26 new skills.
"My brother and I haven't seen the chosen one this pumped for a console release in a long time," says Silver Dollar Games' Jon Flook. "Throughout development, he kept muttering something about needing to show everyone in Z-City who the real one-hit wonder is. Even though we told him being a one-hit wonder isn't necessarily a good thing, he would just glare at us until things started getting uncomfortable and we had to leave the room."
One Finger Death Punch 2 is released on Steam, Humble Store, and Kartridge on April 15th, 2020 and will be available on Xbox One and Nintendo Switch on February 26, in 2020.
For more Xbox news, rumors, updates and the best new upcoming Xbox One games coming soon, follow @XONEHQ on Twitter, Facebook, Pinterest and YouTube, download the free Xbox One app for Android and until next time, game on!
Xbox Store: here
"
| | | |
| --- | --- | --- |
| | Related Stories | |

| | | |
| --- | --- | --- |
| | Most Popular | |

| | | |
| --- | --- | --- |
| | Rate this Article | |
| | | |
| --- | --- | --- |
| | Associated Topics | |



| | | |
| --- | --- | --- |
| | Xbox Tutorials Database | |

| | | |
| --- | --- | --- |
| | Xbox Tutorials Database | |

| | | |
| --- | --- | --- |
| | Xbox Download Stats | |

| | | |
| --- | --- | --- |
| | Site Statistics | |

| | | |
| --- | --- | --- |
| | Site Statistics | |

HQ Online Statistics
Members: 11 | Guests: 864 | Xbox Live Tags: 4,385


Forums

Active Users: 404

Profile

Active Users: 151

Your Account

Active Users: 125

Downloads

Active Users: 44

Home

Active Users: 31

News

Active Users: 30

Xbox Homebrew

Active Users: 25

Xbox Tutorials

Active Users: 18

Xbox Games

Active Users: 14

Xbox HardDrives

Active Users: 4

View More Detailed Statistics

| | | |
| --- | --- | --- |
| | Site Statistics | |

| | | |
| --- | --- | --- |
| | Popular Xbox Games | |
Fatal Frame
Page Views: 306938

Based on a true story, Fatal Frame, the newest survival-horror game to hit the Xbox video game console, will chill you to the bone as you become immersed in a world full of supernatural spirits and sh..

More Xbox Games

| | | |
| --- | --- | --- |
| | HQ Network Affiliates | |

| | | |
| --- | --- | --- |
| | Xbox-Hq.Com - Archived News | |

Tuesday, March 31
BlockQuest Maker (BQM) XBOX digital pre-order
published by: forahobby | Page Views: 15 | Comments: 0

Monday, March 30
Braveland Trilogy releases April 10 on XBOX O
published by: forahobby | Page Views: 18 | Comments: 0

Friday, March 27
ONE PIECE: PIRATE WARRIORS 4 is out now for X
published by: forahobby | Page Views: 29 | Comments: 0
Insurgency: Sandstorm XBOX ONE digital pre-or
published by: forahobby | Page Views: 16 | Comments: 0
Bleeding Edge launches for Xbox One and Windo
published by: forahobby | Page Views: 35 | Comments: 0

Thursday, March 26
Yu-Gi-Oh! Legacy Of The Duelist Link Evolutio
published by: forahobby | Page Views: 16 | Comments: 0
Disney+ Now Available For Xbox One In More Re
published by: forahobby | Page Views: 35 | Comments: 0

Wednesday, March 25
Shadow Man Remastered announced for console a
published by: forahobby | Page Views: 20 | Comments: 0

Tuesday, March 24
TT Isle Of Man Ride On The Edge 2 Races onto
published by: forahobby | Page Views: 34 | Comments: 0

Monday, March 23
BLADE RUNNER remaster announced for XBOX ONE,
published by: forahobby | Page Views: 35 | Comments: 0

Thursday, March 19
Microsoft Announces Xbox Game Pass Ultimate P
published by: forahobby | Page Views: 43 | Comments: 0

Wednesday, March 18
Phantasy Star Online 2 XBOX ONE Open Beta Is
published by: forahobby | Page Views: 34 | Comments: 0
Resident Evil 3 Demo and Resident Evil Resist
published by: forahobby | Page Views: 29 | Comments: 0

Tuesday, March 17
R.B.I. Baseball 20 Out Now on Xbox One, PS4,
published by: forahobby | Page Views: 24 | Comments: 0

Monday, March 16
Big changes are coming to Truck Driver
published by: forahobby | Page Views: 44 | Comments: 0

Saturday, March 14
MY HERO ONE'S JUSTICE 2 launches for XBOX ONE
published by: forahobby | Page Views: 26 | Comments: 0

Thursday, March 12
"WARTILE" launches March 24; Digital pre-orde
published by: forahobby | Page Views: 29 | Comments: 0

Wednesday, March 11
Farming Simulator 19: Bourgault DLC Out Now o
published by: forahobby | Page Views: 47 | Comments: 0

Tuesday, March 10
Relicta announced for XBOX, PS4, PC and Googl
published by: forahobby | Page Views: 29 | Comments: 0
Rocket League update goes live March 10 on al
published by: forahobby | Page Views: 36 | Comments: 0

Monday, March 09
New Special Edition Xbox Wireless Controllers
published by: forahobby | Page Views: 54 | Comments: 0

Friday, March 06
Hardspace Shipbreaker confirmed for Xbox One
published by: forahobby | Page Views: 52 | Comments: 0
Ritual Crown Of Horns Digital Pre-order Avail
published by: forahobby | Page Views: 43 | Comments: 0
SKATER XL confirmed for Xbox One, PS4, Ninten
published by: forahobby | Page Views: 61 | Comments: 0

Thursday, March 05
Need for Speed HEAT Spring Update Adds New Ca
published by: forahobby | Page Views: 79 | Comments: 0
OVERPASS releases March 17 on XBOX ONE, PS4 a
published by: forahobby | Page Views: 46 | Comments: 0
Top 5 Casino Games on Xbox
published by: forahobby | Page Views: 98 | Comments: 0
Farming Simulator 19 Bourgault DLC releases M
published by: forahobby | Page Views: 45 | Comments: 0

Tuesday, March 03
Spartan Fist now available on Xbox One, PS4 a
published by: forahobby | Page Views: 57 | Comments: 0

Monday, March 02
TT Isle Of Man 2 XBOX digital pre-order is av
published by: forahobby | Page Views: 56 | Comments: 0

Friday, February 28
Outward's The Soroboreans DLC expansion relea
published by: forahobby | Page Views: 53 | Comments: 0

Thursday, February 27
Microsoft announces Xbox Games with Gold for
published by: forahobby | Page Views: 58 | Comments: 0
Mega Man Zero/ZX Legacy Collection Out Now Fo
published by: forahobby | Page Views: 56 | Comments: 0

Wednesday, February 26
Space Engineers Xbox One digital pre-order is
published by: forahobby | Page Views: 60 | Comments: 0

Monday, February 24
6 New Games coming to Xbox Game Pass for Cons
published by: forahobby | Page Views: 60 | Comments: 0
KINGDOM HEARTS HD remasters are now live on X
published by: forahobby | Page Views: 46 | Comments: 0

Friday, February 21
SnowRunner digital pre-order and pre-download
published by: forahobby | Page Views: 68 | Comments: 0

Thursday, February 20
Wreckfest's "Rusty Rats Car Pack" Out Now on
published by: forahobby | Page Views: 64 | Comments: 0

Wednesday, February 19
Marvel's Avengers XBOX digital pre-order and
published by: forahobby | Page Views: 85 | Comments: 0

Tuesday, February 18
"Moving Out" launches for Xbox One, PS4, Swit
published by: forahobby | Page Views: 54 | Comments: 0


News Archive