| | | |
| --- | --- | --- |
| | Code Shifter announced for XBOX ONE, PS4, SWITCH and STEAM (PC) | |
Code Shifter announced for XBOX ONE, PS4, SWITCH and STEAM (PC)

Arc System Works America, Inc. annouced today that their new pixel art action platformer, Code Shifter will be released on Xbox One, PlayStation 4, Nintendo Switch, and Steam (PC) in Q1 of 2020.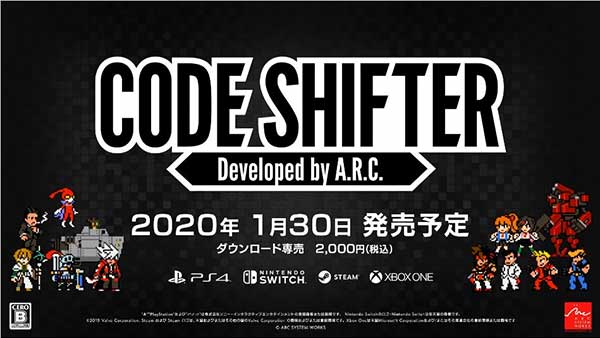 In Code Shifter, you play role of Stella, a game developer at the "Awesome Rainbow Corp" who is tasked with squashing the remaining bugs on the eve of the company's biggest game release. As she scrambles to fix the game, mysterious errors in the program suddenly appear and time is running out to finish the game in time! To deal with the situation, Stella, whips up a debug program: "Code Shifter", that allows her digital avatar "Sera" to eradicate the issues from within. Along the way, she'll encounter powerful bugs and anomalies but she'll get some help from some unexpected allies each with their own special powers. Will Stella and her coworkers be able to find the origin of these bugs and deliver the game before the launch date?
Featuring 100 characters, an 8-bit soundtrack, and 8-bit pixel art, including Guilty Gear, BlazBlue, the River City series, Code Shifter is expected to release for the Xbox One, PlayStation 4, Nintendo Switch and PC via Steam in 2020.
Let's take a look at the official trailer for the game:
For more
Xbox news & rumors
and the
best new and upcoming games for XBOX
, including game trailers, previews, screenshots, release dates and an always updated
Xbox One X enhanced 4K games
list, follow
@XONEHQ
on
Twitter
,
YouTube
, Facebook and Pinterest, download the free
XBOX app for Android
and until next time, game on!
News Source:
https://www.xboxone-hq.com/news.html
"
| | | |
| --- | --- | --- |
| | Related Stories | |

| | | |
| --- | --- | --- |
| | Most Popular | |

| | | |
| --- | --- | --- |
| | Rate this Article | |
| | | |
| --- | --- | --- |
| | Associated Topics | |
Associated Topics





| | | |
| --- | --- | --- |
| | Xbox Tutorials Database | |

| | | |
| --- | --- | --- |
| | Xbox Tutorials Database | |

| | | |
| --- | --- | --- |
| | Xbox Download Stats | |

| | | |
| --- | --- | --- |
| | Site Statistics | |

| | | |
| --- | --- | --- |
| | Site Statistics | |

HQ Online Statistics
Members: 14 | Guests: 849 | Xbox Live Tags: 4,385


Forums

Active Users: 386

Your Account

Active Users: 131

Profile

Active Users: 107

Downloads

Active Users: 50

Home

Active Users: 46

Xbox Homebrew

Active Users: 40

News

Active Users: 39

Xbox Tutorials

Active Users: 24

Xbox Games

Active Users: 11

Xbox HardDrives

Active Users: 5

View More Detailed Statistics

| | | |
| --- | --- | --- |
| | Site Statistics | |

| | | |
| --- | --- | --- |
| | Popular Xbox Games | |
FIFA Soccer 2003
Page Views: 265050

All the speed, style and passion of the world's game come alive in FIFA 2003. With enhanced team play and fluid action, along with improved ball control and tactics, FIFA 2003 lets you take the pitch ..

More Xbox Games

| | | |
| --- | --- | --- |
| | HQ Network Affiliates | |

| | | |
| --- | --- | --- |
| | Xbox-Hq.Com - Archived News | |

Tuesday, March 31
BlockQuest Maker (BQM) XBOX digital pre-order
published by: forahobby | Page Views: 15 | Comments: 0

Monday, March 30
Braveland Trilogy releases April 10 on XBOX O
published by: forahobby | Page Views: 18 | Comments: 0

Friday, March 27
ONE PIECE: PIRATE WARRIORS 4 is out now for X
published by: forahobby | Page Views: 29 | Comments: 0
Insurgency: Sandstorm XBOX ONE digital pre-or
published by: forahobby | Page Views: 16 | Comments: 0
Bleeding Edge launches for Xbox One and Windo
published by: forahobby | Page Views: 35 | Comments: 0

Thursday, March 26
Yu-Gi-Oh! Legacy Of The Duelist Link Evolutio
published by: forahobby | Page Views: 16 | Comments: 0
Disney+ Now Available For Xbox One In More Re
published by: forahobby | Page Views: 35 | Comments: 0

Wednesday, March 25
Shadow Man Remastered announced for console a
published by: forahobby | Page Views: 20 | Comments: 0

Tuesday, March 24
TT Isle Of Man Ride On The Edge 2 Races onto
published by: forahobby | Page Views: 34 | Comments: 0

Monday, March 23
BLADE RUNNER remaster announced for XBOX ONE,
published by: forahobby | Page Views: 35 | Comments: 0

Thursday, March 19
Microsoft Announces Xbox Game Pass Ultimate P
published by: forahobby | Page Views: 43 | Comments: 0

Wednesday, March 18
Phantasy Star Online 2 XBOX ONE Open Beta Is
published by: forahobby | Page Views: 34 | Comments: 0
Resident Evil 3 Demo and Resident Evil Resist
published by: forahobby | Page Views: 29 | Comments: 0

Tuesday, March 17
R.B.I. Baseball 20 Out Now on Xbox One, PS4,
published by: forahobby | Page Views: 24 | Comments: 0

Monday, March 16
Big changes are coming to Truck Driver
published by: forahobby | Page Views: 44 | Comments: 0

Saturday, March 14
MY HERO ONE'S JUSTICE 2 launches for XBOX ONE
published by: forahobby | Page Views: 26 | Comments: 0

Thursday, March 12
"WARTILE" launches March 24; Digital pre-orde
published by: forahobby | Page Views: 29 | Comments: 0

Wednesday, March 11
Farming Simulator 19: Bourgault DLC Out Now o
published by: forahobby | Page Views: 47 | Comments: 0

Tuesday, March 10
Relicta announced for XBOX, PS4, PC and Googl
published by: forahobby | Page Views: 29 | Comments: 0
Rocket League update goes live March 10 on al
published by: forahobby | Page Views: 36 | Comments: 0

Monday, March 09
New Special Edition Xbox Wireless Controllers
published by: forahobby | Page Views: 54 | Comments: 0

Friday, March 06
Hardspace Shipbreaker confirmed for Xbox One
published by: forahobby | Page Views: 52 | Comments: 0
Ritual Crown Of Horns Digital Pre-order Avail
published by: forahobby | Page Views: 43 | Comments: 0
SKATER XL confirmed for Xbox One, PS4, Ninten
published by: forahobby | Page Views: 61 | Comments: 0

Thursday, March 05
Need for Speed HEAT Spring Update Adds New Ca
published by: forahobby | Page Views: 78 | Comments: 0
OVERPASS releases March 17 on XBOX ONE, PS4 a
published by: forahobby | Page Views: 46 | Comments: 0
Top 5 Casino Games on Xbox
published by: forahobby | Page Views: 97 | Comments: 0
Farming Simulator 19 Bourgault DLC releases M
published by: forahobby | Page Views: 45 | Comments: 0

Tuesday, March 03
Spartan Fist now available on Xbox One, PS4 a
published by: forahobby | Page Views: 57 | Comments: 0

Monday, March 02
TT Isle Of Man 2 XBOX digital pre-order is av
published by: forahobby | Page Views: 56 | Comments: 0

Friday, February 28
Outward's The Soroboreans DLC expansion relea
published by: forahobby | Page Views: 52 | Comments: 0

Thursday, February 27
Microsoft announces Xbox Games with Gold for
published by: forahobby | Page Views: 58 | Comments: 0
Mega Man Zero/ZX Legacy Collection Out Now Fo
published by: forahobby | Page Views: 56 | Comments: 0

Wednesday, February 26
Space Engineers Xbox One digital pre-order is
published by: forahobby | Page Views: 60 | Comments: 0

Monday, February 24
6 New Games coming to Xbox Game Pass for Cons
published by: forahobby | Page Views: 60 | Comments: 0
KINGDOM HEARTS HD remasters are now live on X
published by: forahobby | Page Views: 45 | Comments: 0

Friday, February 21
SnowRunner digital pre-order and pre-download
published by: forahobby | Page Views: 68 | Comments: 0

Thursday, February 20
Wreckfest's "Rusty Rats Car Pack" Out Now on
published by: forahobby | Page Views: 64 | Comments: 0

Wednesday, February 19
Marvel's Avengers XBOX digital pre-order and
published by: forahobby | Page Views: 85 | Comments: 0

Tuesday, February 18
"Moving Out" launches for Xbox One, PS4, Swit
published by: forahobby | Page Views: 54 | Comments: 0


News Archive