| | | |
| --- | --- | --- |
| | The Surge 2: The Kraken Expansion and Premium Edition launches this week | |
The Surge 2: The Kraken Expansion and Premium Edition launches this week

The Surge 2's Kraken expansion comes to Xbox One, PlayStation 4, and PC on January 16.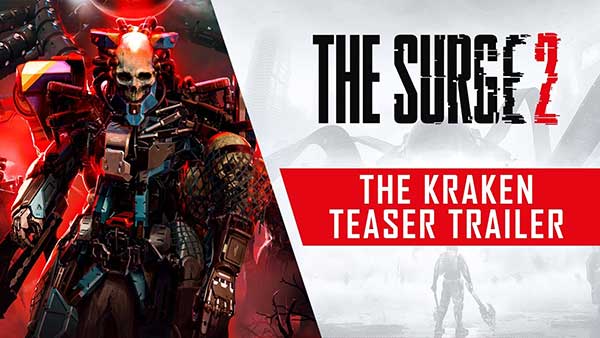 The Kraken expansion adds hours of narrative-driven content with a brand-new storyline and location, as well as a wealth of new weapons, implants and armor to discover and craft. On the outskirts of Jericho City, enter the VBS Krakow, a massive decommissioned aircraft carrier retrofitted as a retreat for the rich and famous. Battle robot pirates, deranged security systems, and an imposing new boss, each with their own unique combat mechanics. Fight hard and uncover the truth behind the desolate military vessel!
Get every DLC with the Premium Edition of The Surge 2, which not only includes the Kraken Expansion, but also has plenty of new content to discover such as the URBN Gear Pack, the Public Enemy Weapon Pack, and the latest Jericho's Legacy Gear Pack.
Let's check out the newly unveiled teaser trailer!
The Surge 2's Kraken Expansion and Premium Edition will both be available to download on January 16. In addition, all Surge 2 Season Pass owners will get an exclusive 48 hours early access, meaning they can play starting January 14.
The Surge 2 is out now on Xbox One, PlayStation 4 and PC.
For future
Xbox DLC news & updates
, release dates and upcoming games, follow
@XONEHQ
on
Twitter
and
YouTube
, download the free
XBOX app for Android
and until next time, game on!
Xbox Store: here
News Source: https://www.xboxone-hq.com/news.html"
| | | |
| --- | --- | --- |
| | Related Stories | |

| | | |
| --- | --- | --- |
| | Most Popular | |

| | | |
| --- | --- | --- |
| | Rate this Article | |
| | | |
| --- | --- | --- |
| | Associated Topics | |



| | | |
| --- | --- | --- |
| | Xbox Tutorials Database | |

| | | |
| --- | --- | --- |
| | Xbox Tutorials Database | |

| | | |
| --- | --- | --- |
| | Xbox Download Stats | |

| | | |
| --- | --- | --- |
| | Site Statistics | |

| | | |
| --- | --- | --- |
| | Site Statistics | |

HQ Online Statistics
Members: 17 | Guests: 861 | Xbox Live Tags: 4,385


Forums

Active Users: 394

Your Account

Active Users: 134

Profile

Active Users: 126

Home

Active Users: 44

Downloads

Active Users: 43

News

Active Users: 40

Xbox Tutorials

Active Users: 24

Xbox Homebrew

Active Users: 24

Xbox Games

Active Users: 11


Active Users: 7

View More Detailed Statistics

| | | |
| --- | --- | --- |
| | Site Statistics | |

| | | |
| --- | --- | --- |
| | Popular Xbox Games | |
Knights of the Temple 2
Page Views: 293560

In Knights of the Temple 2 players will join the ultimate battle of Paul de Raque, Grand Master of the Order of the Temple, against the forces of Hell. Travelling the lands and kingdoms of 13th centur..

More Xbox Games

| | | |
| --- | --- | --- |
| | HQ Network Affiliates | |

| | | |
| --- | --- | --- |
| | Xbox-Hq.Com - Archived News | |

Tuesday, March 31
BlockQuest Maker (BQM) XBOX digital pre-order
published by: forahobby | Page Views: 15 | Comments: 0

Monday, March 30
Braveland Trilogy releases April 10 on XBOX O
published by: forahobby | Page Views: 18 | Comments: 0

Friday, March 27
ONE PIECE: PIRATE WARRIORS 4 is out now for X
published by: forahobby | Page Views: 29 | Comments: 0
Insurgency: Sandstorm XBOX ONE digital pre-or
published by: forahobby | Page Views: 16 | Comments: 0
Bleeding Edge launches for Xbox One and Windo
published by: forahobby | Page Views: 35 | Comments: 0

Thursday, March 26
Yu-Gi-Oh! Legacy Of The Duelist Link Evolutio
published by: forahobby | Page Views: 16 | Comments: 0
Disney+ Now Available For Xbox One In More Re
published by: forahobby | Page Views: 35 | Comments: 0

Wednesday, March 25
Shadow Man Remastered announced for console a
published by: forahobby | Page Views: 20 | Comments: 0

Tuesday, March 24
TT Isle Of Man Ride On The Edge 2 Races onto
published by: forahobby | Page Views: 34 | Comments: 0

Monday, March 23
BLADE RUNNER remaster announced for XBOX ONE,
published by: forahobby | Page Views: 35 | Comments: 0

Thursday, March 19
Microsoft Announces Xbox Game Pass Ultimate P
published by: forahobby | Page Views: 43 | Comments: 0

Wednesday, March 18
Phantasy Star Online 2 XBOX ONE Open Beta Is
published by: forahobby | Page Views: 34 | Comments: 0
Resident Evil 3 Demo and Resident Evil Resist
published by: forahobby | Page Views: 29 | Comments: 0

Tuesday, March 17
R.B.I. Baseball 20 Out Now on Xbox One, PS4,
published by: forahobby | Page Views: 24 | Comments: 0

Monday, March 16
Big changes are coming to Truck Driver
published by: forahobby | Page Views: 44 | Comments: 0

Saturday, March 14
MY HERO ONE'S JUSTICE 2 launches for XBOX ONE
published by: forahobby | Page Views: 26 | Comments: 0

Thursday, March 12
"WARTILE" launches March 24; Digital pre-orde
published by: forahobby | Page Views: 29 | Comments: 0

Wednesday, March 11
Farming Simulator 19: Bourgault DLC Out Now o
published by: forahobby | Page Views: 47 | Comments: 0

Tuesday, March 10
Relicta announced for XBOX, PS4, PC and Googl
published by: forahobby | Page Views: 29 | Comments: 0
Rocket League update goes live March 10 on al
published by: forahobby | Page Views: 36 | Comments: 0

Monday, March 09
New Special Edition Xbox Wireless Controllers
published by: forahobby | Page Views: 54 | Comments: 0

Friday, March 06
Hardspace Shipbreaker confirmed for Xbox One
published by: forahobby | Page Views: 52 | Comments: 0
Ritual Crown Of Horns Digital Pre-order Avail
published by: forahobby | Page Views: 43 | Comments: 0
SKATER XL confirmed for Xbox One, PS4, Ninten
published by: forahobby | Page Views: 60 | Comments: 0

Thursday, March 05
Need for Speed HEAT Spring Update Adds New Ca
published by: forahobby | Page Views: 78 | Comments: 0
OVERPASS releases March 17 on XBOX ONE, PS4 a
published by: forahobby | Page Views: 46 | Comments: 0
Top 5 Casino Games on Xbox
published by: forahobby | Page Views: 97 | Comments: 0
Farming Simulator 19 Bourgault DLC releases M
published by: forahobby | Page Views: 45 | Comments: 0

Tuesday, March 03
Spartan Fist now available on Xbox One, PS4 a
published by: forahobby | Page Views: 57 | Comments: 0

Monday, March 02
TT Isle Of Man 2 XBOX digital pre-order is av
published by: forahobby | Page Views: 56 | Comments: 0

Friday, February 28
Outward's The Soroboreans DLC expansion relea
published by: forahobby | Page Views: 52 | Comments: 0

Thursday, February 27
Microsoft announces Xbox Games with Gold for
published by: forahobby | Page Views: 58 | Comments: 0
Mega Man Zero/ZX Legacy Collection Out Now Fo
published by: forahobby | Page Views: 56 | Comments: 0

Wednesday, February 26
Space Engineers Xbox One digital pre-order is
published by: forahobby | Page Views: 60 | Comments: 0

Monday, February 24
6 New Games coming to Xbox Game Pass for Cons
published by: forahobby | Page Views: 60 | Comments: 0
KINGDOM HEARTS HD remasters are now live on X
published by: forahobby | Page Views: 45 | Comments: 0

Friday, February 21
SnowRunner digital pre-order and pre-download
published by: forahobby | Page Views: 68 | Comments: 0

Thursday, February 20
Wreckfest's "Rusty Rats Car Pack" Out Now on
published by: forahobby | Page Views: 64 | Comments: 0

Wednesday, February 19
Marvel's Avengers XBOX digital pre-order and
published by: forahobby | Page Views: 85 | Comments: 0

Tuesday, February 18
"Moving Out" launches for Xbox One, PS4, Swit
published by: forahobby | Page Views: 54 | Comments: 0


News Archive