| | | |
| --- | --- | --- |
| | GRID digital pre-order and pre-download now available on XBox | |
GRID digital pre-order and pre-download now available on XBox

Codemasters' GRID is now available for digital pre-order and pre-download on Xbox One.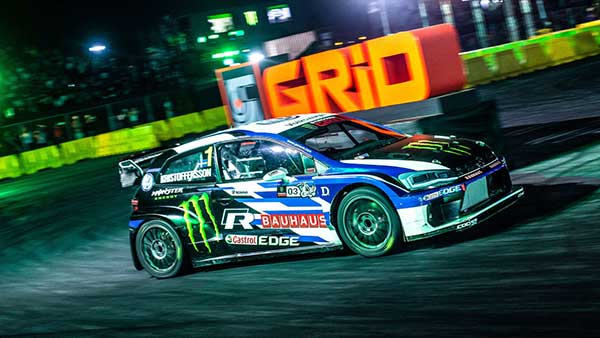 GRID is a racing experience like no other. Offering unrivalled moment-to-moment racing, GRID returns with an all-new experience where every race is the chance to choose your own path, create your own story and conquer the world of motorsport.
Take your place in the GRID World Series and fight in thrilling wheel-to-wheel battles with the most iconic and desirable race cars – current and classic, from GT through Touring and Muscle to Stock and Super Modifieds – and in some of the world's most iconic locations.
GRID captures every moment of the race, from the adrenaline rush of lights-out to the elation at the chequered flag – and in-between, it's all action too. Incidents come one right after the other – tight overtakes, bumper-to bumper scrapes and competitive collisions – all heightened by rivalries, team-mates and a nemesis driver who will all either try to help or hinder your progress.
There are two digital editions of GRID available to pre-order:
GRID Launch Edition ($59.99/£54.99/€ 69,99/$104.95AU) - Pre-order the GRID Launch Edition and receive the unique GRID Edition Aston Martin Vantage GT4.


GRID Ultimate Edition ($84.99/£74.99/€ 89,99/$134.95AU) - Pre-order the GRID Ultimate Edition and receive, in addition to the main game: 3 days early access, Season 1, Season 2, Season 3, Grid Edition Aston Martin Vantage GT4, Grid Edition Pontiac Firebird Modified, Grid Edition Chevrolet Corvette C7.R, Grid Edition Mitsubishi Lancer Evolution VI Time Attack, Grid Edition Renault R26, Player Cards, Player Banners, Unique Liveries, VIP Status
Developed by Codemasters, "GRID" releases on September 13, 2019 on Xbox One, PlayStation 4 and Windows PC.
For future news, updates and information about GRID, follow @XONEHQ on Twitter and YouTube, download the free XBOX app for Android and until next time, game on!
Official Site: http://www.gridgame.com
News-Source:
https://www.xboxone-hq.com/news.html
"
| | | |
| --- | --- | --- |
| | Related Stories | |

| | | |
| --- | --- | --- |
| | Most Popular | |

| | | |
| --- | --- | --- |
| | Rate this Article | |
| | | |
| --- | --- | --- |
| | Associated Topics | |
Associated Topics





| | | |
| --- | --- | --- |
| | Xbox Tutorials Database | |

| | | |
| --- | --- | --- |
| | Xbox Tutorials Database | |

| | | |
| --- | --- | --- |
| | Xbox Download Stats | |

| | | |
| --- | --- | --- |
| | Site Statistics | |

| | | |
| --- | --- | --- |
| | Site Statistics | |

HQ Online Statistics
Members: 2 | Guests: 210 | Xbox Live Tags: 4,385


Forums

Active Users: 66

Home

Active Users: 28

Your Account

Active Users: 25

Downloads

Active Users: 23

News

Active Users: 18

Xbox Homebrew

Active Users: 15

Xbox Tutorials

Active Users: 9

Xbox Games

Active Users: 9

Profile

Active Users: 3

Downloads VIP

Active Users: 3

View More Detailed Statistics

| | | |
| --- | --- | --- |
| | Site Statistics | |

| | | |
| --- | --- | --- |
| | Popular Xbox Games | |
Commandos Strike Force
Page Views: 308348

Commandos Strike Force is a World War II first person tactical action shooter featuring three characters with different abilities and skills. Undertake action, infiltration and stealth missions, engag..

More Xbox Games

| | | |
| --- | --- | --- |
| | HQ Network Affiliates | |

| | | |
| --- | --- | --- |
| | Xbox-Hq.Com - Archived News | |

Wednesday, July 08
The Catch: Carp & Coarse Out Now on Xbox One,
published by: forahobby | Page Views: 13 | Comments: 0

Tuesday, July 07
BEN 10: Power Trip announced for XB1, PS4, SW
published by: forahobby | Page Views: 15 | Comments: 0

Monday, July 06
Wolfenstein: Alt History Collection Available
published by: forahobby | Page Views: 14 | Comments: 0

Friday, July 03
Party Crasher Simulator announced for XSX, PS
published by: forahobby | Page Views: 18 | Comments: 0

Thursday, July 02
WW1 FPS Tannenberg coming to XB1 and PS4 cons
published by: forahobby | Page Views: 26 | Comments: 0

Wednesday, July 01
Marvel's Avengers Confirmed for Xbox Series X
published by: forahobby | Page Views: 35 | Comments: 0
The Otterman Empire hits XBOX, PS4, SWITCH an
published by: forahobby | Page Views: 22 | Comments: 0
Sisters Royale: Five Sisters Under now digita
published by: forahobby | Page Views: 35 | Comments: 0
2020, the new era has begun for mobile games
published by: forahobby | Page Views: 58 | Comments: 0

Tuesday, June 30
Control's 'The Foundation' is available now o
published by: forahobby | Page Views: 22 | Comments: 0

Monday, June 29
New Xbox Games with Gold for July 2020 Reveal
published by: forahobby | Page Views: 48 | Comments: 0

Friday, June 26
New Games Coming to Xbox Game Pass for PC and
published by: forahobby | Page Views: 72 | Comments: 0
Assetto Corsa Competizione races onto Xbox On
published by: forahobby | Page Views: 46 | Comments: 0

Thursday, June 25
"Night Call" Out Now And Included With Xbox G
published by: forahobby | Page Views: 26 | Comments: 0

Wednesday, June 24
DiRT 5 digital pre-order's go live on Xbox On
published by: forahobby | Page Views: 37 | Comments: 0
West Of Dead: Out Now and included in Xbox Ga
published by: forahobby | Page Views: 48 | Comments: 0

Tuesday, June 23
Disintegration Launches On Xbox One, PS4 and
published by: forahobby | Page Views: 61 | Comments: 0
4 Games Bundle: Luc Bernard Collection Availa
published by: forahobby | Page Views: 68 | Comments: 0

Monday, June 22
STAR WARS: Squadrons Xbox One digital pre-ord
published by: forahobby | Page Views: 58 | Comments: 0

Friday, June 19
Windbound hits Xbox One, PS4, Switch and PC o
published by: forahobby | Page Views: 38 | Comments: 0
"Othercide" is now available for digital pre-
published by: forahobby | Page Views: 50 | Comments: 0

Thursday, June 18
Super Soccer Blast kicks off for Xbox One
published by: forahobby | Page Views: 55 | Comments: 0
"Tower Of Time" now available for digital pre
published by: forahobby | Page Views: 38 | Comments: 0

Wednesday, June 17
Hard West Ultimate Edition XBOX ONE Digital P
published by: forahobby | Page Views: 41 | Comments: 0
Glass Masquerade Double Pack: Available Now O
published by: forahobby | Page Views: 38 | Comments: 0

Tuesday, June 16
Radical Rabbit Stew out now for Xbox One, PS4
published by: forahobby | Page Views: 41 | Comments: 0
Pathfinder: Kingmaker XBOX ONE Digital Pre-or
published by: forahobby | Page Views: 33 | Comments: 0

Monday, June 15
Greymoor: The New ESO Chapter Out Now‎
published by: forahobby | Page Views: 81 | Comments: 0
Procedurally generated 2D platformer "Pity Pi
published by: forahobby | Page Views: 45 | Comments: 0

Friday, June 12
1971 Project Helios Hits XBOX One, PS4, Switc
published by: forahobby | Page Views: 38 | Comments: 0

Thursday, June 11
Charlotte Cracker Joins ONE PIECE: PIRATE WAR
published by: forahobby | Page Views: 55 | Comments: 0

Wednesday, June 10
'Beyond Blue' digital pre-order is available
published by: forahobby | Page Views: 41 | Comments: 0
WAKING Digital Pre-order And Pre-download Is
published by: forahobby | Page Views: 44 | Comments: 0

Tuesday, June 09
Remnant: From the Ashes 'Swamps of Corsus' Bu
published by: forahobby | Page Views: 60 | Comments: 0
Cuty Comedy VN "Strawberry Vinegar" Is Availa
published by: forahobby | Page Views: 44 | Comments: 0

Monday, June 08
Skelattack Is Available Now On Xbox One
published by: forahobby | Page Views: 53 | Comments: 0
'Elite Dangerous: Odyssey' expansion arrives
published by: forahobby | Page Views: 67 | Comments: 0
Best Horse Racing Games for Xbox
published by: forahobby | Page Views: 67 | Comments: 0
TRACKS 'Suburban Pack' DLC now out on Xbox On
published by: forahobby | Page Views: 59 | Comments: 0

Friday, June 05
New Super Lucky's Tale is coming to Xbox One
published by: forahobby | Page Views: 46 | Comments: 0


News Archive