| | | |
| --- | --- | --- |
| | 'The Grand Tour Game' Now Available For Xbox | |
'The Grand Tour Game' Now Available For Xbox

The Grand Tour Game (@theGrandTour), an episodic racing game from Amazon Games based on the hit Prime Original series, The Grand Tour, is now available for digital download on Xbox One for $19.99.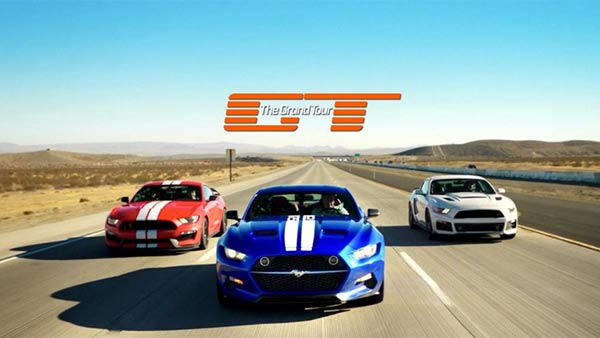 Ever wish you could get behind the wheel with Clarkson, Hammond, and May from The Grand Tour? Now it's your turn! Play the Show - Drive the cars, ride the roads, and experience the challenges.
Featuring seamless transitions from clips of the show to gameplay, plus original voice acting from the three hosts, The Grand Tour Game is infused with the show's trademark humour and irreverence. New episodes of The Grand Tour Game will be released weekly during Season 3 of the show, capturing cars, challenges and iconic locations, including the show's signature Eboladrome test track.
For more information on The Grand Tour Game, browse through all of our Xbox coverage, follow us on YouTube, Twitter, Google+, Facebook and Pinterest, and for more of the latest Xbox One News & Rumors, Upcoming Xbox One Games, Xbox One Release Dates, Xbox One Gameplay, Videos and Trailers. ID@Xbox Games, Top 50 Xbox One Games, Xbox One X Specifications, Xbox One Native Resolutions and more stay tuned to XONEHQ!
Price: 14.99 USD
Digital Download:
here
"
| | | |
| --- | --- | --- |
| | Related Stories | |

| | | |
| --- | --- | --- |
| | Most Popular | |

| | | |
| --- | --- | --- |
| | Rate this Article | |
| | | |
| --- | --- | --- |
| | Associated Topics | |
Associated Topics





| | | |
| --- | --- | --- |
| | Xbox Tutorials Database | |

| | | |
| --- | --- | --- |
| | Xbox Tutorials Database | |

| | | |
| --- | --- | --- |
| | Xbox Download Stats | |

| | | |
| --- | --- | --- |
| | Site Statistics | |

| | | |
| --- | --- | --- |
| | Site Statistics | |

HQ Online Statistics
Members: 0 | Guests: 271 | Xbox Live Tags: 4,379


Forums

Active Users: 86

Your Account

Active Users: 51

Home

Active Users: 38

Downloads

Active Users: 27

Xbox Tutorials

Active Users: 21

News

Active Users: 21

Xbox Homebrew

Active Users: 10

Downloads VIP

Active Users: 2

VIP Signup

Active Users: 2

Statistics

Active Users: 2

View More Detailed Statistics

| | | |
| --- | --- | --- |
| | Site Statistics | |

| | | |
| --- | --- | --- |
| | Popular Xbox Games | |
NCAA Football 2K3
Page Views: 248,482

College football is about tradition, pageantry and the purity of the game. "SEGA Sports NCAA College Football 2K3" embodies all of those things, as this year's game features dramatic improvements incl..

More Xbox Games

| | | |
| --- | --- | --- |
| | HQ Network Affiliates | |

| | | |
| --- | --- | --- |
| | Xbox-Hq.Com - Archived News | |

Tuesday, October 19
Omen Of Sorrow is now available on XBOX Conso
published by: forahobby | Page Views: 20 | Comments: 0

Monday, October 18
Youtubers Life 2 releases October 19 on PC an
published by: forahobby | Page Views: 28 | Comments: 0

Friday, October 15
Inked: A Tale Of Love Releases for Xbox One X
published by: forahobby | Page Views: 25 | Comments: 0

Thursday, October 14
Rainbow Six Extraction 'World trailer' shows
published by: forahobby | Page Views: 38 | Comments: 0
Nuclear Throne hits Xbox One, Xbox Series X|S
published by: forahobby | Page Views: 27 | Comments: 0
Is It Time for Platform Exclusives to End?
published by: forahobby | Page Views: 28 | Comments: 0
Tales Of Arise launches on Xbox One, Xbox Ser
published by: forahobby | Page Views: 34 | Comments: 0

Wednesday, October 13
WRC 10 is OUT NOW on Xbox, PlayStation & PC!
published by: forahobby | Page Views: 41 | Comments: 0

Tuesday, October 12
Bus Simulator 21 now available for Xbox, Play
published by: forahobby | Page Views: 29 | Comments: 0
Tormented Souls available now for Xbox Series
published by: forahobby | Page Views: 25 | Comments: 0

Monday, October 11
Life Is Strange: True Colors Is Out Now!
published by: forahobby | Page Views: 33 | Comments: 0
"Turbo Overkill" coming to Xbox, PlayStation,
published by: forahobby | Page Views: 33 | Comments: 0

Friday, October 08
Crysis Remastered Trilogy gets an October rel
published by: forahobby | Page Views: 34 | Comments: 0

Thursday, October 07
Sonic Colors: Ultimate Out Today For Xbox One
published by: forahobby | Page Views: 38 | Comments: 0
'The Last Worker' reveals world-class voice c
published by: forahobby | Page Views: 30 | Comments: 0

Wednesday, October 06
Big Rumble Boxing: Creed Champions officially
published by: forahobby | Page Views: 34 | Comments: 0
The Ultimate Horror Bundle Arrives For Xbox O
published by: forahobby | Page Views: 40 | Comments: 0

Tuesday, October 05
Endless Fables: Shadow Within Launches For Xb
published by: forahobby | Page Views: 41 | Comments: 0
Golf Club: Wasteland Out Now on Xbox, PlaySta
published by: forahobby | Page Views: 46 | Comments: 0

Monday, October 04
"Ravva And The Cyclops Curse" available now o
published by: forahobby | Page Views: 54 | Comments: 0
Cute action-adventure RPG "Kitaria Fables" La
published by: forahobby | Page Views: 35 | Comments: 0

Friday, October 01
LAKE now available for Xbox One, Series X|S &
published by: forahobby | Page Views: 47 | Comments: 0
The Ultimate Horror Bundle Hits Xbox One & Xb
published by: forahobby | Page Views: 38 | Comments: 0

Thursday, September 30
Thunderful Games acquires Spanish game develo
published by: forahobby | Page Views: 39 | Comments: 0
"Weapon Of Choice DX" OUT NOW on Xbox, PlaySt
published by: forahobby | Page Views: 40 | Comments: 0

Wednesday, September 29
Golf Club Wasteland is Out Now on Xbox, PlayS
published by: forahobby | Page Views: 38 | Comments: 0
Yuoni available now for Xbox One, Xbox Series
published by: forahobby | Page Views: 46 | Comments: 0

Tuesday, September 28
KeyWe is available today on PC & console!
published by: forahobby | Page Views: 35 | Comments: 0

Monday, September 27
Truck Driver 'Heading North' DLC and Premium
published by: forahobby | Page Views: 39 | Comments: 0
'Monster Harvest' hits Xbox One/Series X & S
published by: forahobby | Page Views: 35 | Comments: 0

Friday, September 24
"Zelda-like" XEL Announced for PC and Console
published by: forahobby | Page Views: 37 | Comments: 0
The Dark Pictures Anthology 'House Of Ashes'
published by: forahobby | Page Views: 40 | Comments: 0
Farming Simulator 22 YEAR 1 Bundle now availa
published by: forahobby | Page Views: 39 | Comments: 0
Space Station Sprint Infiltrates Xbox One And
published by: forahobby | Page Views: 37 | Comments: 0

Thursday, September 23
The Sequel to Blasphemous is coming to XBOX,
published by: forahobby | Page Views: 33 | Comments: 0
Space Station Sprint Infiltrates XBOX One And
published by: forahobby | Page Views: 38 | Comments: 0

Wednesday, September 22
Saints Row (2022) now available to pre-order
published by: forahobby | Page Views: 47 | Comments: 0
THE KING OF FIGHTERS XV launches Feb. 16, 202
published by: forahobby | Page Views: 45 | Comments: 0

Tuesday, September 21
MYST Out Now On XB1, Series X|S, Windows 10 &
published by: forahobby | Page Views: 52 | Comments: 0
Jurassic World Evolution 2 hits Xbox, PlaySta
published by: forahobby | Page Views: 42 | Comments: 0


News Archive