| | | |
| --- | --- | --- |
| | Xbox Live Games With Gold For September Revealed | |
Xbox Live Games With Gold For September Revealed

Xbox Live Gold members receive four new free Xbox games – two on Xbox One and two on Xbox 360 – as part of the Games with Gold program in September.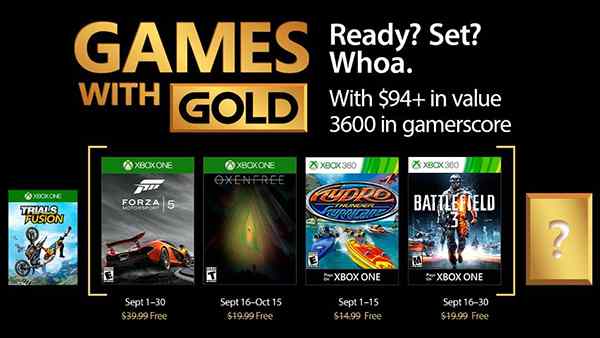 September 2017's Games with Gold lineup for Xbox One includes: Forza MotorSport 5 and Oxenfree. For Xbox 360 owners (and through Xbox One backward compatibility), September kicks off with Hydro Thunder Hurricane, followed by Battlefield 3.
On Xbox One, Xbox Live Gold members can download Forza Motorsport 5: Racing Game of the Year Edition (normally $39.99 ERP) for free during the month of September. Oxenfree ($19.99 ERP) will be available as a free download from September 16th to October 15th.
On Xbox 360, starting September 1st, Hydro Thunder Hurricane (normally $14.99 ERP) will be free for Xbox Live Gold members through September 15th. Then on September 16th, Xbox Live Gold Members can download Battlefield 3 ($19.99 ERP) for free through September 30th.
For more information on all of the games mentioned, please check out all of our Xbox One and Xbox 360 coverage via the Xbox Games database on XONEHQ/360HQ, and don't forget to follow us on Twitter, YouTube, Google+ and Facebook for all of the latest Xbox news, previews, upcoming Xbox One games release dates, Xbox screenshots & wallpapers, Xbox One Video Game Trailers, ID@Xbox games, Xbox Achievements and Games with Gold updates.

Xbox One Games:
Forza MotorSport 5
|
Oxenfree
Xbox 360 Games:
Hydro Thunder Hurricane
|
Battlefield 3
"
| | | |
| --- | --- | --- |
| | Related Stories | |

| | | |
| --- | --- | --- |
| | Most Popular | |

| | | |
| --- | --- | --- |
| | Rate this Article | |
| | | |
| --- | --- | --- |
| | Associated Topics | |


| | | |
| --- | --- | --- |
| | Site Statistics | |

| | | |
| --- | --- | --- |
| | Site Statistics | |

HQ Online Statistics
Members: 8 | Guests: 300 | Xbox Live Tags: 4,385


Forums

Active Users: 64

Your Account

Active Users: 53

Downloads

Active Users: 41

Home

Active Users: 37

Xbox Homebrew

Active Users: 25

Xbox Tutorials

Active Users: 21

News

Active Users: 20

Profile

Active Users: 20

VIP Signup

Active Users: 11

Xbox Games

Active Users: 6

View More Detailed Statistics

| | | |
| --- | --- | --- |
| | Site Statistics | |

| | | |
| --- | --- | --- |
| | Xbox Download Stats | |

| | | |
| --- | --- | --- |
| | HQ Network Affiliates | |

| | | |
| --- | --- | --- |
| | Xbox-Hq.Com - Archived News | |

Tuesday, April 09
Truck Driver goes Free-to-Play with in-game m
published by: forahobby | Page Views: 28 | Comments: 0

Thursday, April 04
Thrustmaster Teams Up with Jean Alesi eSports
published by: forahobby | Page Views: 29 | Comments: 0

Tuesday, March 26
Xbox Games With Gold free games for April 201
published by: forahobby | Page Views: 68 | Comments: 0

Monday, March 25
Xbox Phantom White Special Edition Wireless C
published by: forahobby | Page Views: 50 | Comments: 0

Saturday, March 23
Mortal Kombat 11 (Mk11) closed beta begins Ma
published by: forahobby | Page Views: 75 | Comments: 0

Friday, March 22
PHAR LAP Horse Racing Out Now For Xbox One an
published by: forahobby | Page Views: 41 | Comments: 0

Tuesday, March 19
Minecraft is Coming to Xbox Game Pass in Apri
published by: forahobby | Page Views: 76 | Comments: 0

Monday, March 18
2019's Upcoming Game Releases for Switch, PC,
published by: forahobby | Page Views: 112 | Comments: 0

Thursday, March 14
How to Setup a VPN on Xbox
published by: forahobby | Page Views: 102 | Comments: 0

Wednesday, March 13
FINAL FANTASY VII Remake Xbox Digital Pre-ord
published by: forahobby | Page Views: 55 | Comments: 0
Surprising Gambling Statistics for Women And
published by: forahobby | Page Views: 58 | Comments: 0

Tuesday, March 12
Just Cause 4, Fallout 4 and more announced fo
published by: forahobby | Page Views: 60 | Comments: 0
Xbox's online cheats
published by: forahobby | Page Views: 108 | Comments: 0

Saturday, March 09
Devil May Cry 5 (DMC5) Available Now on Xbox
published by: forahobby | Page Views: 51 | Comments: 0

Friday, March 08
American Ninja Warrior Digital Pre-order Avai
published by: forahobby | Page Views: 44 | Comments: 0

Friday, March 01
Xbox Free Play Days: Play EA Sports UFC 3 for
published by: forahobby | Page Views: 75 | Comments: 0

Thursday, February 28
Xbox Games With Gold Revealed For March 2019
published by: forahobby | Page Views: 69 | Comments: 0

Wednesday, February 27
FINAL FANTASY VII Remake now available for di
published by: forahobby | Page Views: 67 | Comments: 0
Dead or Alive 6 Deluxe Demo, Multiplayer Beta
published by: forahobby | Page Views: 66 | Comments: 0

Tuesday, February 26
Winning in Online Casinos Gaming
published by: forahobby | Page Views: 82 | Comments: 0
Anthem: Available Now on Xbox One, PS4 and PC
published by: forahobby | Page Views: 60 | Comments: 0

Monday, February 25
The Four Kings: Casino & Slots. Briefly about
published by: forahobby | Page Views: 96 | Comments: 0

Tuesday, February 19
Trials Rising Open Beta available for pre-dow
published by: forahobby | Page Views: 90 | Comments: 0

Friday, February 15
World War Z release date announced for Xbox O
published by: forahobby | Page Views: 87 | Comments: 0

Tuesday, February 12
'Apex Legends' is available for free on Xbox
published by: forahobby | Page Views: 98 | Comments: 0

Friday, February 08
Free Play Days Event Includes Sims 4, Fishing
published by: forahobby | Page Views: 134 | Comments: 0

Wednesday, February 06
Crackdown Is Now Available For Free On Xbox
published by: forahobby | Page Views: 126 | Comments: 0

Monday, February 04
WRC 8 announced for Xbox One, PlayStation 4 a
published by: forahobby | Page Views: 163 | Comments: 0

Thursday, January 31
February 2019's Xbox Games with Gold
published by: forahobby | Page Views: 168 | Comments: 0
Bingo games on Xbox?
published by: forahobby | Page Views: 142 | Comments: 0

Tuesday, January 29
RESIDENT EVIL 2 is now available worldwide fo
published by: forahobby | Page Views: 176 | Comments: 0

Wednesday, January 23
'The Grand Tour Game' Now Available For Xbox
published by: forahobby | Page Views: 196 | Comments: 0

Monday, January 21
ACE COMBAT 7 is now available on Xbox One and
published by: forahobby | Page Views: 181 | Comments: 0

Tuesday, January 15
New XBOX-HQ t-shirts, hoodies, mugs and more
published by: forahobby | Page Views: 322 | Comments: 0

Sunday, January 13
Crash Team Racing Nitro-Fueled Pre-order Avai
published by: forahobby | Page Views: 200 | Comments: 0

Wednesday, January 09
Far Cry New Dawn Available For Pre-Order On X
published by: forahobby | Page Views: 479 | Comments: 0

Wednesday, January 02
Razer Introduces The World's First Wireless K
published by: forahobby | Page Views: 442 | Comments: 0

Tuesday, January 01
Mortal Kombat 11 (MK11) Xbox Digital Pre-orde
published by: forahobby | Page Views: 387 | Comments: 0

Saturday, December 22
Xbox Games With Gold For January 2019 Reveale
published by: forahobby | Page Views: 199 | Comments: 0

Friday, December 21
2019 casino games on Xbox
published by: forahobby | Page Views: 530 | Comments: 0


News Archive



| | | |
| --- | --- | --- |
| | Popular Xbox Games | |
Harry Potter: Quidditch World Cup
Page Views: 298958

Take to the air in the first game that allows players to fully experience the magical speed, power, and competition of Quidditch, the favorite sport of witches and wizards, in the Harry Potter: Quiddi..

More Xbox Games