David Edery, worldwide games portfolio planner for Xbox Live Arcade, has been giving out some advice to developers hoping to sell more titles based on their game demos offered over online networks such as Xbox Live and PSN.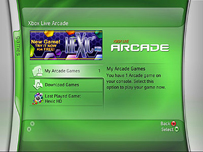 In a recent blog post titled 'How to Increase Trial, Improve Conversion Rate, and Sell More Games', Edery writes, "I believe that many developers and publishers are making mistakes — on many platforms, not just XBLA — which if corrected could improve the sales of their games." While he acknowledges that some of his advice sounds obvious, he notes that "it's surprising how many developers don't think about their game's trial experience until the very last minute of the development process."
Edery begins by stressing the value of PR and building a buzz around a game. "Having a free trial does not exempt a downloadable game from taking advantage of PR; not even in XBLA, where every game gets downloaded by a large number of people." Lots more people could still be persuaded to download demos, he says, and secondly, "conversion rates are influenced by anticipation".
He goes on to say that "a downloadable game's trial is everything! If someone doesn't enjoy your trial, then they probably won't buy your game. It doesn't matter if you licensed the three greatest IP of all time and fused them into the holy trinity of game design itself. If the trial stinks, most people won't bother to lift the curtain on the full experience."
Edery lists a number of what he views as common mistakes made by developers, including frustrating gamers with overly-difficult demos that don't feature tutorials, demos that are too short or too long, and demos that don't grab the attention of gamers within the first three minutes, as well as advice for countering such hiccups.
He concludes, "A downloadable game portal, be it XBLA, PSN Store, or anything else, is not simply an opportunity to sell the same gameplay with reduced scope (or polish) at reduced prices. You need to be offering something different — something that fills a specific need that $60 retail games generally do not. Otherwise, what's the point."
News-Source
:
Next-Gen