| | | |
| --- | --- | --- |
| | Xbox 720 DURANGO DEV Kits Revealed | |
Xbox 720 DURANGO DEV Kits Revealed

New information has come to light this week on the
XBOX 720
developer kits codenamed "
durango
".
The development kit is described as "an anonymous-looking black box" that has many parts in common with standard gaming PCs".
It's placeholder dashboard contains the name Durango, a word that has long been rumored as Microsoft's codename for the next Xbox.
The dashboard's two options are D3D11Game1 and NuiView, described as "a simple tool for rendering camera views and data from an attached kinect peripheral.
Kinect functionality is a logical inclusion for the dev kit, as upgraded kinect features have been heavily rumored.
Recent rumored job listings for the next gen console are as of now:
Halo 5
Skype integration
Deus ex 4
Just Cause 3
Enhanced 3D capabilities
There are Reports that the most recent round of development kits were sent out in February, with Intel CPUs and an NVIDA graphics card. The kits sport 8GB of RAM (though other sources say 12GB) and have a 64-bit operating system."
---
Monday, July 30 @ 14:02:11 UTC (1946 Page Views)
(Read More... | 3134 bytes more | comments? | Score: 0)
published by: khris1972 | Discuss in our Forums: here
| | | |
| --- | --- | --- |
| | Job posting reveals Zune-Xbox integration | |
Job posting reveals Zune-Xbox integration

Zune speculation is an armchair sport here in the tech sector of the Pacific Northwest (especially when we're all housebound because of a few inches of snow), and today Todd Bishop at TechFlash posted some interesting excerpts from the Zune team's job listings. Based on his post, it looks like the Zune Marketplace will begin to use the back-end from Musiwave, the European provider of music for mobile phones that Microsoft acquired a little more than a year ago--and if that doesn't point to a Zune service for mobile phones, nothing does--and will continue to feature DRM (couched in ever-so-reassuring phrases like "to let consumers enjoy music in new and interesting ways").
But here's something else: Zune is coming to Xbox. There's a job listing for a user experience designer to work on the Zune Device UI, Zune PC Client and--hang on a second--Zune Xbox.
Zune Xbox? Of course. Both Xbox Live and the Zune Marketplace use Microsoft's own pseudo-currency, Microsoft Points. Xbox Live already lets you download video content and stream movies-on-demand from Netflix (if you're a subscriber). You can plug any MP3 player into the Xbox 360 and listen to a mix of your music as you play. So why not take all these pieces to their logical conclusion and let you access the Zune Marketplace from Xbox Live.?Integration would be particularly useful for Zune Pass subscribers, giving them another device on which to use their unlimited monthly listens.
News-Source
:
http://www.cnet.com
---
Monday, December 22 @ 05:05:58 UTC (1306 Page Views)
(comments? | Score: 0)
published by: patto | Discuss in our Forums: here
| | | |
| --- | --- | --- |
| | HQ Xbox Live Leaderboard Stats Now Testing! | |
HQ Xbox Live Leaderboard Stats Now Testing!

360-Hq now has it's own unique gamerscore tracking and evaluating tools for all Xbox Live 360 User's to enjoy. All Scripts are written from scratch by me (forahobby) and will hopefully entertain you all while using our resources
.
Please note all area's of the site are constantly being upgraded and coded to bring you all the most customized xbox 360 site you have ever been apart of.
360-HQ Live Leaderboard Stats Include:
Xbox Live Leaderboards (hourly - My Xbox Live)

Most Popular Game on Xbox Live (hourly - Games Area)

Gamerscore Point Tracker (hourly - In Profiles)

Gamerscore Graphs (BETA - Updated Instantly)

Users Last Seen Online Playing (hourly - In Profiles)

Users Last Seen Online Playing (hourly - All Game areas)






View more Live Stats from "forahobby"


It's so much easier to find other HQ guys and girls to play online with.
All you need to do is browse our 360-Hq Games Database to find which other members have recently played online the game you are playing right now.






See who was recently playing or Online Now for "Guitar Hero III"



A Little About 360-Hq.Com:
I'm sure most of you are unaware but this entire network is run by a small group of individuals who sacrifice their own time and money to keep you all informed about everything xbox 360.

I myself have coded the entire network so it stands out from the crowd community wise and with interactivity throughout the site. I have built the site entirely by myself over a 2 year period starting with our original sister site "xbox-hq.com" and continued with the rest of the network until help was available from new admins/mods.

I hope you appreciate all the sleepless nights and money I have put in to bring the HQ network up to what it is today and continue to support us by signing up for you free account and adding our url to your bio or motto.

Thankyou's must go to all the admins who help me around the sites with our news, forums, achievements and all aspects of the sites..

You know who you are.

We hope you all enjoy the new features as we come up with them.. If you have any suggestions please feel free to contact us via our feedback page our directly by using our forums.

Enjoy 360-Hq and game on.

cheers,

hobbs
http://www.360-hq.com"
---
Saturday, February 02 @ 22:05:33 UTC (1254 Page Views)
(comments? | Score: 0)
published by: forahobby | Discuss in our Forums: here
| | | |
| --- | --- | --- |
| | Microsoft: How Demos Can Sell Your Games | |
Microsoft: How Demos Can Sell Your Games

David Edery, worldwide games portfolio planner for Xbox Live Arcade, has been giving out some advice to developers hoping to sell more titles based on their game demos offered over online networks such as Xbox Live and PSN.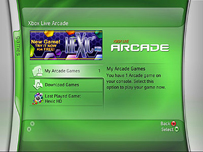 In a recent blog post titled 'How to Increase Trial, Improve Conversion Rate, and Sell More Games', Edery writes, "I believe that many developers and publishers are making mistakes — on many platforms, not just XBLA — which if corrected could improve the sales of their games." While he acknowledges that some of his advice sounds obvious, he notes that "it's surprising how many developers don't think about their game's trial experience until the very last minute of the development process."
Edery begins by stressing the value of PR and building a buzz around a game. "Having a free trial does not exempt a downloadable game from taking advantage of PR; not even in XBLA, where every game gets downloaded by a large number of people." Lots more people could still be persuaded to download demos, he says, and secondly, "conversion rates are influenced by anticipation".
He goes on to say that "a downloadable game's trial is everything! If someone doesn't enjoy your trial, then they probably won't buy your game. It doesn't matter if you licensed the three greatest IP of all time and fused them into the holy trinity of game design itself. If the trial stinks, most people won't bother to lift the curtain on the full experience."
Edery lists a number of what he views as common mistakes made by developers, including frustrating gamers with overly-difficult demos that don't feature tutorials, demos that are too short or too long, and demos that don't grab the attention of gamers within the first three minutes, as well as advice for countering such hiccups.
He concludes, "A downloadable game portal, be it XBLA, PSN Store, or anything else, is not simply an opportunity to sell the same gameplay with reduced scope (or polish) at reduced prices. You need to be offering something different — something that fills a specific need that $60 retail games generally do not. Otherwise, what's the point."
News-Source
:
Next-Gen
---
Thursday, January 17 @ 10:49:21 UTC (1660 Page Views)
(comments? | Score: 0)
published by: wes213 | Discuss in our Forums: here
| | | |
| --- | --- | --- |
| | New HD DVD Xbox 360? | |
New HD DVD Xbox 360?

Toshiba working with Microsoft on multi-media hub Smarthouse, an Austrailian technology site, has reported that Microsoft is working on a new Xbox 360 console that will include a built-in HD DVD drive.

Microsoft currently sells an HD DVD player as an attachment for the Xbox 360, but it has not revealed sales figures for the peripheral. According to the article the new Xbox console will be positioned as an entertainment hub that includes gaming and extensive wireless networking capability as well as 1080p playback. There is also talk of including a dual HD TV tuner and EPG capability and a docking port for an MP3 player.
Toshiba owns the HD DVD patents, and recently entered into an agreement with Sony to jointly manufacture cell processing chips, despite the fact that Sony is the lead backer of the Blu-ray Disc format competing with HD DVD.
A senior Toshiba executive in Singapore told SmartHouse "An Xbox with a built in HD DVD drive is critical. They and we are working on it. It also has to be more than a gaming machine. Microsoft recognise [sic] this. A version of the device may also be sold under the Toshiba brand name."
"The PS3 has been extremely successful for Sony in getting Blu-ray off the ground and for Microsoft, the omission of a built in HD DVD player is set to hurt sales going forward as consumers are aware that the PS3 comes with a Blu-ray player," said Scott Browning, the marketing director of Australian electronics retailer JB HiFi.
According to the article, the new console will be released late in 2008 or at the January 2009 CES show in Las Vegas.
News-Source
:
GamesIndustry
---
Saturday, October 20 @ 09:20:22 UTC (1166 Page Views)
(comments? | Score: 0)
published by: wes213 | Discuss in our Forums: here



| | | |
| --- | --- | --- |
| | Xbox Tutorials Database | |

| | | |
| --- | --- | --- |
| | Xbox Tutorials Database | |

| | | |
| --- | --- | --- |
| | Xbox Download Stats | |

| | | |
| --- | --- | --- |
| | Site Statistics | |

| | | |
| --- | --- | --- |
| | Site Statistics | |

HQ Online Statistics
Members: 5 | Guests: 616 | Xbox Live Tags: 4,385


Forums

Active Users: 233

Your Account

Active Users: 109

Xbox Games

Active Users: 71

Downloads

Active Users: 32

Home

Active Users: 31

Xbox Homebrew

Active Users: 29

News

Active Users: 29

Profile

Active Users: 21

Xbox Compatibility

Active Users: 19

Xbox Tutorials

Active Users: 16

View More Detailed Statistics

| | | |
| --- | --- | --- |
| | Site Statistics | |

| | | |
| --- | --- | --- |
| | Popular Xbox Games | |

| | | |
| --- | --- | --- |
| | HQ Network Affiliates | |

| | | |
| --- | --- | --- |
| | Xbox-Hq.Com - Archived News | |

Saturday, October 13
Assassin's Creed Struggling to Fit on an Xbox
published by: wes213 | Page Views: 1209 | Comments: 0

Friday, October 12
Microsoft Working on a PlayStation Home-Like
published by: wes213 | Page Views: 1027 | Comments: 0

Wednesday, October 10
Jasper Xbox 360 to Follow Falcon
published by: wes213 | Page Views: 1354 | Comments: 0

Saturday, December 09
Xbox becomes ex-console
published by: DJB | Page Views: 1852 | Comments: 1

Saturday, September 09
Create your own 360 games
published by: patto | Page Views: 1179 | Comments: 0

Tuesday, July 25
THQ Closes Acquisition Of Paradigm Entertainm
published by: sjohn | Page Views: 4247 | Comments: 0

Tuesday, March 21
Microsoft Working On Xbox Handheld?
published by: g00ns | Page Views: 1810 | Comments: 0

Tuesday, January 03
Midway shafts Aussie developer, Ratbag Studi
published by: patto | Page Views: 1719 | Comments: 0

Thursday, October 20
Auto-Installer Deluxe v3.0 Sneak Peak
published by: DJB | Page Views: 2870 | Comments: 2

Saturday, September 17
Auto-Installer Deluxe v3.0 Final in developme
published by: DJB | Page Views: 2404 | Comments: 0

Monday, August 22
Xbox 360 Dev Kit Photo
published by: g00ns | Page Views: 1714 | Comments: 0

Sunday, July 17
Gamespot Rumor Control: Xbox 360 launching No
published by: patto | Page Views: 2099 | Comments: 0

Wednesday, July 13
Havok Announces HydraCore Technology
published by: g00ns | Page Views: 1938 | Comments: 0

Saturday, June 04
RemoteFlasher V4 Released + v1.7 Xbox Picture
published by: patto | Page Views: 2981 | Comments: 0

Thursday, May 19
Eidos in Turmoil - Entire Board Quits
published by: patto | Page Views: 1603 | Comments: 0

Wednesday, May 18
Xbox 360: More Power?
published by: patto | Page Views: 1731 | Comments: 0

Tuesday, May 17
Xbox 360 Title Pricing Revealed?
published by: patto | Page Views: 1534 | Comments: 0
Free Windows software update will make digita
published by: patto | Page Views: 1340 | Comments: 0

Monday, May 16
Blizzard Entertainment Aquires Swingin' Ape S
published by: patto | Page Views: 2543 | Comments: 0
THQ Announces The Outfit for Xbox 360
published by: patto | Page Views: 1413 | Comments: 0

Friday, May 13
Xbox360 video - First official Info - Xbox 36
published by: patto | Page Views: 1588 | Comments: 0
Nvidia ends shipments of chips for Xbox
published by: patto | Page Views: 1529 | Comments: 0

Wednesday, May 11
Microsoft Xbox 360 Specifications Leak
published by: patto | Page Views: 1570 | Comments: 1

Tuesday, May 10
HQ Intro/Demo for Download & Review
published by: patto | Page Views: 1538 | Comments: 1

Monday, May 09
Xbox 360 Customizeable "Power Button Skins"
published by: patto | Page Views: 1325 | Comments: 0
Xbox 360 Rumored Hardware Specs
published by: patto | Page Views: 1344 | Comments: 0

Sunday, May 08
MTV schedule dates Xbox360: November 2005
published by: patto | Page Views: 1550 | Comments: 0
Xbox 360 Logo Revealed at MTV Show Taping and
published by: patto | Page Views: 1708 | Comments: 0

Saturday, May 07
3 MTV Xbox 360 pics!
published by: patto | Page Views: 1733 | Comments: 5
Edge Uncovers the New Xbox
published by: patto | Page Views: 3171 | Comments: 0

Thursday, May 05
Gamem8ker Releases New Images
published by: patto | Page Views: 1660 | Comments: 0

Wednesday, May 04
Next Xbox a contender, says Gates *updated*
published by: patto | Page Views: 1569 | Comments: 0

Tuesday, May 03
Next-Generation Xbox to Be Media Hub
published by: g00ns | Page Views: 1757 | Comments: 0

Monday, May 02
Xbox 360: New Image at OurColony.Net Has an X
published by: patto | Page Views: 1383 | Comments: 0
Bandai to Take Over Namco
published by: patto | Page Views: 1202 | Comments: 0

Saturday, April 30
GameSpot's Rumor Control: Backward-compatibil
published by: patto | Page Views: 1609 | Comments: 0

Friday, April 29
Samsung and Microsoft announce HDTV Alliance
published by: patto | Page Views: 1768 | Comments: 0
Valve Jettisons Vivendi
published by: patto | Page Views: 2619 | Comments: 0

Wednesday, April 27
TheInquirer.net: Xbox 360 to be backwards com
published by: patto | Page Views: 1656 | Comments: 0

Tuesday, April 26
Xbox360 Logo? (Another Fake)
published by: patto | Page Views: 2009 | Comments: 0


News Archive