| | | |
| --- | --- | --- |
| | The Surge 2 Is Available Now On XBOX ONE, PS4 and PC | |
The Surge 2 Is Available Now On XBOX ONE, PS4 and PC

Hardcore action RPG The Surge 2 (@TheSurgeGame) from Deck 13 and Focus Home Interative is now available on Xbox One, PlayStation 4 and PC.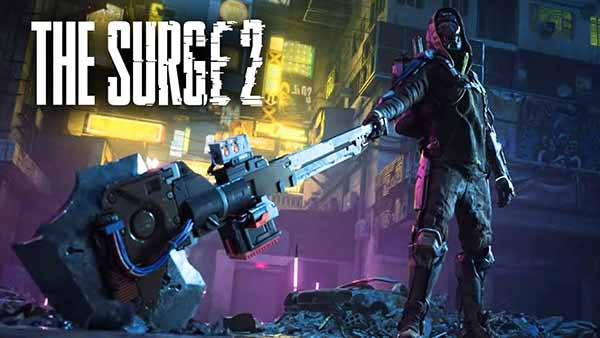 The Surge 2 brings the nanomachine nightmare of Jericho City to players everywhere on September 24 on PlayStation 4, Xbox One and PC. To survive this brutal world you will need new equipment - and The Surge franchise's iconic limb-cutting mechanics provide just such an opportunity. In this new video see how every weapon, every piece of enemy armor and equipment can be targeted, torn off, and equipped to your exo-rig. This produces new builds, letting you destroy your enemies in ever-more-satisfying ways.
Combat in The Surge 2 is quick, brutal, and packed with decision making. With new and deadly techniques like directional parries, drones, and brand new weapon types, The Surge 2 upgrades everything. Your style is your own, from picking implants and armor set bonuses to how you use energy, stamina, health or ammunition. Combined with an intricate world to explore and incredible, unique bosses, The Surge 2 is an action-RPG experience like no-other.
The Surge 2 is available now on Xbox One, PS4 and PC for $59.99.
For further news, updates and information for The Surge 2, follow @XONEHQ on Twitter and YouTube, browse through our existing coverage, download the free XBOX app for Android and until next time, game on!
Xbox Store:
here
File Size: 7.66 GB
Price: $59.99 USD
Official Site:
http://thesurge-game.com/en
News Source:
https://www.xboxone-hq.com/news.html
"
| | | |
| --- | --- | --- |
| | Related Stories | |

| | | |
| --- | --- | --- |
| | Most Popular | |

| | | |
| --- | --- | --- |
| | Rate this Article | |
| | | |
| --- | --- | --- |
| | Associated Topics | |
Associated Topics





| | | |
| --- | --- | --- |
| | Xbox Tutorials Database | |

| | | |
| --- | --- | --- |
| | Xbox Tutorials Database | |

| | | |
| --- | --- | --- |
| | Xbox Download Stats | |

| | | |
| --- | --- | --- |
| | Site Statistics | |

| | | |
| --- | --- | --- |
| | Site Statistics | |

HQ Online Statistics
Members: 6 | Guests: 900 | Xbox Live Tags: 4,385


Forums

Active Users: 388

Your Account

Active Users: 162

Profile

Active Users: 146

Home

Active Users: 49

Downloads

Active Users: 45

News

Active Users: 29

Xbox Games

Active Users: 22

Xbox Homebrew

Active Users: 18

Xbox Tutorials

Active Users: 8

XBOXLive Tags

Active Users: 6

View More Detailed Statistics

| | | |
| --- | --- | --- |
| | Site Statistics | |

| | | |
| --- | --- | --- |
| | Popular Xbox Games | |
Soccer Slam
Page Views: 238845

SEGA Soccer Slam takes the world's most popular sport to hilarious new heights, with its zany cast of characters, each with their own skills and irreverent personalities. In this 3-on-3 kickfest, play..

More Xbox Games

| | | |
| --- | --- | --- |
| | HQ Network Affiliates | |

| | | |
| --- | --- | --- |
| | Xbox-Hq.Com - Archived News | |

Wednesday, November 06
XBOX Black Friday Deals: Discounts On Sea Of
published by: forahobby | Page Views: 13 | Comments: 0

Tuesday, November 05
Sniper Ghost Warrior Contracts Digital Pre-or
published by: forahobby | Page Views: 21 | Comments: 0

Monday, November 04
JUMANJI: The Video Game XBOX Digital Pre-orde
published by: forahobby | Page Views: 19 | Comments: 0

Thursday, October 31
Secret Neighbor is Out Now and Included with
published by: forahobby | Page Views: 26 | Comments: 0
PUBG Corporation Announces The PUBG Global Ch
published by: forahobby | Page Views: 33 | Comments: 0

Wednesday, October 30
Plants vs. Zombies: Battle Is Available Now
published by: forahobby | Page Views: 37 | Comments: 0

Tuesday, October 29
Sea of Thieves October Update Adds Fort of th
published by: forahobby | Page Views: 43 | Comments: 0

Friday, October 25
Children Of Morta Is Available Now on XBOX ON
published by: forahobby | Page Views: 24 | Comments: 0
The Outer Worlds: Out Now on Xbox Game Pass!
published by: forahobby | Page Views: 55 | Comments: 0

Thursday, October 24
Free Play Days: NBA 2K20 is free-to-play on X
published by: forahobby | Page Views: 34 | Comments: 0
Warborn Announced for Xbox One, PlayStation 4
published by: forahobby | Page Views: 35 | Comments: 0

Friday, October 18
Zombie Army 4: Dead War Release Date & Pre-Or
published by: forahobby | Page Views: 51 | Comments: 0
Train Sim World: Rhein-Ruhr Osten: Wuppertal
published by: forahobby | Page Views: 38 | Comments: 0
Baldur's Gate, Planescape: Torment & Icewind
published by: forahobby | Page Views: 37 | Comments: 0

Thursday, October 17
Wargroove 'Double Trouble' DLC Info for Xbox
published by: forahobby | Page Views: 30 | Comments: 0
Monster Hunter World 'Iceborne' Update Adds R
published by: forahobby | Page Views: 41 | Comments: 0

Wednesday, October 16
'Frostpunk: Console Edition' Is Out Now!
published by: forahobby | Page Views: 47 | Comments: 0
Handheld Boredom Busters
published by: forahobby | Page Views: 41 | Comments: 0
Battlefield 5: Operation Underground Is Out N
published by: forahobby | Page Views: 71 | Comments: 0

Tuesday, October 15
Blowfish Studios Announces 'Element Space' fo
published by: forahobby | Page Views: 36 | Comments: 0

Monday, October 14
Kickstarter Campaign For EVERSPACE 2 Is Now L
published by: forahobby | Page Views: 34 | Comments: 0

Friday, October 11
STAR WARS Jedi: Fallen Order XBOX CONSOLE Bun
published by: forahobby | Page Views: 43 | Comments: 0

Thursday, October 10
Spacelords 'Heavy Metal' Update Is Available
published by: forahobby | Page Views: 42 | Comments: 0

Wednesday, October 09
RAZER Nari Ultimate Wireless Headset Out Now
published by: forahobby | Page Views: 51 | Comments: 0
CIVILIZATION VI Digital Pre-order And Pre-loa
published by: forahobby | Page Views: 42 | Comments: 0
Xbox One and Amazon Alexa: How to Control the
published by: forahobby | Page Views: 73 | Comments: 0

Tuesday, October 08
Destiny 2 'Shadowkeep' Is Now Available On Xb
published by: forahobby | Page Views: 40 | Comments: 0
CONTRA: ROGUE CORPS Available Now For Xbox On
published by: forahobby | Page Views: 42 | Comments: 0

Monday, October 07
Tom Clancy's Ghost Recon Breakpoint: Out Now
published by: forahobby | Page Views: 40 | Comments: 0
The Surge 2 Is Available Now On XBOX ONE, PS4
published by: forahobby | Page Views: 40 | Comments: 0

Thursday, October 03
DRAGON BALL Z: KAKAROT now available for digi
published by: forahobby | Page Views: 53 | Comments: 0

Wednesday, October 02
One Piece: World Seeker DLC Episode 2 'Where
published by: forahobby | Page Views: 56 | Comments: 0

Tuesday, October 01
'Minecraft Dungeons' Announced for Xbox One,
published by: forahobby | Page Views: 63 | Comments: 0
Bus Simulator Is Out Now On Xbox One
published by: forahobby | Page Views: 45 | Comments: 0

Monday, September 30
Super Dodgeball Beats is out now on Xbox One
published by: forahobby | Page Views: 47 | Comments: 0

Thursday, September 26
Wreckfest Retro Rammers Pack Is Out Now; Incl
published by: forahobby | Page Views: 62 | Comments: 0

Wednesday, September 25
Ghost Recon Breakpoint Beta Now Available For
published by: forahobby | Page Views: 78 | Comments: 0

Tuesday, September 24
HyperX XBOX ONE Controller charging stations,
published by: forahobby | Page Views: 65 | Comments: 0

Monday, September 23
TEKKEN 7's third season kicks off with Zafina
published by: | Page Views: 69 | Comments: 0

Thursday, September 19
KINGDOM HEARTS 3 DLC Is Coming This Winter; W
published by: forahobby | Page Views: 66 | Comments: 0


News Archive