He shoots, he scores! Sports fans glide into the hockey season with the thundering roar of hard rock as Electronic Arts today revealed the unforgettable songs that comprise the NHL 07 in-game soundtrack. Boasting the largest song list ever incorporated into an EA hockey game, the bands featured in NHL 07 hail from serious hockey towns such as Montreal, Quebec (Priestess, Mobile), Toronto, Ontario (Pilate), Minneapolis, Minnesota (Quiet Drive), Buffalo, New York (Cute is What We Aim For), and Stockholm, Sweden (The Hellacopters).
"Hockey is an amazingly visceral sport and we wanted the soundtrack to be every bit as powerful. We are really proud that the line-up of artists in the game are all true hockey fans from major hockey towns," said Steve Schnur, Worldwide Executive of Music and Music Marketing at EA.
"Coming from Montreal and being die-hard hockey fans all our lives, we're really glad to be a part of NHL 07," said Mikey Heppner, lead vocals/guitar with Priestess. "Last season while watching the Montreal Canadiens on TV, we heard Talk To Her playing at the Bell Center before a face-off and we were amazed. Needless to say, we're thrilled to have our music in this game!"
Chris #2, Bass player and Singer with ANTI-FLAG commented on being featured in NHL 07, "Being a product of Pittsburgh, Pennsylvania, and Mario Lemieux's Pittsburgh Penguins, hockey is not only the most important sport to me, it's the most punk rock sport in general. The Penguins' reign in the 90's and EA SPORTS NHL 94 were bad news for any type of 'life' that I had a chance of having ... Being on the street or ice during all daylight hours and playing the games almost until dawn ... This isn't just an amazing opportunity to have other hockey/gaming fans hear our music and messages of equality; this is the biggest pay off 10+ years of vested interest in the EA SPORTS NHL franchise that a fan could imagine."
The complete in-game soundtrack for NHL 07 includes: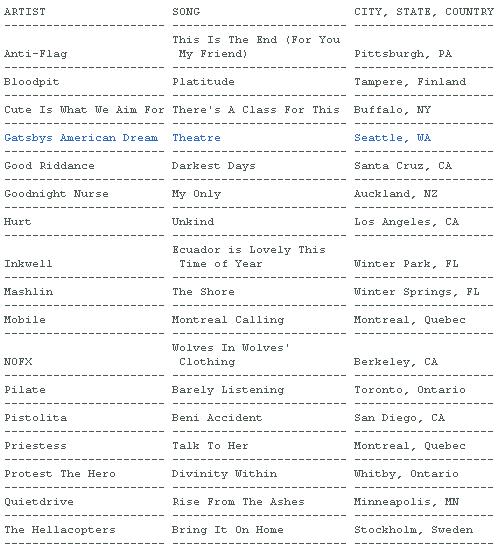 EA SPORTS originally pioneered the Golden Age of hockey videogames in the 1990s, and this year heralds in the next generation with the most intuitive and authentic hockey experience to date. Powered by advanced gameplay, NHL 07 features new responsive controls and photo-realistic graphics. Players take complete command over every movement on the ice without ever taking their hands off the analog sticks. A revolutionary new EA SPORTS(TM) Skill Stick system is an intuitive gameplay scheme that delivers an unparalleled sense of on-ice speed and control. Using the left stick to direct the lower body, and the right to control the upper, gamers will reach a level of fluidity only experienced on the ice. Skate into the zone and glide around your defenders while bringing your stick across your body and drawing it back to fire a slapshot -- all without touching a button.
NHL 07 is being developed at EA Canada for the Xbox 360 and at EA Montreal for the PlayStation 2 computer entertainment system, Xbox video game system from Microsoft, PC-DVD and PSP (PlayStation Portable) system. The game will ship in September 2006.
News-Source:
http://news.teamxbox.com