Unreal Tournament III and The Orange Box finally make their way to PlayStation 3 this week.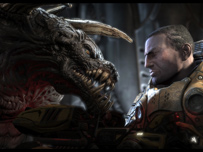 It's a good week for PS3 owners as they'll finally be able to get their hands on one of this year's best (and best value) packages in the form of The Orange Box, as well as Epic's 2007 PS console exclusive shooter Unreal Tournament III.
There's also a host of Wii titles making their way to stores this week, thanks largely to publisher Destineer, while it's pretty quiet on the Xbox 360, PSP and DS front.
Releasing this week:
BlackSite: Area 51 – PS3
Midway
Daisenryaku Exceed – PS2
Valcon
Golden Compass – PC
Sega
Half Life 2 Orange Box – PS3
EA
Indy 500 Legends – Wii
Destineer
Kawasaki Quad Bikes – Wii
Destineer
Kidz Sports: Basketball – Wii
Destineer
Luxor 2 – DS
MacPlay
Madden NFL 08 Espanol – Xbox 360, PS2
EA
Mythmakers: Orbs of Doom – Wii
Destineer
NCAA March Madness 2008 – Xbox 360, PS3, PS2
EA
NeoGeo Battle Coliseum – PS2
SNK Playmore USA
Showtime Boxing – Wii
Jack of all Games
Super Swing Golf Season 2 – Wii
Tecmo
The Lost Crown – PC
Got Game Entertainment
Universe at War: Earth Assault – PC
Sega
Unreal Tournament III – PS3
Midway
Warriors of the Lost Empire – PSP
Tommo
News-Source
:
Next-Gen