Carranzafp released a tool that will patch any Hitachi-LG Xtreme firmware to make it 100% 'Firmware Stealth' (dump of FW and checksum appear asif it was original FW). It's not the same yet as C4E's Xtreme v3.0 FW for Toshiba-Samsung drives, that next to 'FW stealth' also includes 'Media Stealth'. (Gary)O.P.A. is working on adding 'Media Stealth' to the Xtreme FW for Hitachi-LG in one of his future releases:
Maximus 1.1 Hitachi Firmware Stealth-Maker - ALL VERSIONS (32/36/40/46/47/58/59)
WHAT IS IT ?
It is a tool to take any hacked xtreme version for the hitachi and patch it to make 100% firmware stealth (appears like 100% original when you dump it) including the CHECKSUM!!!
The only way to know if it has the hack is de-soldering the flash chip and read with external programmer, so the console will dont know !!! (I hope)
It is NOT MEDIA-STEALTH yet, garyopa is already working on that side but when he finish that part he can implement this hack on his version.
I first do the stealth hack mannually, but then I realized that it is a pain in the ass to calculate the differences by hand, and when a new xtreme release appears it will need to be calculated again so instead of that I have done a tool that do the necessary calculations and patches to make it stealth.
I have done the tests only on 46 and 47 drives but is the same principle for every others.
!Update! v1.2 released. What's new/fixed:
* The bug it only affects drives different from the 46 and 47 versions, it was a problem about the address checking for detecting MODEB. Don't worry nothing that could brick your drive, only affected the detection on MODEB to determine stealth or original
Now will work fine for all versions. (I already do the test on the 59 without problem)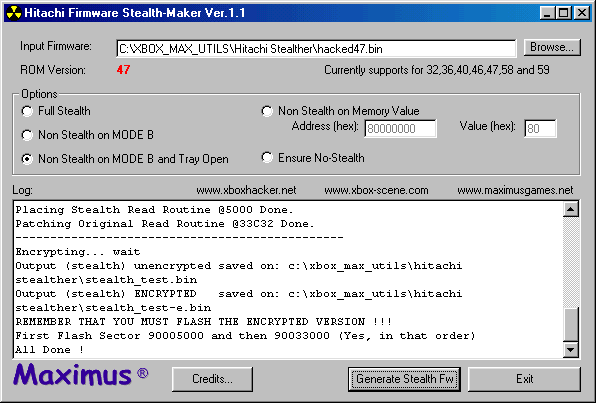 FEATURES:
* Take an input hacked firmware and patch it to make firmware stealth
* Incorporates firmcrypt routines into the code (a little slower but I hope with that somebody will not kill his drive because a forgotten crypt)
* You will have the following options:
FULL STEALTH:
-All the reads (memdump) will read as 100% original.
NON STEALTH ON MODEB:
-It will read the real hacked firmware when you are on MODEB (Not very useful for testing LOL)
NON STEALTH ON MODEB AND TRAY OPEN:
-When attached to windows if the tray is closed will read as original, when you open it will read as real non-stealth
NON STEALTH ON MEMORY VALUE:
-It will lookup an Internal memory value to determine if should be read as real or as original. You will need to POKE that memory value before do the dump
ENSURE NO STEALTH:
-This option causes ALWAYS read as real hacked, not very useful but here is it.
News-Source:
www.xboxhacker.net
"