Drive Tools 1.00 Build 0001
Some Tools for working with Xbox Drives
- Full VB6 Source Included
- Full SPTI and ASPI Support
Supports: TS-H943A [Xbox 360 Toshiba-Samsung], GDR-3120L [Xbox 360 Hitachi-LG] and SH-D162C [PC Samsung drive]
(Drives may not support each feature)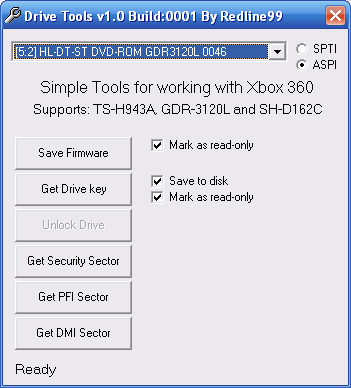 Current Features:
* Save Firmware
* Get Drive Key
* Unlock Drive
* Get Security Sector
* Get PFI Sector
* Get DMI Sector
It is mostly designed for the current versions of the firmwares available.
GDR-3120L: garyopa's 2.0+
TS-H943A: c4e all versions designed for ss extraction
SH-D162C: kreon .51+
[/QUOTE]
!UPDATE! Redline99 released Drive Tools 1.00 Build 0003.
What's new/fixed:
* Removed CommonDialog control dependency (build 0002)
* Hopefully make it easier for people to install. (build 0002)
* Fixed SS validation check for Xbox 1 (build 0003)
* Also added option to Abort, Retry, Ignore for Above Validation (build 0003)
* Note: the validation check is just a simple guard against trying to get a ss off of non xbox dvd. It isn't to say that the ss is truely a working ss.
News-Source:
www.xboxhacker.net
"