| | | |
| --- | --- | --- |
| | Doom - The Movie Opens Today | |
Doom - The Movie Opens Today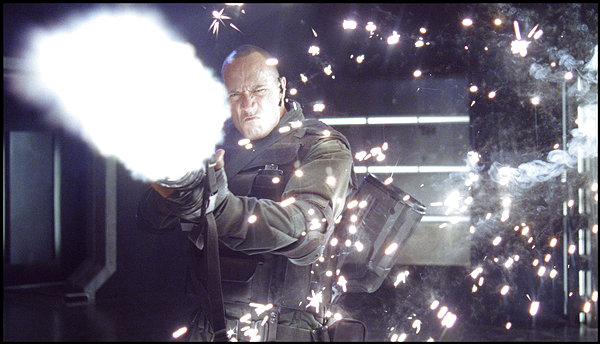 LOS ANGELES (Reuters) - Hollywood is breaking ground on the silver screen by putting movie fans in the seat of trigger-happy game players as it tries to cash in on gaming's popularity this Friday with a film adaptation of the classic title "Doom."

In a novel sequence lasting several minutes, the movie offers a taste of the first-person-shooter gaming style introduced in the original "Doom" title, but whether the gimmick will lure fans awaits weekend box office results.

"Doom," based on the blockbuster video game series considered to be the granddaddy of this generation, pits an elite team of Marines against chromosomally mutated monsters on Mars. When the film's action peaks, the camera's perspective changes to that of Karl Urban's "Reaper," the movie's hero, as he blasts a series of gruesome aliens to bits.

An unapologetically violent film, "Doom" joins a long list of video game-inspired movies such as 1995's "Mortal Kombat. Such efforts have had mixed results in theaters. A film based on "Halo," Microsoft Corp.'s hit futuristic action game, is scheduled for a 2007 release.

But the first-person shooter scene in "Doom" marks a departure from the straightforward action in films like "Kombat," and while it has met cheers from some game enthusiasts at screenings, others don't intend to give it the time of day.

Jeff Gerstmann, a GameSpot senior editor and long-time "Doom" fan, cited the sequence as his key reason for refusing to see the film.

"It sounds so hokey. It's just a horrible cliche," he said, noting if he wanted to see a video game, he would play one.

But the scene's originality appealed to nongamer Julia Webb, an executive vice president at biometrics firm Bioscrypt, who attended a recent Los Angeles screening.

"It worked for me. It made you actually feel what the character was going through," said Webb.

DOOMED "DOOM?"

"Doom" co-producer John Wells said a lot of time was devoted to making certain the film would appeal to people who aren't fans of the game."

Wells said film makers worried about the length of the sequence because when the "Doom" game came out in December 1993, its first-person-shooter perspective sickened some gamers, including Dwayne "The Rock" Johnson, who started playing in college and stars as "Sarge" in the film.

"There is always a risk that it becomes physically disorienting ... It's not a visual experience we are used to having" in a film, Wells said.

Webb said the film makers struck the right balance.

Breaking new ground is important for the film's distributor, Universal Pictures, which will be challenged to win over the hard-core fans who are the backbone of the $25 billion annual global video game industry.

Video gamers are notoriously fickle when it comes to supporting movies based on their favorite titles. Back in 1993, "Super Mario Bros" flopped at box offices with $21 million at U.S. and Canadian theaters, but two years later "Mortal Kombat" scored a modest hit at $70 million.

"Lara Croft: Tomb Raider," starring Angelina Jolie as the big-busted super heroine proved a blockbuster hit in 2001 with $131 at domestic box offices, but two years later "Lara Croft Tomb Raider: The Cradle of Life" made half that.

"Doom" has had a long road to the movie theater. Universal was the first to option "Doom" in the mid-1990s, but let those rights expire. Two more studios optioned it, but never made a film. And news that the two young men responsible for the Columbine High School massacre in Colorado played the game also put a chill on the project.

Interest was rekindled with Universal in 2002 when game developer id Software showed off "Doom 3" -- a visually rich game that took a technological leap forward.

Now Universal and the "Doom" filmmakers are hoping their novel first-person-shooter sequence will spark the same sort of interest at box offices.

News-Source
:
http://news.yahoo.com
| | | |
| --- | --- | --- |
| | Related Stories | |

| | | |
| --- | --- | --- |
| | Most Popular | |

| | | |
| --- | --- | --- |
| | Rate this Article | |



| | | |
| --- | --- | --- |
| | Xbox Tutorials Database | |

| | | |
| --- | --- | --- |
| | Xbox Tutorials Database | |

| | | |
| --- | --- | --- |
| | Xbox Download Stats | |

| | | |
| --- | --- | --- |
| | Site Statistics | |

| | | |
| --- | --- | --- |
| | Site Statistics | |

HQ Online Statistics
Members: 4 | Guests: 1,299 | Xbox Live Tags: 4,385


Forums

Active Users: 758

Your Account

Active Users: 228

Profile

Active Users: 136

Home

Active Users: 40

Private Messages

Active Users: 26

Downloads

Active Users: 25

News

Active Users: 21

Xbox Homebrew

Active Users: 16

Xbox Games

Active Users: 16

Xbox Tutorials

Active Users: 9

View More Detailed Statistics

| | | |
| --- | --- | --- |
| | Site Statistics | |

| | | |
| --- | --- | --- |
| | Popular Xbox Games | |
Kabuki Warriors
Page Views: 251017

In Kabuki, fighting warriors battle in winner-take-all competitions on stages across Japan. There will be 24 characters with different weapons and unique attacks...

More Xbox Games

| | | |
| --- | --- | --- |
| | HQ Network Affiliates | |

| | | |
| --- | --- | --- |
| | Xbox-Hq.Com - Archived News | |

Monday, December 02
Pathologic 2 Digital Pre-order And Pre-downlo
published by: forahobby | Page Views: 13 | Comments: 0

Friday, November 29
Wreckfest's Steel & Wheels DLC Pack Is Out No
published by: forahobby | Page Views: 20 | Comments: 0

Thursday, November 28
Games With Gold for December 2019
published by: forahobby | Page Views: 30 | Comments: 0

Wednesday, November 27
Woven The Game Is Available Now On Xbox One
published by: forahobby | Page Views: 20 | Comments: 0

Tuesday, November 26
American Fugitive 'State of Emergency' DLC is
published by: forahobby | Page Views: 24 | Comments: 0

Monday, November 25
The Ultimate Sonic Bundle Is Out Now On Xbox
published by: forahobby | Page Views: 35 | Comments: 0

Friday, November 22
Sniper Ghost Warrior Contracts takes aim on X
published by: forahobby | Page Views: 22 | Comments: 0
Disney+ app is now available to download on X
published by: forahobby | Page Views: 38 | Comments: 0

Thursday, November 21
Xbox One X enhanced 'Tokyo Warfare Turbo' is
published by: forahobby | Page Views: 39 | Comments: 0

Wednesday, November 20
West Of Dead Xbox One OPEN BETA is available
published by: forahobby | Page Views: 37 | Comments: 0

Tuesday, November 19
Romancing SaGa 3 Is Out Now On Xbox One
published by: forahobby | Page Views: 35 | Comments: 0

Monday, November 18
Xbox Elite Wireless Controller Series 2 Is Av
published by: forahobby | Page Views: 50 | Comments: 0
Terminator: Resistance XBOX Digital Pre-order
published by: forahobby | Page Views: 50 | Comments: 0

Friday, November 15
Mad Games Tycoon Now Available For Xbox One
published by: forahobby | Page Views: 30 | Comments: 0

Tuesday, November 12
Shadow Of The Tomb Raider Definitive Edition
published by: forahobby | Page Views: 29 | Comments: 0
Need For Speed Heat Races Onto Xbox, PS4, and
published by: forahobby | Page Views: 51 | Comments: 0

Friday, November 08
Ancestors: The Humankind Odyssey XBOX Digital
published by: forahobby | Page Views: 31 | Comments: 0

Thursday, November 07
Xbox And DPM Studio Team Up On Exclusive X019
published by: forahobby | Page Views: 40 | Comments: 0

Wednesday, November 06
Xbox All Access Includes upgrade option for
published by: forahobby | Page Views: 34 | Comments: 0
XBOX Black Friday Deals: Discounts On Sea Of
published by: forahobby | Page Views: 36 | Comments: 0

Tuesday, November 05
Sniper Ghost Warrior Contracts Digital Pre-or
published by: forahobby | Page Views: 40 | Comments: 0

Monday, November 04
JUMANJI: The Video Game XBOX Digital Pre-orde
published by: forahobby | Page Views: 44 | Comments: 0

Thursday, October 31
Secret Neighbor is Out Now and Included with
published by: forahobby | Page Views: 45 | Comments: 0
PUBG Corporation Announces The PUBG Global Ch
published by: forahobby | Page Views: 57 | Comments: 0

Wednesday, October 30
Plants vs. Zombies: Battle Is Available Now
published by: forahobby | Page Views: 53 | Comments: 0

Tuesday, October 29
Sea of Thieves October Update Adds Fort of th
published by: forahobby | Page Views: 66 | Comments: 0

Friday, October 25
Children Of Morta Is Available Now on XBOX ON
published by: forahobby | Page Views: 48 | Comments: 0
The Outer Worlds: Out Now on Xbox Game Pass!
published by: forahobby | Page Views: 80 | Comments: 0

Thursday, October 24
Free Play Days: NBA 2K20 is free-to-play on X
published by: forahobby | Page Views: 55 | Comments: 0
Warborn Announced for Xbox One, PlayStation 4
published by: forahobby | Page Views: 58 | Comments: 0

Friday, October 18
Zombie Army 4: Dead War Release Date & Pre-Or
published by: forahobby | Page Views: 69 | Comments: 0
Train Sim World: Rhein-Ruhr Osten: Wuppertal
published by: forahobby | Page Views: 60 | Comments: 0
Baldur's Gate, Planescape: Torment & Icewind
published by: forahobby | Page Views: 55 | Comments: 0

Thursday, October 17
Wargroove 'Double Trouble' DLC Info for Xbox
published by: forahobby | Page Views: 57 | Comments: 0
Monster Hunter World 'Iceborne' Update Adds R
published by: forahobby | Page Views: 61 | Comments: 0

Wednesday, October 16
'Frostpunk: Console Edition' Is Out Now!
published by: forahobby | Page Views: 68 | Comments: 0
Handheld Boredom Busters
published by: forahobby | Page Views: 74 | Comments: 0
Battlefield 5: Operation Underground Is Out N
published by: forahobby | Page Views: 90 | Comments: 0

Tuesday, October 15
Blowfish Studios Announces 'Element Space' fo
published by: forahobby | Page Views: 54 | Comments: 0

Monday, October 14
Kickstarter Campaign For EVERSPACE 2 Is Now L
published by: forahobby | Page Views: 51 | Comments: 0


News Archive