| | | |
| --- | --- | --- |
| | Modifying the Xbox & Making a USB Cable | |
Modifying the Xbox & Making a USB Cable
Published by

user1 on 2009-09-28
Category: Hardware Mods/Addons | Page Views: 10,140

Iím thinking of turning my Xbox into a media centre, it isnít used much any more so it might as well become useful (or die trying).

I donít have a mod chip, I donít want to take the Xbox to bits (and Iím too tight to pay someone else to do it) so my remaining option is to ísoft modí it.

Let the games beginÖ

Building a USB Cable for the Xbox

First off, we need to copy some files from a PC onto a USB stick and then transfer them to the Xbox. To do this we need to make a cable capable of attaching standard USB devices to Microsoftís proprietary version of the USB interface.

Assemble the following items:

1) Second hand Xbox controller (£4.99 Ė Gamestation)
2) A copy of Splinter Cell (weíll need that later) (99p Ė Gamestation)
3) USB extension cable (A couple of quid)
4) Cornish Pasty (75p Ė Cooplands Bakers)

Start eating the pasty.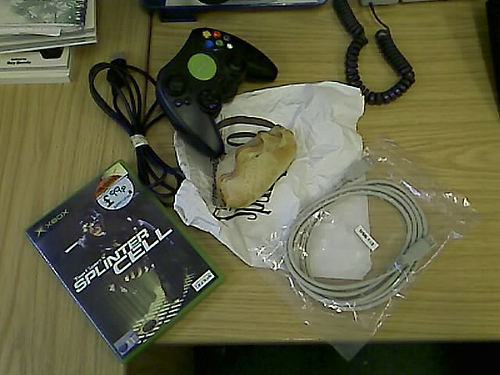 xbox usb cable

1. Now take a pair of scissors and cut the Xbox controller cable at a point close to the controller unit.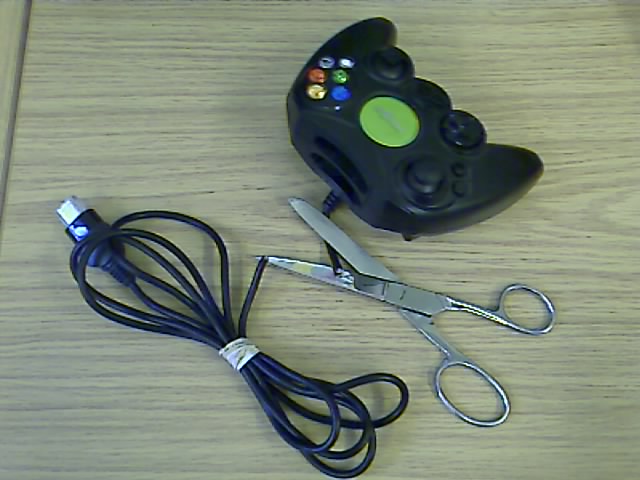 2. While continuing to eat the pasty, cut the USB extension cable. Bear in mind that you should keep the total length of your final cable to less than 5 metres (probably less than 3 given my dodgy soldering skills).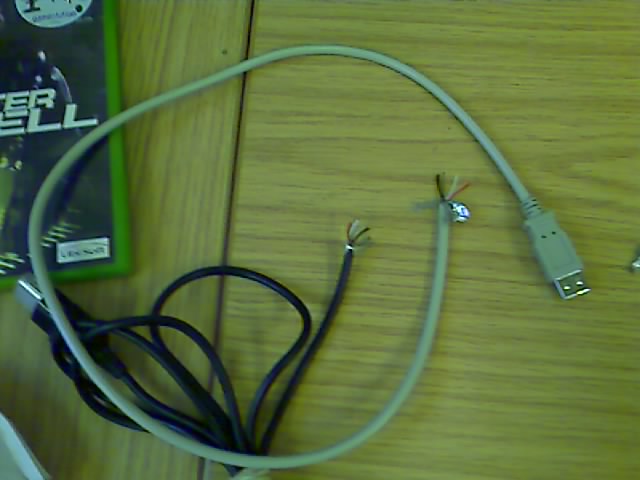 3. Finish the pasty.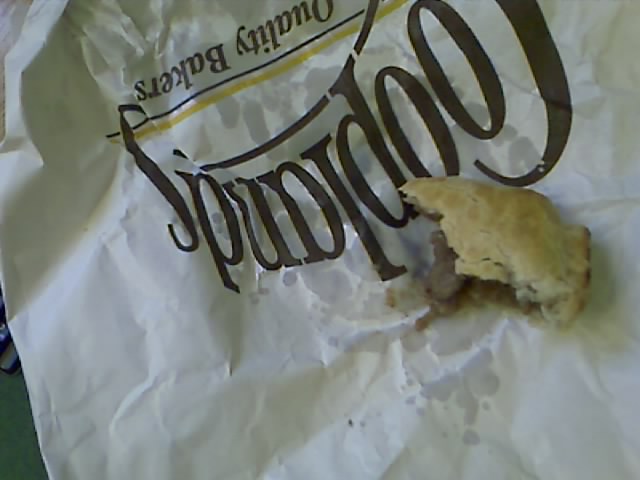 4. After stripping the wires back, note the configuration. We donít need the yellow wire, the straggly bits of tin foil or wire thread inside the cables so we can cut these back. Fortunately joining the cables together is quite simple. Connect black to black, green to green, white to white and red to red.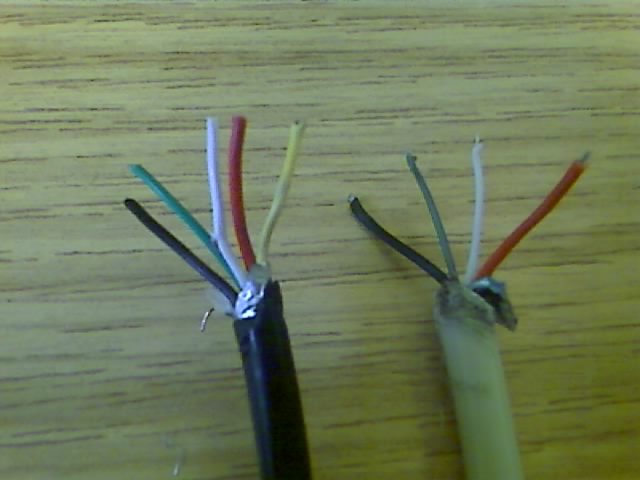 5. With a dab of solder carefully link the cables together. Do one at a time and take your time. If like me youíre a soldering newbie, check out the advice here. Itís worth following.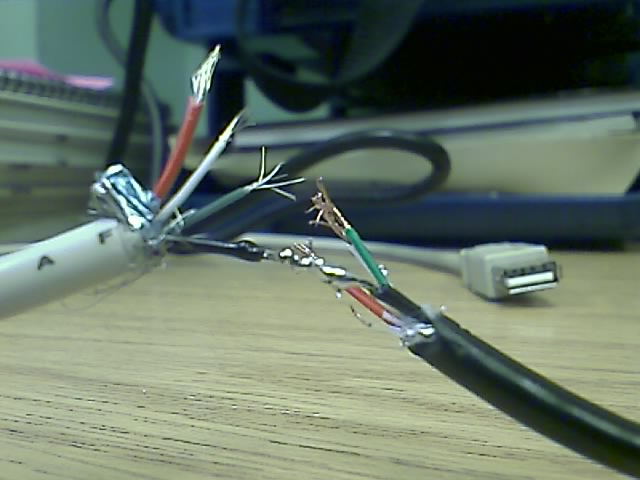 6. Now marvel at my rubbish soldering! Note the yellow wire left over. Chop it off and ensure that you trim the silver foil and mesh back ( you donít want them connecting together, it may cause a short).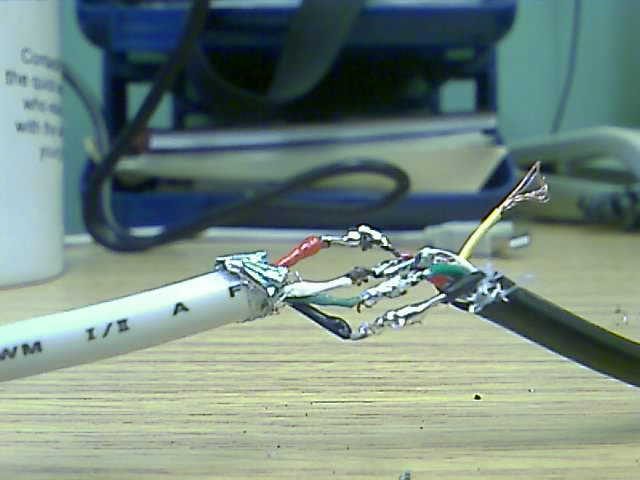 7. Finally, get some insulating tape and carefully insulate each wire from its neighbour, finishing up by covering the whole lot in a protective wad of tape.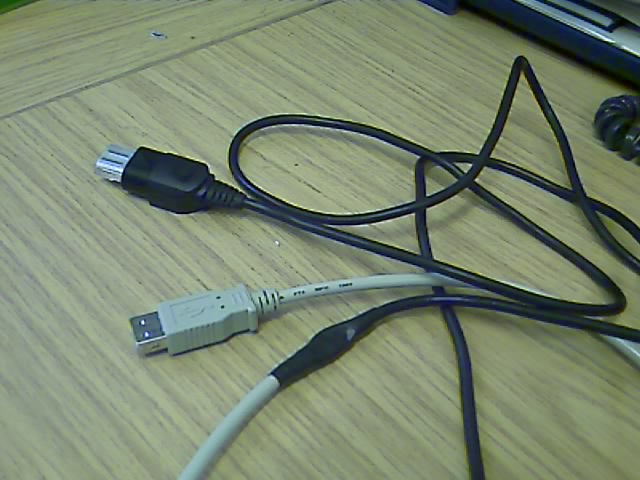 8. And thatís that. You now have an Xbox USB cable. It can be used to attach a USB Keyboard and mouse or storage device to the Xbox via the controller port. If you need to attach more than one USB component to your Xbox Iím led to believe that a USB hub would work (which would save you the hassle of making another cable of course!).

Iíll touch upon installing the softmod in another post. Iím not going to go into great detail (hey, youíve got to have some fun finding stuff out) if nothing else other than some of it seems Ďquasi legalí to me. Keep your eyes peeled if youíre interested though and feel free to drop me an email or a comment if you want any help.

Related URL: Modifying the Xbox . Making a USB Cable
| | | |
| --- | --- | --- |
| | Browse Tutorials | |

| | | |
| --- | --- | --- |
| | Members Online (3) / Guests Online (279) | |



| | | |
| --- | --- | --- |
| | Latest News | |

| | | |
| --- | --- | --- |
| | Xbox Tutorials Database | |

| | | |
| --- | --- | --- |
| | Xbox Tutorials Database | |

| | | |
| --- | --- | --- |
| | Popular Xbox Games | |
ESPN NBA 2Night 2002
Page Views: 258386

ESPN is known for its sports, and Konami is attempting to leverage the name brand into their line of sports games with this multi-platform basketball game...

More Xbox Games