| | | |
| --- | --- | --- |
| | Quick Guide: Getting Started Xored Trainers | |
Quick Guide: Getting Started Xored Trainers
Published by

hellblazer55 on 2006-09-27
Category: XBMC | Page Views: 20,136

Thanks to Team XBMC and Team Xored, as of 1/25/06 XBMC now has a built-in trainer engine. I put together a photo illustrated guide to help you easily get your trainer engine up and running.

For those of you new to trainers, here's a quick Q&A…

What's a trainer?
A trainer is a downloadable file that when properly installed in a supported environment will allow you to turn on specific trainers (aka cheats) to a game. For instance, if you downloaded a trainer for Grand Theft Auto San Andreas, you can turn on trainers that allow you infinite life, infinite money, maxed weapons skills, etc.. Your trainers will stay on until you decide to turn them off.

What's the advantage to a trainer?
If your gaming skills aren't that great, you can turn on a trainer that will allow you to easily beat a particular mission, boss, whatever.

Can I use a trainer on Xlink KAI?
NO. If you are LOGGED ON to XLink/Kai, you cannot use trainers.

What You Need:

* FTP client (Flash FXP, Filezilla, etc).
* A free account with Maxconsole.net to download Xored trainers (see step 2).
* XBMC build 5/13/06 or later. Note that XBMC builds compiled prior to 5/13/06 require editing the xboxmediacenter.xml to set your trainer path, which is not explained in this guide, and no longer necessary in builds compiled after 5/13/06.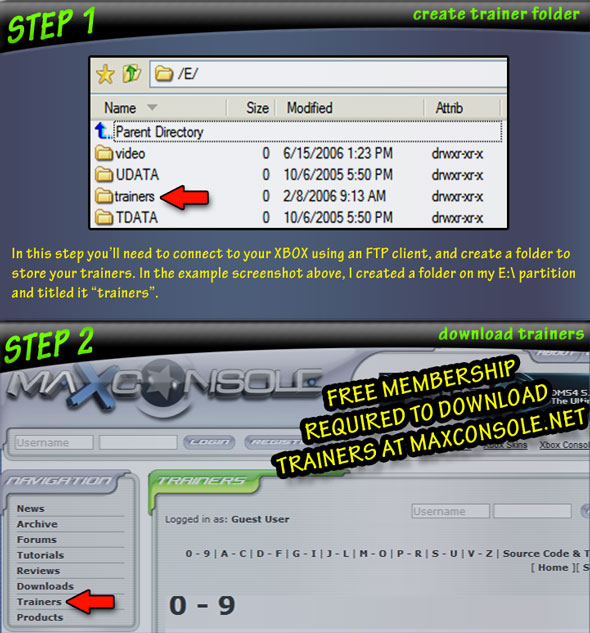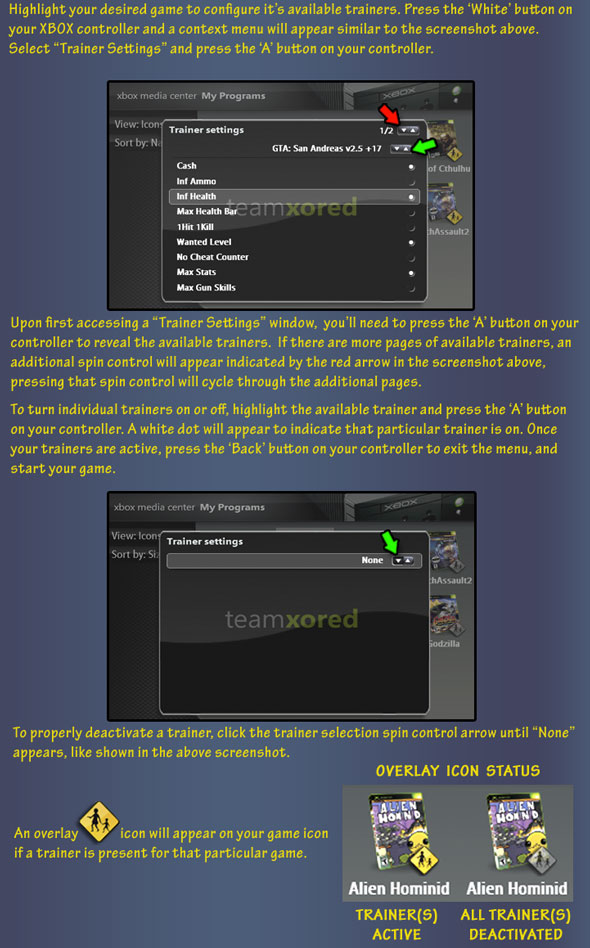 Changing Trainer Folder Path
If you want to change the path to your trainers folder after it's been set, you need to go into 'Settings' --> 'MyPrograms' and select the 'Trainers Folder' option. From there you can navigate to a new folder, therby setting a new path to your desired trainer folder.


AdvancedSettings.xml Trainer Path
You can create an AdvancedSettings.xml file with the trainer path pre-configured. By creating this .xml file, you wont have to configure the trainer path through the GUI. This saves time after copying a new build to your XBOX. To accomplish this, create a file with any text editor and enter the following data:

< advancedsettings >
< myprograms >
< trainerpath >E:trainers< /trainerpath >
< /myprograms >
< /advancedsettings >

Change the text in red to the path of your trainer folder. Once the data has been entered, save your file with this name: AdvancedSettings.xml

Now FTP that .xml file into the 'UserData' folder found in your XBMC directory. When you re-boot your xbox, your trainer path will be automatically set. Don't forget to save the .xml file on your PC so you can transfer it after you install a fresh build. Please note that if you use the AdvancedSettings.xml for your trainer path, there will be no option available in Settings --> My Programs to change your folder path.

Notes from XBMC Manual

In-Game Keys (IGK)
In-Game Key's (or IGK) are used in some trainers to turn functionality of the cheat on and off during gameplay! If the trainer supports IGK then the IGK's will be listed in the trainer setting screen as IGK1, IGK2 and so on.

IGK key combinations:

IGK1 (Press both thumb sticks)
IGK2 (LEFT Thumb + down on D-Pad)
IGK3 (RIGHT Thumb + down on D-Pad)
IGK4 (RIGHT Thumb + Up on D-Pad)

LED Status
The Xbox LED is used to show the execution status of trainers. GREEN; means trainer in memory is being checked against xbe about to be executed RED; means trainer in memory did not match xbe just executed ORANGE; means trainer in memory matched and was applied to xbe just executed

Known Issues
All .MTE files must be placed in C:trainers no matter what your trainer path is (hardcoded in the trainers).
NTSC trainers does not always work with PAL games, or reverse.

By xboxbox451


| | | |
| --- | --- | --- |
| | Browse Tutorials | |

| | | |
| --- | --- | --- |
| | Members Online (2) / Guests Online (261) | |



| | | |
| --- | --- | --- |
| | Latest News | |

| | | |
| --- | --- | --- |
| | Xbox Tutorials Database | |

| | | |
| --- | --- | --- |
| | Xbox Tutorials Database | |

| | | |
| --- | --- | --- |
| | Popular Xbox Games | |
Egg Mania: Eggstreme Madness
Page Views: 286612

Freshly hatched gamers and hardboiled puzzle fanatics alike will crack under the extreme pressure of this innovative and highly addictive arcade-style puzzler! Developed exclusively for next-generatio..

More Xbox Games