| | | |
| --- | --- | --- |
| | Open your Xbox Console | |
Open your Xbox Console
Published by

schirmk on 2003-10-18
Category: Beginners | Page Views: 16,333

All xbox models are opened the same way , so it will work for sure on your Xbox and your mates. hehe :)

Stuff you Will Need:
You will need 2 Torx screw drivers to do the job Professionally:

A Torx 10 (shown below):



and
A Torx 20 (show below):



Note:
Dont worry if you dont have these screwdrivers as i have opened many xbox's without them and did not cause any damage.. Just be careful.

Now Lets Open The Case:

1) Turn you xbox upsidedown. Under each foot you will find a screw and under 2 of the stickers there's a screw. (6 in total) Use a Torx 20 to unscrew these.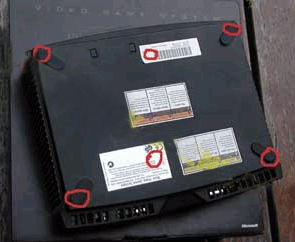 2) Remove the "foot" to access the screw.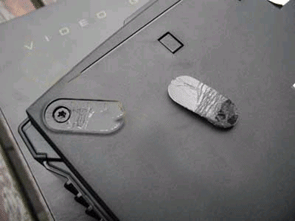 3) Remove serial number sticker to access the screw.



4) Remove warranty/MS sticker to access screw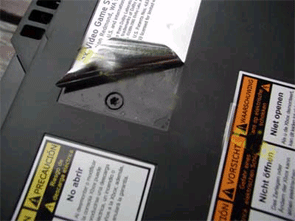 5) Now that all 6 screws are unscrewed , remove them and make sure you don't lose 'em ;)

6) Now lift the top on the Xboxcase.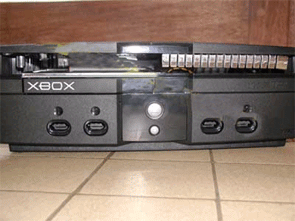 ' You should now be looking at the top of your Xbox DVD-ROM Drive and your XBOX Hard Drive and ready to move onto the next step Removing the Xbox HDD.. '

Removing the Xbox HDD:
1) Remove the IDE-cable from the back on the HDD
2) Unscrew the torx screw on the left side of the HDD with a Torx head 10
3) Make sure the power cable isn't blocking you from
removing the HDD tray.
4) You can now simply remove the HDD tray from the case.

Removing the Xbox DVD-drive:
1) Remove the IDE-cable from the back of the DVD-drive. There is 1 screw on each side of the DVD-drive. Unscrew both with a Torx head 10.
2) You can now remove the DVD-drive by lifting up the DVD-drive tray.
3) Remove the yellow power cable. Use your hands because the power cable is specific to the Xbox and it is hard to find elsewhere.
4) You have now access to the entire motherboard. The next step is to disconnect the IDE-cable from the motherboard.

Removing the Xbox Motherboard from case:
1) Almost all mod chips require you to remove the motherboard. But be very careful.
2) There are 11 screws that need to be removed. Use a Torx head 10 to unscrew them. The motherboard is now free to be removed. A grounded strap is also a good idea, but you don't need to have one.

Good luck everyone :)...



| | | |
| --- | --- | --- |
| | Browse Tutorials | |

| | | |
| --- | --- | --- |
| | Members Online (2) / Guests Online (312) | |



| | | |
| --- | --- | --- |
| | Latest News | |

| | | |
| --- | --- | --- |
| | Xbox Tutorials Database | |

| | | |
| --- | --- | --- |
| | Xbox Tutorials Database | |

| | | |
| --- | --- | --- |
| | Popular Xbox Games | |
Dominion
Page Views: 323160

DOMINION is a multiplayer action/RPG game that takes place in a fantasy world which features many different above-ground and underground realms. With 6 races, 6 guilds, and a vast variety of magic, mo..

More Xbox Games