| | | |
| --- | --- | --- |
| | Fixing a Comatose Xbox | |
Fixing a Comatose Xbox
Published by

hellblazer55 on 2006-04-23
Category: Repairs | Page Views: 8,231

Coma Console describes the situation where your Xbox will no longer boot, you see a blank screen, no audio but the LED light turns steady green just like it would look if it were working fine. This fix works only on 1.0 and 1.1 consoles since the first Xbox mother boards included a 1MB bios chip, this chip is divided into 4 256K banks, the steps described below are used to force the Xbox to use one of the other three banks since the primary bank has become corrupted. Boards 1.2 and beyond have a different bios chip this means the only possibility for fixing those is using a modchip to replace the faulty bios.

STEP 1 : Open the XBOX using the TORX 20 screwdriver.

STEP 2 : CAREFULLY remove the DVD and Hard Drives(After grounding yourself of course)

STEP 3 : Unplug All POWER and IDE cables. Also remove USB controller board.

STEP 4 : Remove all screws securing the motherboard to the case. CAREFULLY remove board.

STEP 5 : Flip over motherboard and locate the following items : Capacitor C6R3 and Resistor R7R2.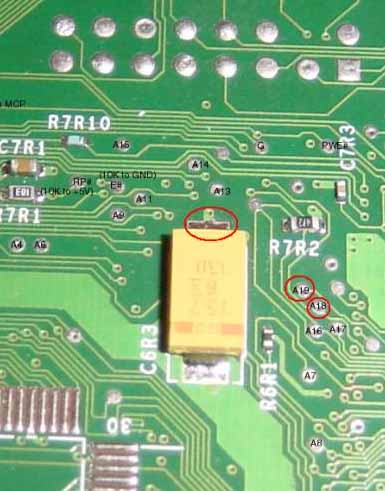 STEP 6 : Solder the jumper wire from the A18 or A19 to the ground point at the right side of the capacitor.

STEP 7 : CAREFULLY re-install ALL components an test. If all works properly then GREAT !! If it is still in a coma the you'll have to solder to the other point. For example : If you soldered to A18 and you still have a coma console then you'll need to repeat the steps above except solder to the A19 point and re-test. If problems still persist , all is not lost. Repeat steps above except solder to BOTH points.

I used .022 ROSIN CORE solder and 28AWG wire for mine and it works perfectly !! Good Luck and Happy gaming with your re-born XBOX !!


| | | |
| --- | --- | --- |
| | Browse Tutorials | |

| | | |
| --- | --- | --- |
| | Members Online (10) / Guests Online (260) | |
Members Browsing
lcadagan37, Andrzej, CreightonTrisha, SongDonte, forahobby, EllistonDuane, AnayaHester, pejman1998, BellaMccaf, ArchAngle,





| | | |
| --- | --- | --- |
| | Latest News | |

| | | |
| --- | --- | --- |
| | Xbox Tutorials Database | |

| | | |
| --- | --- | --- |
| | Xbox Tutorials Database | |

| | | |
| --- | --- | --- |
| | Popular Xbox Games | |
BloodRayne 2
Page Views: 343797

Born from the unnatural union of vampire and human, BloodRayne is blessed with the powers of a vampire but cursed with the unquenchable thirst for blood and a weakness to sunlight. BloodRayne 2 challe..

More Xbox Games