| | | |
| --- | --- | --- |
| | Add RCA Outputs to your Xbox | |
Add RCA Outputs to your Xbox
Published by

j8994 on 2006-03-27
Category: Hardware Mods/Addons | Page Views: 20,292

Add RCA ports to your Xbox

Here is a mod I came up with to add RCA ports to the xbox.
If you have any questions, please feel free to send me a Private Message.

Things you'll need:
- RCA ports (you can get them from radioshack cat # 274-322 or 274-852)
- Wire
- Glue
- Solder
- Soldering iron (15 - 30 Watts)
- Dremel or drill to mod case for ports
- And finally, patience!

Here are the schematics I made, I know that there not very good, but I tried lol. The first diagram is for NTSC Xboxes, and the second for PAL xboxes.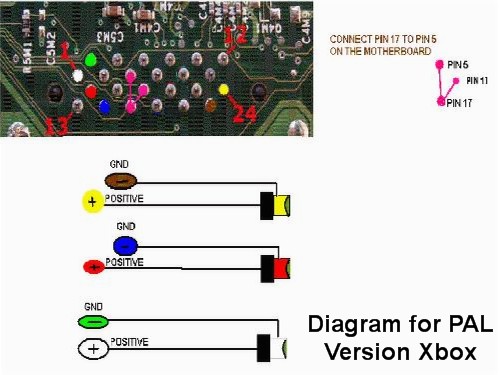 Basically you just need to fit the RCA sockets in the Xbox case as you see fit, join the points on the motherboard, and hook up the sockets as indicated in the diagram.

*NB - Diagram shows underside of motherboard

My original tutorial can be found here.

Related URL: Afford-A-Tech - Xbox Repair & Servicing
| | | |
| --- | --- | --- |
| | Browse Tutorials | |



| | | |
| --- | --- | --- |
| | Latest News | |

| | | |
| --- | --- | --- |
| | Xbox Tutorials Database | |

| | | |
| --- | --- | --- |
| | Xbox Tutorials Database | |

| | | |
| --- | --- | --- |
| | Popular Xbox Games | |