| | | |
| --- | --- | --- |
| | Use your own usb device for Action Replay | |
Use your own usb device for Action Replay
Published by

dangermouse on 2006-01-17
Category: Softmod | Page Views: 63,955

You Will Need:
1. An Xbox and PC
2. USBview.exe
3. Action Replay Software
4. USB female port to an Xbox controller port male adapter:

Buy One: http://www.lik-sang.com
Get One Free from M$: http://www.xbox.com (US only)
Make Your Own: http://www.xbox-linux.org (requires soldering)

Method:
1. Plug your USB stick (or other mass storage device) into the regular USB female port of the the adapter, and the Xbox controller male port into your Xbox. Now, start up the Xbox dashboard and go into "MEMORY": an error message should now pop up and say that the memory card wasn't working properly and has now been erased. Don't worry, this is normal; this means that the USB stick has been formatted and can now be used as a regular Xbox memory card.

2. Now, take out your USB stick and plug it into your PC USB port. Open USBview.exe. You should see these two rows and these digits beside them:
idVendor: 0xyyyy
idProduct: 0xzzzz

Copy down the yyyy digits, and the zzzz digits and keep them for later.




3. If you installed the Action Replay software to it's default installation destination, go to C:Program FilesDatelAction Replay XBOXDrivers and open up xbreader.ini and scroll down to the [_Devices]. Delete the digits beside VID_ and PID_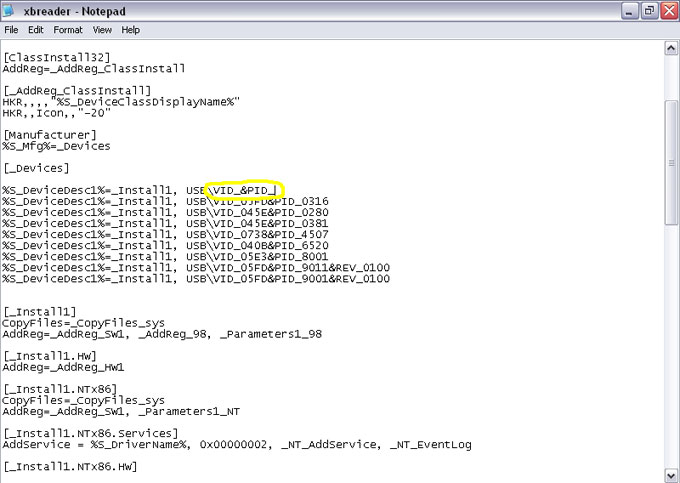 4. Replace the VID_ digits with the yyyy digits, and the PID_ digits with the zzzz digits.NOTE: Edit the first line AND ONLY THE FIRST LINE! Now, save xbreader,ini.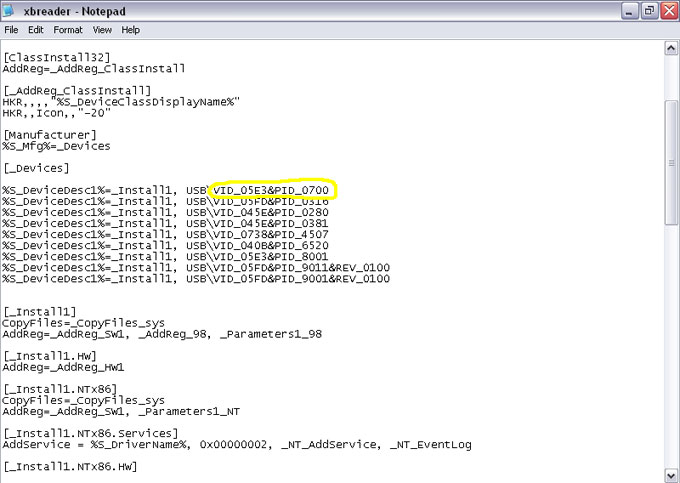 5. Go to Start, Control Panel, and click "switch to classic view" on the left hand side and the top. Double click on System, click the hardware tab, and click Device Manager. Expand the Universal Serial Bus Controllers row, right click on USB Mass Storage Device and click Update Driver. Now, on the Hardware Update Driver window, select "Install from a list or specific location (Advanced)", and click next. Select "Don't Search. I will choose the driver the install". Click next. Select "ActionReplay XBOX" and click next.

Uninstalling Xbox Drives USB:
Plug your USB stick in to your PC (DON'T OPEN THE AR SOFTWARE!). Go to Control Panel, System, click on the Hardware tab, and click Device Manager. Go to USBIO controlled devices, right-click on ActionReplay XBox, and click uninstall. Go through the menu's and you should have your regular USB stick back.

Tutorial Originally by forthex


Related URL: Usb Media
| | | |
| --- | --- | --- |
| | Browse Tutorials | |

| | | |
| --- | --- | --- |
| | Members Online (1) / Guests Online (287) | |



| | | |
| --- | --- | --- |
| | Latest News | |

| | | |
| --- | --- | --- |
| | Xbox Tutorials Database | |

| | | |
| --- | --- | --- |
| | Xbox Tutorials Database | |

| | | |
| --- | --- | --- |
| | Popular Xbox Games | |
Metal Dungeon
Page Views: 276118

The game is a dungeon-type RPG where players control cyborgs against the enemy monsters. There are 10 different types of characters to choose from, with 12 sets of skills that involve attacks, spells,..

More Xbox Games